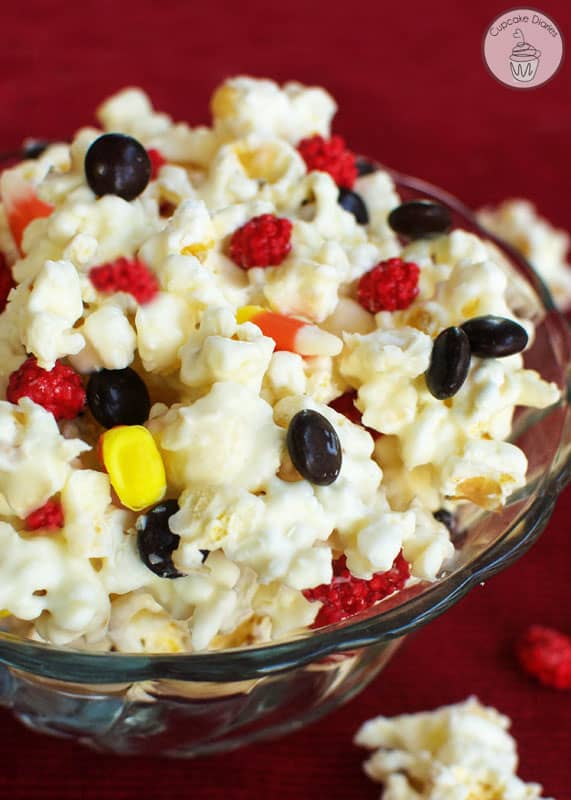 I love the Harry Potter book series! The movies are wonderful as well. We're taking our kids to Universal Studios this year and I can't wait to introduce them to the Wizarding World of Harry Potter. We've started watching the movies with them and it's been so fun.
I'm part of a fun Harry Potter series today over at Raegun Ramblings! Thirty days featuring Harry Potter recipes, crafts, games, and so much more. Such a fun idea!
And with Harry Potter's birthday in just a few days, I'm excited to be sharing this recipe for Gryffindor Popcorn! It's so easy and the perfect treat for a Harry Potter party.
Gryffindor Popcorn
Ingredients
2

bags microwave popcorn

plain

2

12oz bags white chocolate chips

1/2-3/4

c.

brown M&M's

1/2-3/4

c.

candy corn

1/2-3/4

c.

burnt peanuts

2

tsp.

vegetable oil
Instructions
Pop the popcorn and place in a large bowl, or two bowls, if it looks like it's going to be too much. Melt the chocolate in a microwave safe bowl at 45 second intervals, stirring between each, until chocolate is smooth. Add vegetable oil and stir together.

Drizzle chocolate over popped popcorn and stir together to coat. Pour over a cookie sheet covered in wax paper.

Sprinkle candy over the popcorn and allow to cool. Serve and enjoy!
Click the image below to see more of what's been shared during the series thus far! So much Potter greatness all in one place.