This refreshing fruit dessert is great for any occasion! The fruit combinations are endless with this light and tasty treat.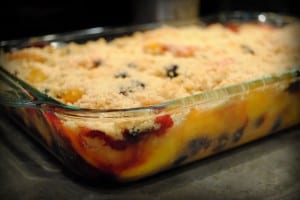 from the kitchen of
Topping Ingredients
1/4 lb (1 stick) unsalted butter, cold and diced
1 c. flour
1/3 c. sugar
1/4 c. light brown sugar
1/4 tsp salt
1/4 tsp cinnamon
…
Topping Directions
Combine all ingredients but the butter in a mixer.

Add the diced butter and blend till the butter chunks are the size of peas..

Press the mixture between your fingers to mix the rest of the way. Set aside.
Fruit Mixture Ingredients
10 peaches
1 small package of blueberries
2 Tbsp lemon juice
1/2 c. sugar
1/4 c. flour
…
Directions
Boil the peaches for one minute in a large pot (poaching). Place them in a bowl of ice water so the peels will come off easier.

Remove the peels and slice the peaches in eight wedges each into a separate bowl. Squeeze lemon juice over the peaches.

Add the blueberries with the peaches and gently mix together. Then add the sugar and flour. Gently mix.

Place fruit mix in a 9 x 13 pan or six large ramikens. (If using a metal pan, be sure to spray it with nonstick spray.) Sprinkle crumble over the fruit to cover.

Bake 40-45 minutes at 350 degrees. Serve warm with vanilla ice cream.
*Remember that you can do this with any kind of fruit you want! Strawberries and bananas go great together. A good fall combination would be apples, pears, and cranberries.
**This dish can be pretty liquidy. Add a little more flour if desired, or put the fruit in individual ramikens as suggested above.