Don't you just love the smell of fresh-baked banana bread? This recipe is sure to fill your home with that classic aroma that we all know and love. And it tastes great, too!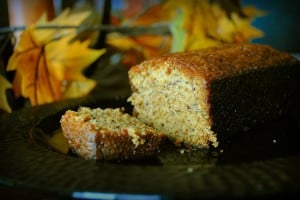 from the kitchen of
Ingredients
1/2 c. butter
2 c. sugar
2 eggs
2 or 3 bananas
2 c. flour
1 tsp baking soda
1/8 tsp salt
1/4 c. sour milk (milk with a little lemon juice)
1/2 c. walnuts (optional)
…
Directions
Combine all ingredients and mix well.

Bake in a greased and floured bread pan for 1 hour at 350 degrees.
* Extra ripe bananas work better than yellow bananas. They are more mushy and mix better.
**This recipe makes one large loaf or four small loaves.
***For a crispier crust don't flour the pan(s), just grease.
***Baking time may need to be longer, depending on the oven. Pull the oven rack out a little bit without having to remove the bread from the oven or the bread will sink. Test the bread by inserting a butter knife into the center. If it comes out with batter on it you'll want to keep it in for longer.