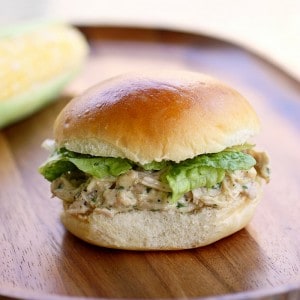 We are big fans of chicken Caesar at our house! I love me a good chicken Caesar sandwich. And the fact that this one is made in a crockpot makes my day! I love the crockpot. We are good buddies. This sandwich is a nice change from pulled pork and BBQ chicken sandwiches all summer long! (I love pulled pork and BBQ chicken sandwiches, believe me.) It's also a good alternative for chicken salad sandwiches. I seem to be the only person I know that doesn't like chicken salad sandwiches. So change is good! This is a good recipe to feed a group.
Crockpot Chicken Caesar Sandwiches
Sweet Treats and More
image via
The Girl Who Ate Everything
makes 12 sandwiches
2 pounds boneless skinless chicken, thawed (breasts, thighs, whatever you want to use)
1 bottle of your favorite Caesar dressing OR 1 can of cream of chicken soup and a packet of Caesar dressing mix
1/2 c. shredded Parmesan cheese
1/4 c. fresh chopped parsley
1/2 tsp. ground pepper
2 c. shredded romaine lettuce
12 french hamburger buns, or whatever bun you prefer (about 2 1/2 inches in size)
tomato slices (This is my addition to the recipe! I love tomatoes.)
Directions
Place chicken in your crockpot and cook covered on low for 6-7 hours.
When the chicken is done, remove it from the crockpot (a slotted spoon helps with this part) and place on a cutting board. Use two forks to shred the chicken.
Place the chicken back in the crockpot and pour the dressing over it. (Or the soup mixed with the dressing packet, whichever you're using.) Also add the Parmesan cheese, parsley, and pepper. You can use as much or as little dressing as you'd like. If the whole bottle looks like it's going to be too much then you can add less.
Cover and cook on high for another 30 minutes to get everything nice and hot. To serve, spoon about 1/4 c. of chicken onto each bun and put some lettuce and tomato on the top. Cover with the other side of the bun and dig in!