The fluffy and lightly sweet rolls that keep everyone coming back to Texas Roadhouse that can now be made at home!
Our family has made the move to Utah and we're up and running with the internet! Woo hoo! I was starting to feel lost there for a bit. This last weekend was a busy one trying to get everything from our home in Idaho to our new place in Utah. We had a lot of people helping us this weekend and we really appreciate everything that was done for us to get us here. We have the greatest friends and family ever.
One of my favorite things about Texas Roadhouse is those darn rolls. Wow, those things are deliciously dangerous. There's no way I can eat just one…basket. Seriously though, they're amazing. I'd like to thank the person who came up with the idea to serve those lovelies to the guests as a starter. Bless you. My husband and I treated my mom and sisters to Texas Roadhouse this last weekend for helping us so much with moving. When we sat down with those rolls in front of us I remembered that I have a copycat recipe for them that I've been needing to share. So let's get to it!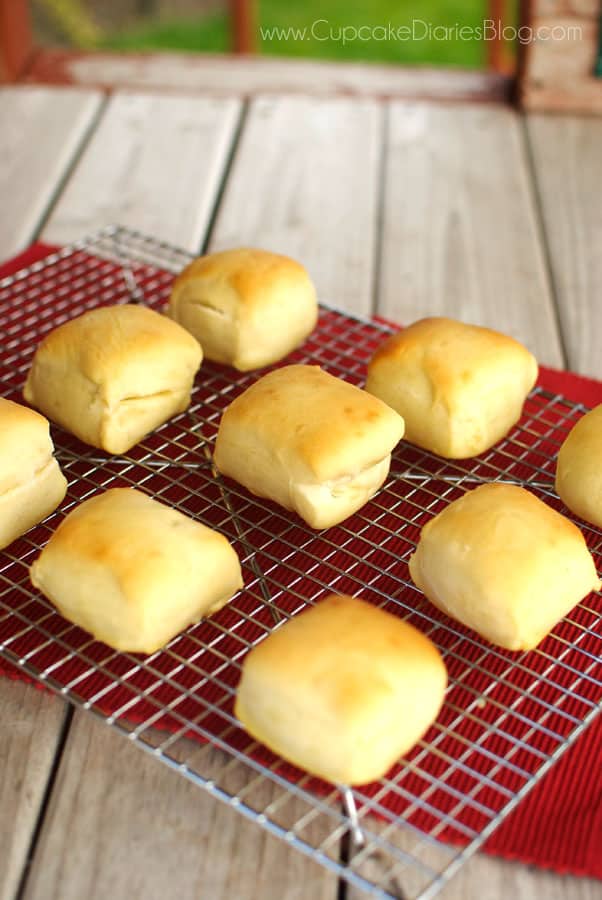 Copycat Texas Roadhouse Rolls
Ingredients
1

package active dry yeast

1/2

c.

warm water

2

c.

milk

boiled then cooled to room temperature

3

Tbsp.

melted butter

slightly cooled

1/2

c.

sugar

7-7.5

c.

flour

2

eggs

2

tsp.

salt

1/2

c.

honey
Instructions
Place milk in a saucepan over medium heat. Bring to a boil and remove from heat. Allow to cool to room temperature.

Melt the butter in the microwave and set aside. In a stand mixer with the whisk attachment, combine yeast, warm water, and 1 Tbsp sugar . Let the yeast get bubbly.

Add the rest of the sugar, honey, milk, and 3 1/2 c. flour to the yeast mixture. Beat together for two minutes. Add butter, eggs, and salt. Mix again, well.

Remove the whisk attachment and start using the hook attachment from here. Add the rest of the flour a half a cup at a time until the dough begins to separate from the sides of the bowl. Let it rest for 3-5 minutes.

Knead the dough in the bowl for 5 minutes. Add flour a tablespoon at a time if the dough seems sticky. Get out a large bowl and grease it with butter.

Remove dough from the mixing bowl and place in the greased bowl. Flip it around till the entire outside is nice and shiny. Loosely cover the bowl with plastic wrap and allow the dough to double in size (about 45 minutes to 2 hours, depending on the temperature of your kitchen). Once the dough has doubled, smash it down with your fists (also called "punching") for about a minute.

Roll the dough out to about a 1/2 inch thick. Then fold the dough in half, now making it an inch thick, and roll over with a rolling pin to seal it together. Cut the dough into 2-inch squares using a dough scraper (or whatever you have that will work well to cut the dough).

Place the dough on a greased baking sheet, a dozen on a pan like you would cookies, and cover lightly with plastic wrap. Allow the dough to double in size again (about 1 hour).

Bake at 350 degrees for 15 minutes, or until golden brown. Immediately rub the tops with a little bit of butter for that fabulous shine. Enjoy!
recipe adapted from Eat Cake for Dinner
Kitchen tools and gadgets needed for this recipe:
And you can't make the famous rolls without making Copycat Texas Roadhouse Cinnamon Honey Butter to go with them!