We've been really lucky to have a child who loves to brush his teeth. But even his love for brushing didn't keep a few little cavities away. It doesn't help that I love to make treats and have a crazy obsession for chocolate bars! His teeth have a higher decay rate than most, and sadly (by doctor's orders) we had to get rid of the fruit snacks in our house. Bummer day for our three year old!
Going to the dentist for the very first time with my son made me so anxious. I didn't know how he would react or how scared he would be. America's ToothFairy, Crest & Oral-B Pro-Health Stages would like to help children overcome their fear of going to the dentist. (And the parents' fears of taking them!!)
Fear of the unknown can make trips to the dentist a scary time for kids. Trips to the dentist can be fun with these tips from America's ToothFairy!
Visit the dentist with your child before their first appointment so they can know what to expect on their visit. Tour the office and ask the dental assistant or hygienist to explain what will be done and how each instrument will be used. This helps kids ease fears and learn a little something about dentistry!
Bring children who are slightly older along with you to your cleaning visits so they can observe what is being done. They can ask questions, see how each instrument is being used, and understand the importance of taking care of teeth.
Regular dentist visits help kids become familiar and comfortable with the dental team.
Reinforce concepts such as daily brushing and flossing by posting a calendar and rewarding your child a gold star or sticker for every day of excellent oral care. Help get your child excited about their next dental visit by bringing the calendar with you to show the dentist.
Allow your child to bring their favorite toy or blanket to the dentist for an added sense of comfort. (My son would love to bring his blanket to the dentist!)
Bring your child's favorite book to read to them during their dental appointment. Reading can have a soothing and calming effect.
Let your child wear a costume on their dental visit. This fun and special treat can help them see going to the dentist as a fun activity.
Going to the dentist with my son is going to be so much easier and more fun for him with these tips!
With the upcoming Monsters University movie coming to theaters this summer, Crest & Oral-B Pro-Health Stages would like to give a lucky winner 2 toothbrushes and 2 tubes of toothpaste, featuring the fun-loving monsters Mike and Sulley from the movie!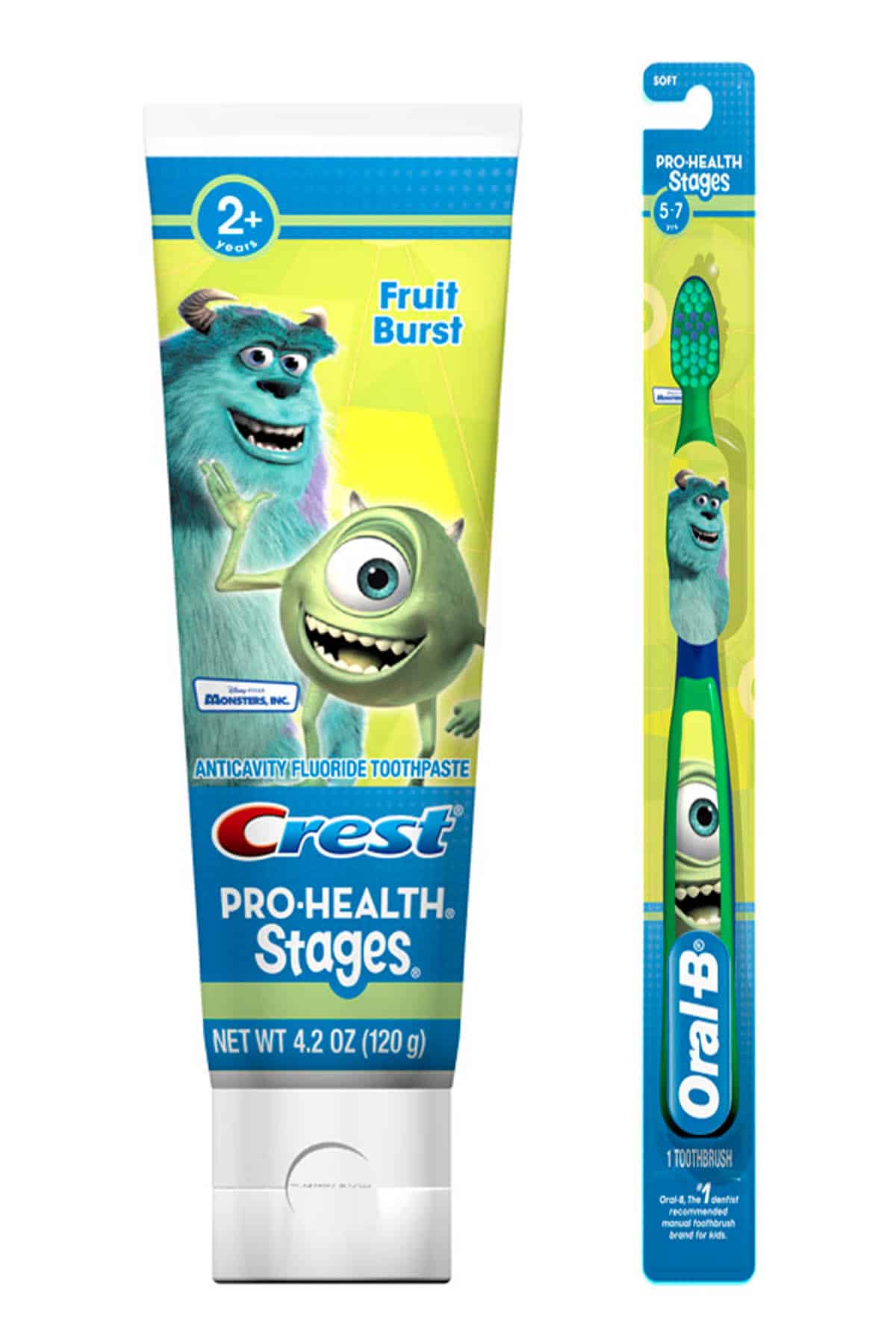 These products are new to Walmart stores. Children can start and end their days with these monsters while keeping their smiles bright and healthy! My son is a HUGE fan of "Monsters, Inc." so I'm really excited to introduce him to this new movie and these new products from Crest & Oral-B Pro-Health Stages!
Simply fill out the rafflecopter below to enter!