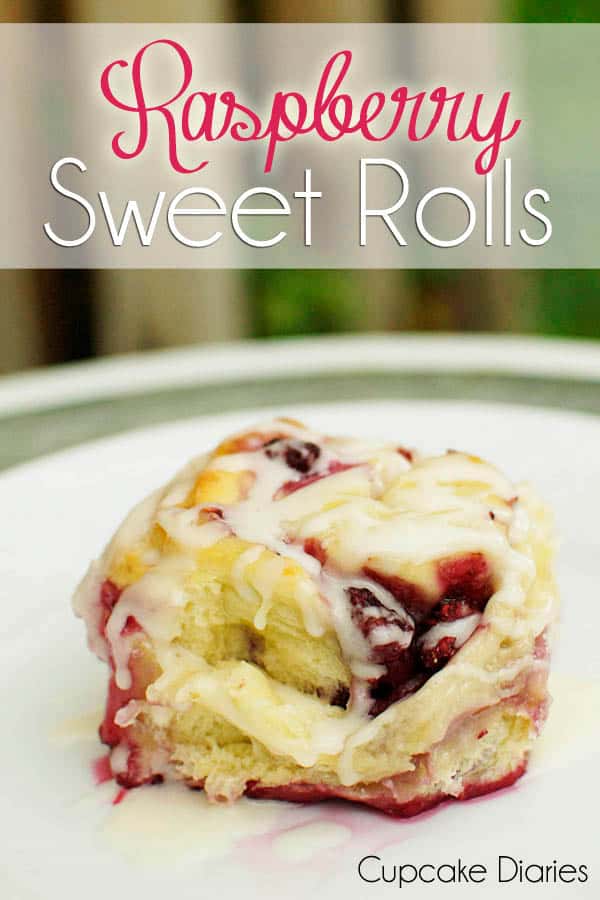 King Arthur Flour has been my go-to flour since I started baking a lot in college. I love all the different options of flour depending on what I'm needing to bake.
During the April Showers big kitchen giveaway a few weeks ago, I was fortunate to try a complimentary bag of King Arthur Flour. I decided to give their bread flour a try and it is now my new favorite! The King Arthur bread flour is for use in breads, rolls, pizza doughs, etc. I decided to use the bread flour to make these Raspberry Sweet Rolls and I love how they turned out. The bread flour helped them rise a little more and bake up fluffier.
I love cinnamon rolls and all kinds of sweet rolls, but I had never tried a raspberry roll until about a week ago when I decided I want to make some. Raspberries have always been one of my favorite fruits so I wasn't at all surprised when I ended up loving these sweet rolls. Serve these Raspberry Sweet Rolls for breakfast, dessert, or a treat throughout the day!
*These rolls would be great made with strawberries or blueberries as well!
Raspberry Sweet Rolls
adapted from Buns In My Oven
makes about 16 rolls
INGREDIENTS
For the Dough
1 c. milk
2/3 c. sugar
1 1/2 Tbsp active dry yeast
1 stick butter, softened
2 large eggs
1/2 tsp. salt
4 c. King Arthur Bread Flour
For the Filling
1 – 10 to 12oz package frozen raspberries, still frozen
1/4 c. plus 2 Tbsp sugar
1 tsp. cornstarch
For the Glaze
1 c. powdered sugar
3 Tbsp heavy cream
1/2 tsp. vanilla
DIRECTIONS
Heat the milk to 95 degrees in the microwave or in a saucepan. Add the milk and sugar to a stand mix bowl. Stir together, then sprinkle the yeast over the mixture. Let it sit until foamy, about 5 minutes.
Add the butter, eggs, and salt and mix with the hook attachment on low. Beat in the flour and increase the speed to medium. Continue beating for 3 minutes, or until a soft dough forms.
Increase the speed to medium-high and beat the dough for 10 minutes.
For the dough into a ball and placed in a greased bowl. Cover with plastic wrap and place in a warm spot to rise for 1 hour, or until double in size. (A great place for a warm spot where dough can rise is in the oven with the light turned on!)
Line the bottom of a 9×13 pan with parchment paper and spray with cooking spray. Sprinkle a little flour on the counter top and place the dough ball on top. Roll into a 10×24 inch rectangle.
Combine sugar and cornstarch in a small bowl. Sprinkle the mixture evenly over the dough, leaving about an inch of space along the bottom length of the rectangle. Sprinkle the frozen raspberries over the sugar and cornstarch.
Roll the dough tightly to form a 24-inch log. Working quickly, cut the dough log in half, then cut each of those two pieces in half, making four separate dough logs. Cut each dough log into 4 evenly sized slices. Place each roll in the prepared pan, cut sides up.
Cover the pan with plastic wrap and let rise for 2 hours.
Preheat the oven to 400 degrees and bake the rolls for 20 minutes, or until golden and bubbly. Cool on a wire rack for 30 minutes before adding the glaze.
Prepare the glaze by whisking together the powdered sugar, heavy cream, and vanilla. Drizzle the glaze over the rolls and serve. Enjoy!