We had a big day yesterday because this little man turned one!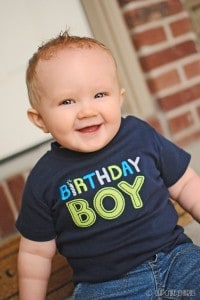 We've started letting the neighbors know we're celebrating something at our house by putting up our celebration wreath. Whether it be a birthday, anniversary, or a new job, this wreath is going right up on the front door to shout out that we're celebrating.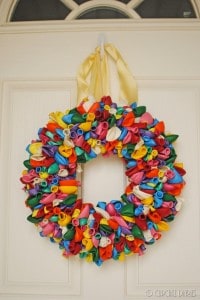 Isn't that so cute? A wreath full of balloons-how much more fun can you get! It is so fun to put this wreath out on our front door. I wish I could take the credit for it. This idea comes from the blog How Does She? And seriously, I ask myself "How does she?" pretty much every time I get on that blog. She is so creative!
Here's all you need to make this wreath:
12 or 14 inch straw wreath (or whatever size you'd like to make). I made a 12-inch wreath and I love how it looks. Oh, and keep that plastic on the wreath!
Balloons – a lot of balloons! You will need 150 balloons to 300 balloons, depending on how full you want your wreath. How Does She? used almost 150 balloons and I used 300. Go to Walmart or the dollar store, find the colors you like, and buy packages with a lot of balloons in them. What size, you ask? I used the balloons that blow up to about 7 inches.
Floral pins (found at craft stores but you can also find them at Walmart) – Get a floral pin for each balloon. They normally come in packs of 100 so I used three packs.
Ribbon to tie your wreath up – whatever color you'd like!
Here's what to do:
Take a floral pin and place a balloon right in the middle of the opening.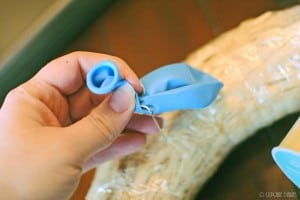 Push the pin right down into the wreath. Keeping the plastic on will make this much easier. Grab another pin and balloon and repeat the process.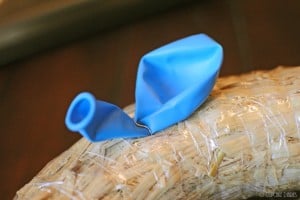 As you go along you'll gain a feel for how far apart you want to put the balloons. You can place them an inch apart if you want because the balloons are floppy and cover up the space. I put mine pretty close together.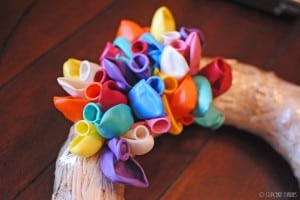 At this point you're probably wondering how long this is going to take. To give you an idea, my little boy watched TV while I worked on this. During this process we saw two episodes of "Mickey Mouse Clubhouse", one "Jungle Junction", one "Special Agent Oso", and two episodes of "Timmy Time". For those who have no idea what I just said, it took me about 2 1/2 hours.
When I got near the end and there was space enough for the width of the ribbon, I wrapped the ribbon on and placed balloons over it to secure it in place.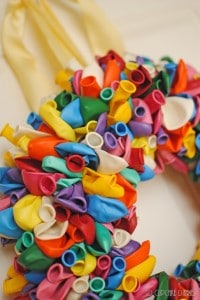 And that's it! Pick a spot to hang it and you're ready to celebrate!
Isn't that so fun?