This is a Sponsored post written by me on behalf of
Sam's Club
. All opinions are 100% mine.
Since I was a kid I can remember going to a Thanksgiving or Christmas dinner and seeing a beautiful dish of green bean casserole sitting on the table. You know the one-cream of mushroom soup, green beans and fried onions combined with favorite seasonings. It's a flavor that no holiday menu should be without! My younger brother loves this casserole more than anybody I know! Growing up he ate more green bean casserole than anyone else at these dinners. At age 22, nothing has changed! He's still green bean casserole's biggest fan. He's currently living in Australia and I think of him every time we eat this casserole.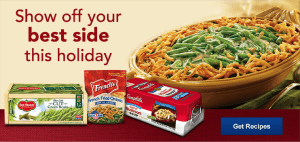 I love that you can make so much more than just the casserole with those ingredients! Buy your basics at Sam's Club, then use what you have left over from your original recipe to create other delicious dishes.
This recipe for Brown Sugar Bacon Green Beans looks especially good!
Brown Sugar Bacon Green Beans
6 slices bacon or turkey bacon
2 cans (14.5 oz. each) Del Monte® Cut Green Beans, well-drained
2 Tbsp. packed dark brown sugar
1/4 tsp. dried red pepper flakes
1 Tbsp. canola oil (optional)
1. Cook bacon in a large skillet over medium-high heat about 5 minutes or until crisp. Place bacon on paper towels. Discard all but 1 tablespoon of the bacon drippings. (If using turkey bacon, replace drippings with 1 tablespoon canola oil.)
2. Return skillet to medium-high heat; add beans, sugar and pepper flakes. Cook 6 to 7 minutes or until lightly browned, stirring occasionally.
3. Top beans with crumbled bacon and serve.
Doesn't that look sooooo good? I can't wait to give it a try!
You can view this recipe and many others using ingredients from green bean casserole on the Sam's Club website! You only need a few basic ingredients to get started on these amazing recipes. Follow this Casserole link to view these fabulous recipes!