This is a Sponsored post written by me on behalf of
PeiWei
for
SocialSpark
. All opinions are 100% mine.
Pei Wei Asian Diner is one of our very favorite places to eat. It's owned and operated by P.F. Chang's China Bistro (another of our favorites), but when we don't have the time for a sit down meal at P.F. Chang's we can enjoy high-quality Asian-inspired cuisine in the fast casual setting at Pei Wei. Pei Wei is so lively and provides the flexibility, speed and convenience of take-away service to provide guests tasty options for a quick, light lunch or delicious dinner. Everything is freshly prepared (35 fresh, hand-cut ingredients!) and wok'd-to-order. It's so good!!
One of my favorite things to order at Pei Wei is lettuce wraps. And I was so excited to hear that they are now offering new Sriracha Pineapple Pork Lettuce Wraps! The pork is wok seared and combined with pineapple, red onions, and red and green peppers. Then slathered over the top is Pei Wei's own Sriracha sauce. Yuuum! Cool, crisp lettuce cups are placed on the side of this fabulous combination for some pretty amazing lettuce wraps. My mouth is watering just talking about them!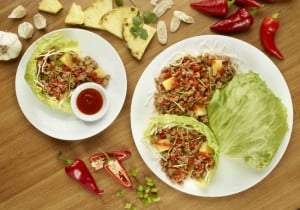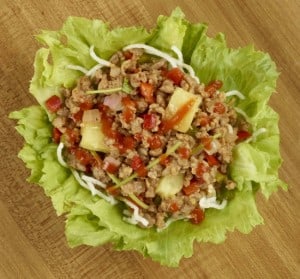 So you don't like green peppers. No problem! All dishes are made-to-order and you can customiize your meal the way you want it. Pei Wei also offers vegetarian and gluten-free options.
I don't know about you, but I'm in the mood for some Sriracha Pineapple Pork Lettuce Wraps! Try them out soon before they're no longer available!
Explore the full Pei Wei Asian Diner menu for a glimpse at what you can get for lunch or dinner from Pei Wei! You can also Like Pei Wei on Facebook, Follow Pei Wei on Twitter, and Follow Pei Wei on Pinterest to keep up on all the latest and greatest from Pei Wei.
What about these new and yummy wraps makes you excited to try them? It's the pork that makes me excited!