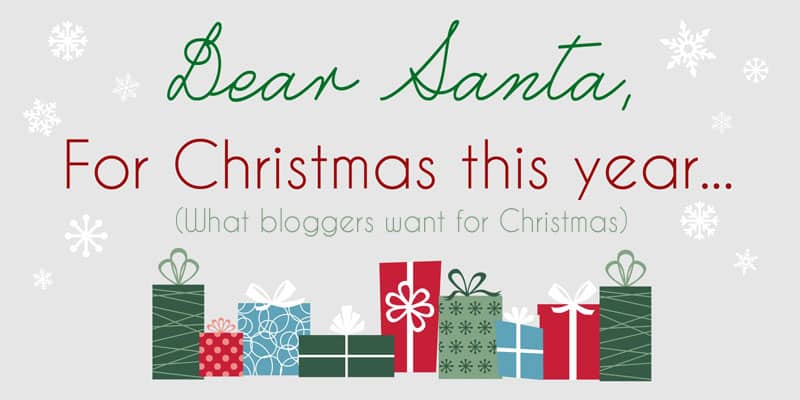 With only five days left till Christmas, I thought it would be so fun to ask some fellow bloggers what's on their Christmas wishlists! I loved all the different responses and would love to share them with you today. Maybe you're asking for some of the same things! Popular items include a GoPro camera, photography equipment, and a clean house. Check out who's asking for what, follow some new bloggers, and get some last-minute shopping ideas at the same time!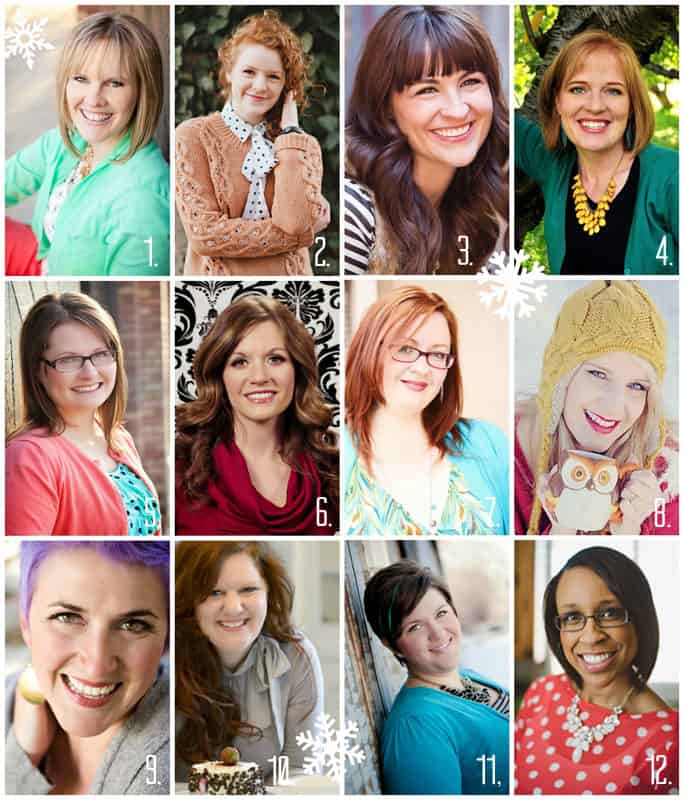 1. Alli – a nice whisk, anything I can use in the kitchen, clothes, jewelry, J.Crew gift card
2. Caitlin – Eclectic Lifestyle blogger from Fry Sauce and Grits: Crossing her fingers for a Canon 50mm 1.4 lens!
3. McKenzie – Beauty blogger from Girl Loves Glam: GoPro camera, photography floor drops, Ulta or Sephora gift card
4. Becky – Deal blogger from Utah Sweet Savings: a clean house and someone to do her laundry
5. Amy – Craft blogger from The Happy Scraps: a new vacuum and a new set of pots and pans
6. Angel – Sewing/DIY blogger from Fleece Fun: weighted gloves to wear while exercising and new perfume
7. Amber – Food/Lifestyle/Craft blogger from Jade Louise Designs: Canon 6D camera and a fancy kitchen island to be place in the office in front of the natural light to create a food photography studio and organize all her food photography items
8. Isabelle – Lifestyle blogger from Le Chateau des Fleurs: the Harry Potter books, boxing punching bag, peace on earth
9. Ashlee – Food/Cakes/Party blogger from Ashlee Marie: After living with her in-laws for 5 1/2 years she just bought a house, so no gifts. But she would love a tankless water heater!
10. Tauni – Lifestyle blogger from SNAP!: Home Goods gift card
11. Lindsay – Craft blogger from Artsy-Fartsy Mama: LOTS of glitter and chocolate
12. Yvonne – Food blogger from Tried and Tasty: She didn't ask for anything since she just went on a fabulous vacation. She's happy with time at home with family. Her sister is coming to town and that's gift enough with her family being moved away.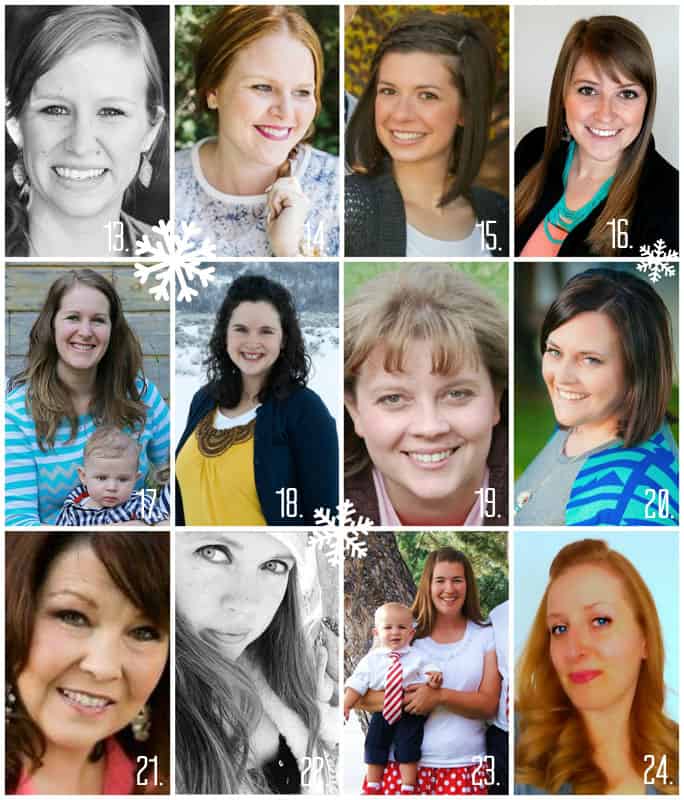 13. Aimee – Food blogger from Like Mother, Like Daughter: kitchen tools, a skillet, a whisk, food photography book, clothes
14. Lindsay – Lifestyle blogger from Frenchie: AirStrike gun from Ryobi, lipstick from NYX, storage, new camera lenses, a maid
15. Amber – Food blogger from Dessert Now, Dinner Later: new salt and pepper grinders
16. Natalie – Craft blogger from The Creative Mom: hoping for a Bosch mixer
17. Alexis – Mommy/Lifestyle blogger from We Like to Learn As We Go: new crock pot
18. Taralyn – Lifestyle blogger from Keep Moving Forward with Me: GoPro camera and new places to travel and experience with family
19. Kara – Food/Craft/DIY blogger from Creations by Kara: She really wants a clean house, but would settle for a camera bag. Also fun dishes and props to stage photos.
20. Katelyn – Lifestyle/Motherhood blogger from Lionesses at the Gate: a new computer and a headboard for her kind size bed
21. LeAnn – Food blogger from Pantry Friendly Cooking: silverware and accessories for her camera
22. Aimee – Pet blogger from 4 the Love of Animals: a new Honda Accord or CRV
23. Britney – Food/Lifestyle/Craft blogger from The Princess and Her Cowboys: DSLR camera and maybe a new lens
24. Amber – Lifestyle/Craft/Food blogger from Rick-a-Bam-Boo: photography lighting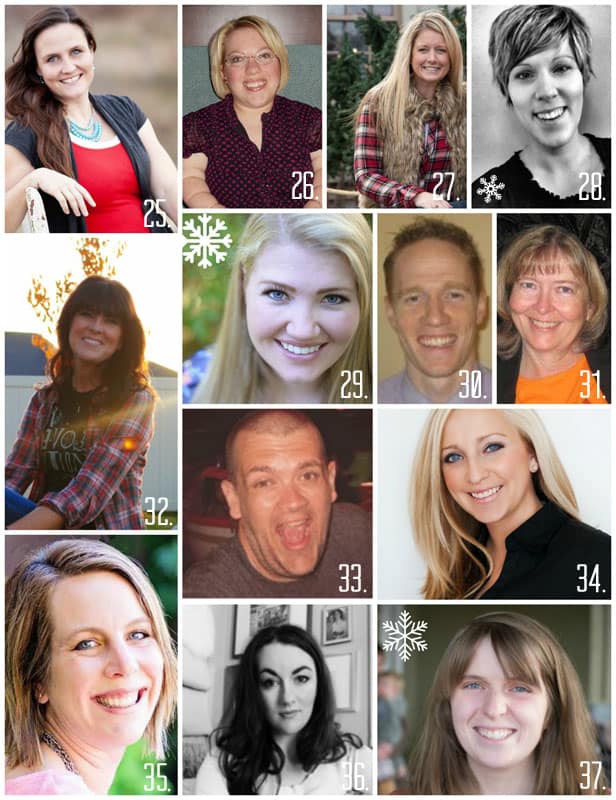 25. Annette – Family Lifestyle blogger from Tips from a Typical Mom: touch screen laptop
26. Julie – Food blogger from Confessions of a Cooking Diva: 5 cookbooks, a bunch of makeup
27. Jenn – Lifestyle blogger from The Real Housewives of Riverton: In a perfect world, a new embroidery machine.
28. Kristina – Lifestyle blogger from Mother's Niche: gifts that can be enjoyed with her husband (dates, etc.)
29. Anita – Thrifty Lifestyle blogger from Live Like You Are Rich: a light box and an upgrade from an iPhone 5s to an iPhone 6
30. Ben – Short Story blogger from Ben's Opinion: new shoes that don't let water in when it rains outside
31. Sandra – Food blogger from Scrumptilicious 4 You: Bosch mixer
32. Keri – Fashion blogger from Life My Style, Be Happy: tension ring
33. Joshua – Lifestyle/Weight Loss/ Running blogger from Running180: selfie stick
34. Melea – Money Saving/Deal blogger from Freebies 2 Deals: Naked Palette from Urban Decay
35. Janet – Business blogger from Newspaper Girl: Sole Fitness E35 elliptical machine
36. Ann – Craft/Design/Lifestyle blogger from Dripping Paintbrush: record player (think Urban Outfitters), Cuisinart food processor, DIY furniture book, Design Bloggers at Home book
37. Katie – Family Lifestyle blogger from Clarks Condensed: Silhouette supplies, the food mystery novels by Josi Kilpack, a FitBit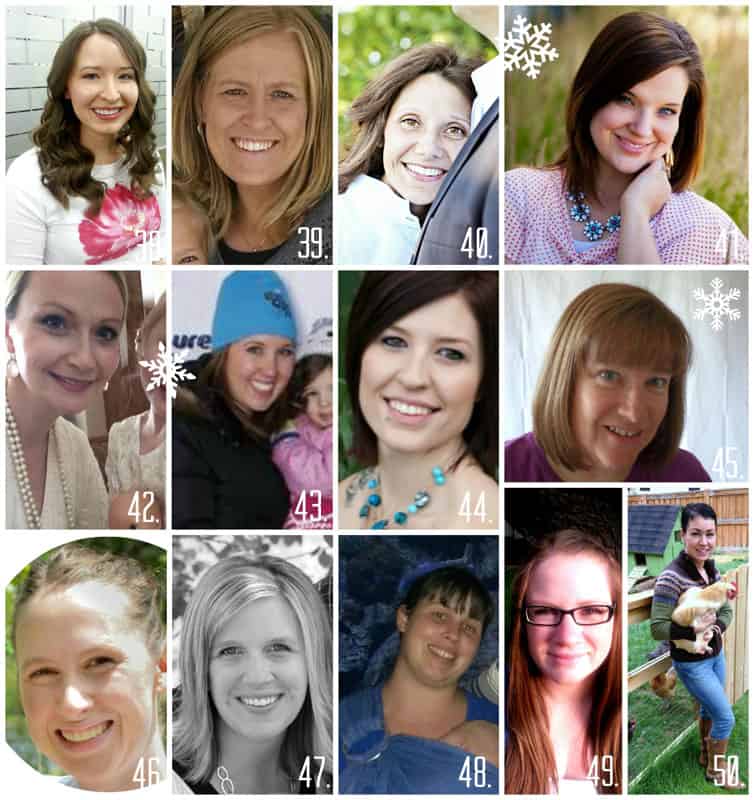 38. Becky – Food Blogger from Love to Be in the Kitchen: dark chocolate, any foods from Trader Joe's, cookie scoops, cupcake scooper
39. Kendra – Family Lifestyle blogger from The Things I Love Most: new DSLR camera
40. Heather – Parenting/Marriage blogger from Family Volley: FitBit Charge
41. Jennifer – Lifestyle/Craft blogger from My Daylights: new camera lens, backdrop stand, new vacuum
42. Kathy – Outdoor/Active Lifestyle/Travel blogger from Go Adventure Mom: Manfrotto tripod
43. Tiffany – Healthy Lifestyle blogger from Feel Great in 8: Jawbone Up24
44. Holly – Healthy Lifestyle/Food blogger from Happy Food, Healthy Life: photography equipment and photography ebooks
45. Shannon – Food blogger from Dinner from the Heart: Blendtec blender, really cool mortar and pestle for mashing Asian food ingredients, photography books
46. Sydney – Food/Craft blogger from Tastefully Frugal: new accent chairs
47. Becky – Hair blogger from Babes in Hairland: that her husband will be blessed to find a job
48. Deborah – Mommy/Kid blogger from Mommy Crusader: DSLR camera
49. Debi – Parenting blogger from Practical Parenting Ideas: boots and Photoshop
50. Leah – Homestead blogger from Fabulous Farm Girl: a new stove
**This post contains some affiliate links