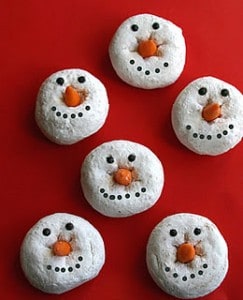 Happy December!! I'm amazed at the beginning of each month and how fast it got here. Christmas is 3 1/2 weeks away, folks. I can't believe that one either! That means only 23 days left to get the shopping done. I'm really proud of myself and only have one more gift to buy. I'm not sure how I did it this year but I am sleeping well knowing that I'm almost done! And assuming that my son is a good boy all month long and our Elf on the Shelf, Charlie, gives Santa the good news, we'll be having ourselves a merry little Christmas this year.
I love this time of year! I love the parties, the treats, family and friends, the music, the snow, the lights…I could go on and on. It's such a wonderful time of year. I can't wait to try some new treats and dishes out this year. And I'm excited for all the blog posts coming up as well! There are going to be loads of treats and goodies shared, as well as great neighbor gift ideas, crafts, etc. I can't wait!
These little snowmen are just the cutest and perfect for the kiddos. They're super easy to make and fun for the kids to help out. Just looking at them makes me smile!

Snowman Donuts
Creative Gift and Party Ideas
black frosting OR mini chocolate chips (for the eyes and mouth dots)
candy corn (for the nose-If you can't find candy corn this time of year you can shape any orange candy to make the nose. Starbursts, orange chews, etc.)
powdered sugar donuts.
If you're using black frosting, pipe the dots for the eyes and dots for the mouth. If you're using mini chocolate chips (I personally prefer the chocolate chips), press each chip with the point down into the donut so the bottom is facing up and flat. Do this for the eyes and the mouth. Then press a candy corn in the center for the nose, or whichever candy you're using. Have fun!