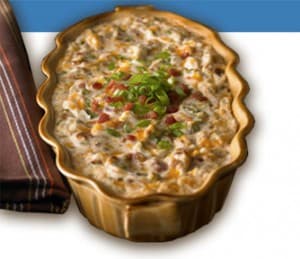 Every year at Christmas time my parents, siblings, and I along with our spouses have a party. The married siblings switch off every year with our in-laws and spend every other Christmas with them. Depending on the year, we have the party sometime the week before. This year we will be with my family for Christmas so the party will be on Christmas Eve. Our menu always includes a whole bunch of appetizers and treats, and rolls with deli meats and cheeses or ham from the oven. I love to see what everyone brings for the party!
I found this appetizer idea on the Daisy Brand Sour Cream website and thought it looked super delish. It would be perfect for our Christmas party and something totally different than what we've had in the past. It's really easy to make and it doesn't set up funny if it's been sitting out in open air for too long, like some cheesy dips I've made in the past. That alone makes me a happy camper!
What are some of your holiday food traditions? Is there an annual Christmas party? What kinds of food are a MUST when you have a party at Christmas time?
Warm and Creamy Bacon Dip
image and recipe via Daisy Brand Sour Cream website
8 oz cream cheese, softened at room temperature
2 c. sour cream
3 oz. cooked bacon, crumbled (You can use bacon bits if you would prefer.)
2 c. Cheddar cheese, shredded
1 c. green onion, chopped
Preheat the oven to 400 degrees. In a bowl, combine all the ingredients. Place in a 1-quart baking dish. Cover and heat in the oven for 25-30 minutes or until hot. Serve with sliced French bread, crackers, and/or chips.