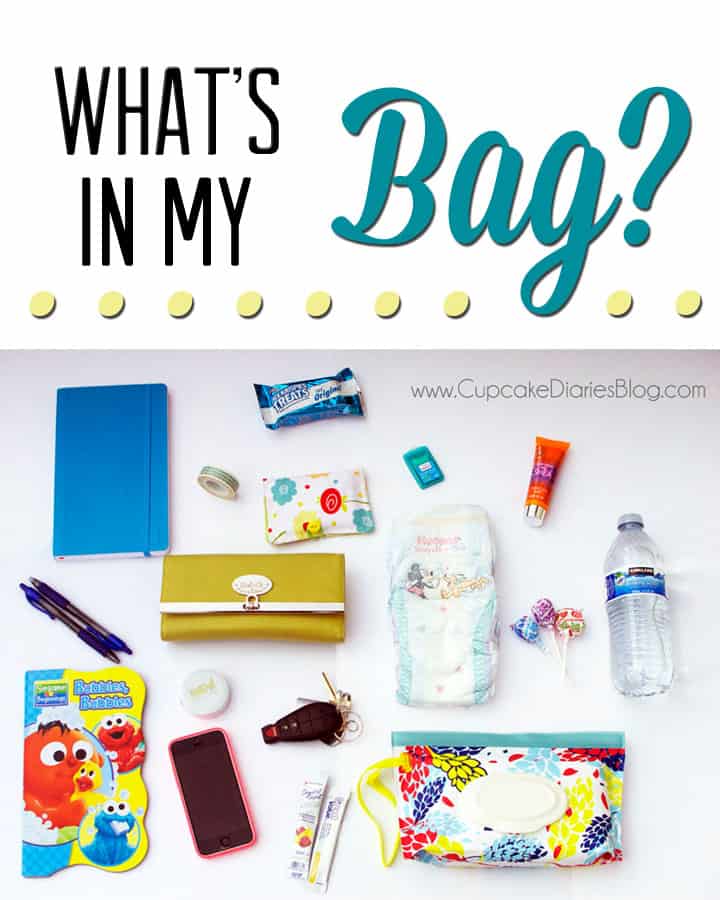 It's time to get to know a little more about me! And in playing this game of "What's In My Bag?" I ended up laughing a lot. The contents of a person's bag can tell you a lot about them, that is for sure!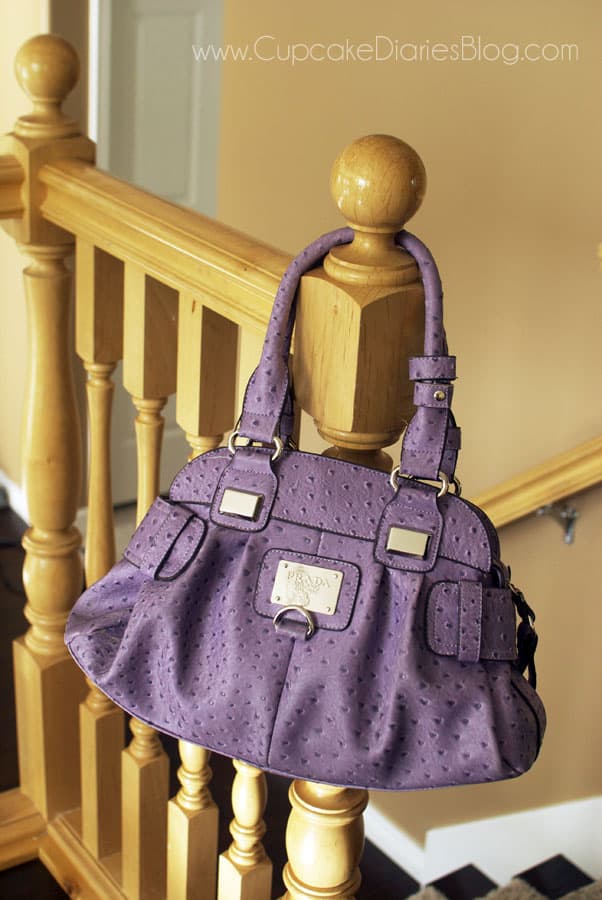 Allow me to introduce you to my purse. She is very purple (my favorite color!) and a very fake Prada, thanks to the sketchy lady in New York City's China Town who walked me into an even sketchier back room. Good times in NYC!
I decided for this little game that I would dump out the entire contents of my bag and show you EVERYTHING that was in it (minus all the garbage because, let's be honest, there was a lot). This way I could show who I truly am! Here we go!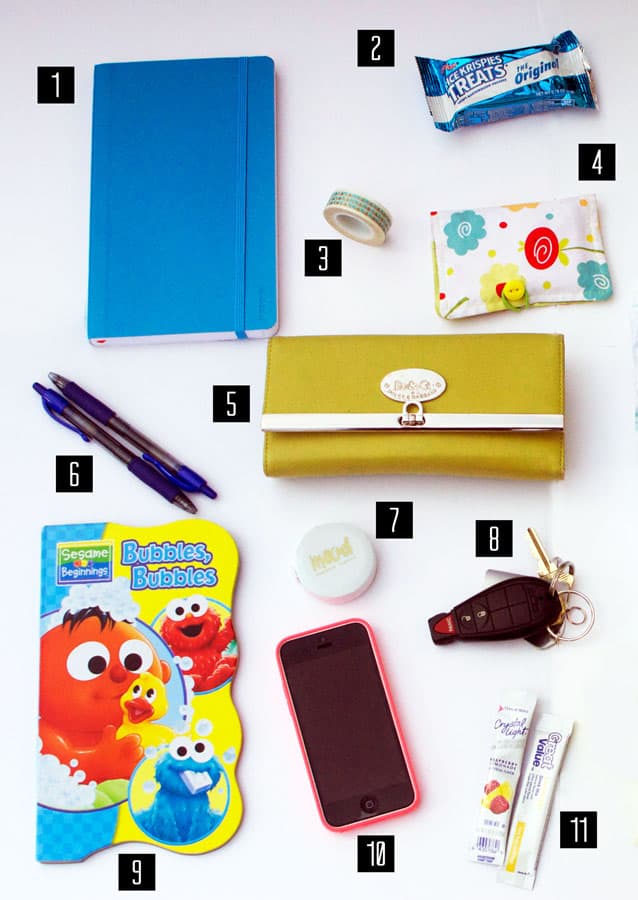 1. Poppin notebook (c/o Poppin) – I LOVE every single stinkin' one of my Poppin products and can't go anywhere without my pretty blue Poppin notebook. I never know when I'm going to need to write something down while I'm out and about.
2. Treats – Even when I'm not pregnant, I have to keep treats in my bag for emergencies. I never know when I'm going to have a sugar freak out!
3. Washi tape – You really never know when you're going to need a really cute piece of tape!
4. Business card holder (c/o Crazy Little Projects) – I like to keep business cards on hand wherever I go. They've come in handy on many occasions! The super cute business card holder was made by Amber over at Crazy Little Projects. She handed these out at Snap Conference last year and I have loved mine ever since.
5. Wallet – Can't be driving around without that drivers license! The cash and cards are pretty nice to have as well.
6. Pens – I seem to need a pen all the time. These guys save me.
7. Tape measure – I'm my father's daughter and carry a tape measure. I usually have two in my bag but decided to show my fun Mood Fabrics tape measure I got when I went to New York City last. I have found myself using a tape measure on many many occasions and thank my dad to myself every time I use it.
8. Keys – This taxi driver has to use keys!
9. Children's book – It's always handy to have a really colorful book on hand when I'm with the kids and we're somewhere boring. In a doctor's office waiting room, stuck in traffic…I can pull out a book and keep someone entertained for at least 5 minutes.
10. Cell phone – On the few times I've accidentally left my cell phone at home I have felt so weird and so lost. And I got my first drivers license before I had my first cell phone so it's not like I don't know how to go somewhere without one. Remember the good old days when no one had a cell phone? Yeah, me neither. I can't imagine it!
11. Drink packets – I drink a lot of water these days and it sure can get a little boring. These little packets take up hardly any room and add tons of flavor to my water, making it a whole lot easier to drink it. (Raspberry lemonade is my favorite!)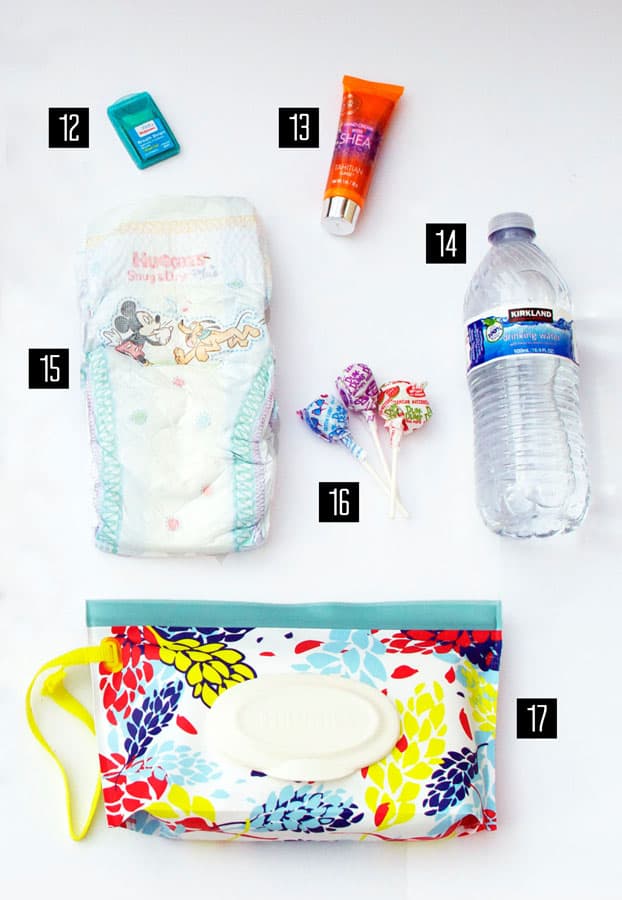 12. Breath strips – I've never been a big gum chewer. But it's still nice to freshen that breath once in a while! Breath strips are my way of choice.
13. Lotion – I love having lotion on hands when I want to smell fabulous or if my hands are feeling desperate. I go through lotion like a maniac in the winter!
14. Water bottle – There's always someone who seems to get really thirsty whenever we leave the house. I try to have a full bottle of water on hand for those moments! My boys drink water like it's going to be the last thing they ever drink.
15. Diapers – I have a two year old who isn't potty trained. Enough said.
16. Dum Dum suckers – These things have saved me on multiple occasions. When kids are freaking out in the grocery cart, screaming in the car, "starving," or really anywhere in public where they're throwing tantrums that are embarrassing me like crazy. I have a special spot in my purse that's very easy to find where I can grab an entire handful of Dum Dums out at once and let the boys choose a color. I wish I could shake the hand of the person who invented Dum Dums.
17. Huggies Clutch 'n' Clean refillable wipes (c/o Huggies) – Have you seen the new refillable wipes cases from Huggies? These things are amazing. Not only are the designs so cute and trendy, but they're a nice plastic that you can place the wipes directly inside. That fun strap makes it easy to find inside my bag, too. I love that it opens up just like a regular wipes holder. We've been through some serious messes with this Clutch 'n' Clean.
What's in YOUR bag??