My husband wanted this cake for his birthday. He likes this one better than regular cake because it falls right in the middle of the brownies and cake categories. This is a low-rise cake and it is delicious!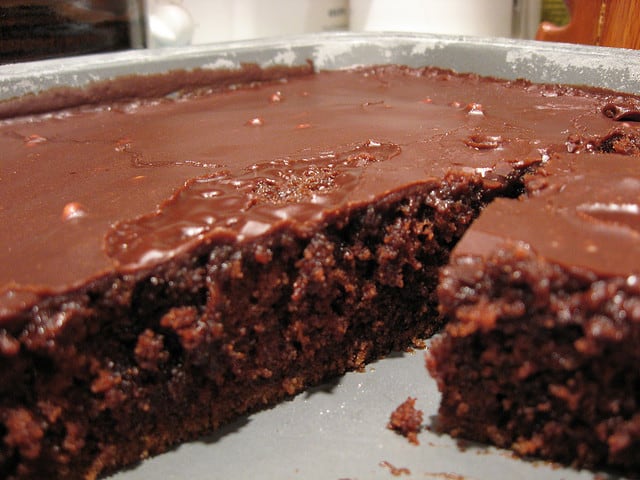 from the kitchen of
Cake
Grease and flour a 10 x 15 or 12 x 17 pan (a cookie sheet).

In a bowl, combine 2 cups flour and 2 cups sugar.

In a sauce pan, melt 2 sticks of margarine, 5 Tbsp cocoa, and 1 cup water. Bring to a boil stirring well. Add to the flour and sugar mixture.

In another bowl, beat 2 eggs. And 1/2 cup buttermilk, 1 tsp baking soda, 1 tsp vanilla, and 1/8 tsp salt. Add to the flour and sugar mixture.

Mix everything together well and pour into pan.

Bake 25 minutes at 350 degrees.
Icing
In a sauce pan, melt 1/2 stick of margarine, 1 1/2 Tbsp cocoa, and 3 Tbsp milk. Bring to a boil and add 2 1/2 cups powdered sugar and 1/2 tsp vanilla and nuts (optional).

POUR ICING ON THE CAKE WHEN THE CAKE IS HOT. This frosting is like fudge and cools really quickly. I also like to double the frosting. It covers more of the cake when doubled.