Super Mario Bros. Birthday Party Goody Bags are the perfect way to send the kids home from the party with treats and toys! You can download the labels for free below.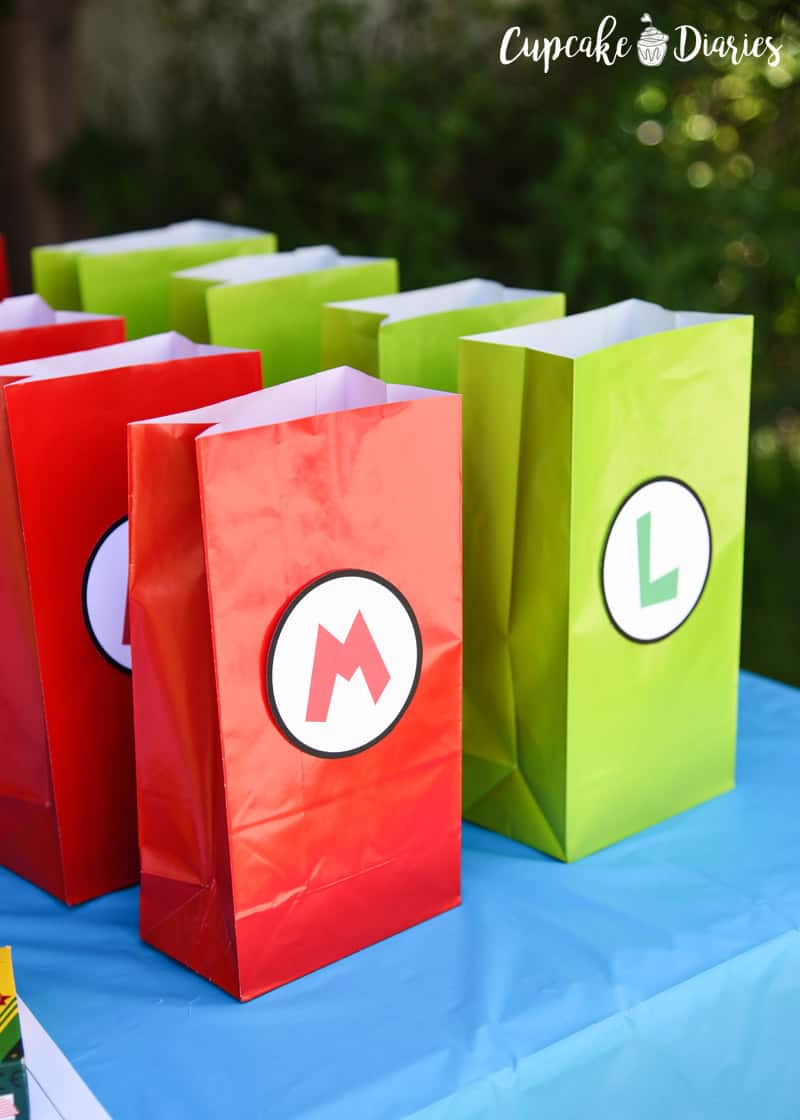 I love putting a kids birthday party together and the goody bag is one of my favorite parts. When we had a Super Mario Bros. birthday party for my five year old we put together the easiest goody bags I've ever made for a party without buying themed bags from the store. Not only did the kids absolutely love the bags, they also looked super cute sitting on the table during the party. They worked as a take-home for the kids plus decor! Super Mario Bros. Birthday Party Goody Bags are so easy to make and the kids will love them.
What is Super Mario Bros.?
If you're new to the world of Super Mario Bros., I'm going to paint you a little picture of what it was for my family growing up:
Imagine three kids, a boy and twin girls around 8 to 10 years old, sitting on the floor in front of a TV they have to physically walk up to and change the channel till they get to what looks like a white screen with a bunch of tiny black ants crawling around. That was how they knew they reached THE channel. The channel that would allow them to push the switch on their Super Nintendo game console for hours of entertainment brought to them by Mario and friends. Our favorite games were Super Mario Kart and Mario Bros. (original, 2, and 3). We really could spend hours on that thing, but our dear mother was very good about kicking us outside to go build a fort or ride our bikes. It was kind of an amazing childhood.
In a nutshell, while playing Super Mario Bros. you control Mario as player one and whoever gets player two represents Mario's brother, Luigi. Their goal is to travel through the mushroom kingdom to save Princess Toadstool from the bad guy, Bowser. Along the way you get all kinds of cool helps such as fire power and and stars. I love that my kids love it as much as I did!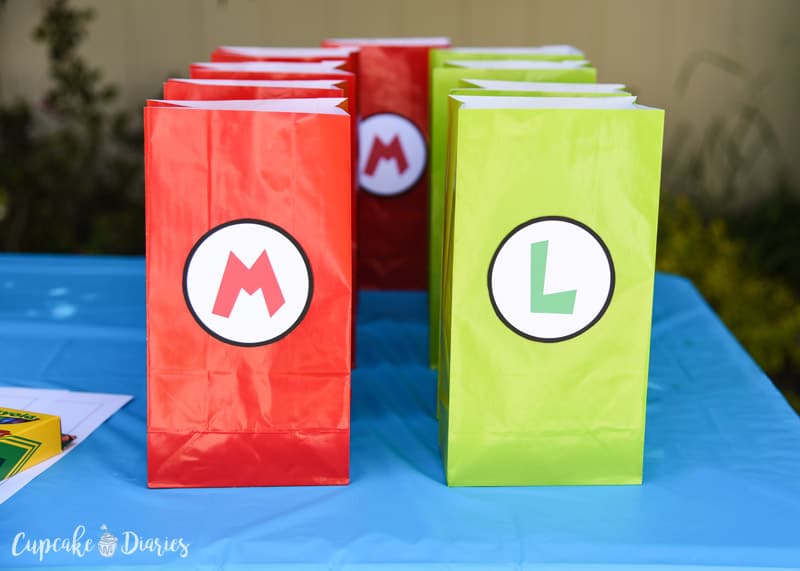 Making Super Mario Bros. Birthday Party Goody Bags
These bags represent the brothers Mario, Mario and Luigi. You only need a few items to make these bags!
Print out the amount of M's and L's you need for the party then cut them out. Use tacky glue to paste the M's on the red sacks and the L's on the green sacks. And that's it! Time to fill the bags.
What to put in Super Mario Bros. Birthday Party Good Bags
I love finding treats and toys for goody bags. These bags were especially fun to put together!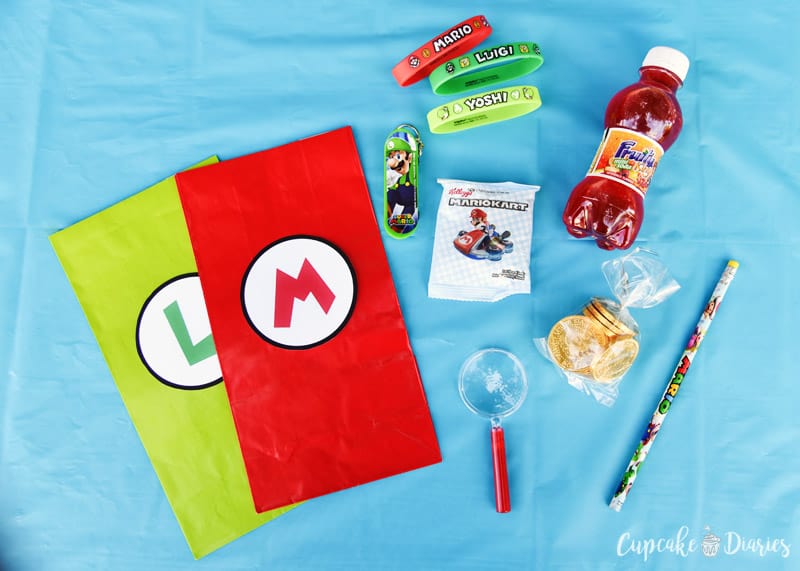 I put the following in our bags, but the possibilities are endless. Just start looking for Mario items or items in the colors of the party!
Mario Kart fruit snacks (I found ours at Walmart. I've also seen them at Smith's.)
small plastic baggies with ties (I used 3×4-inch bags.)
red fruit drink (I found ours at Winco. There are all kinds of options at other grocery stores.)
I placed one of each item into the bags and didn't staple them or tape them closed. I left them open and lined them on the tables to act as decor during the party, then the kids added anything else to the bag that they received during the party and took them home. These bags were perfect and the kids loved them!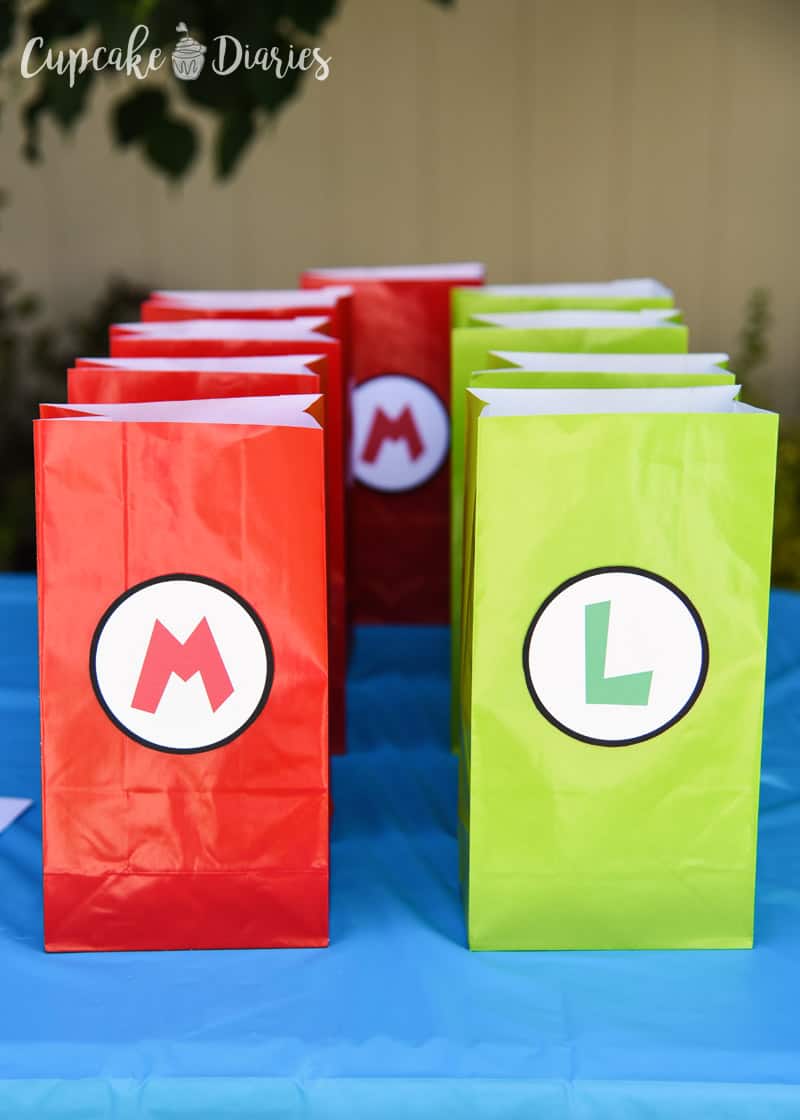 Other Ideas for Your Super Mario Bros. Party
My kids already had Mario plush dolls so I put them on the center of the table where the kids ate lunch and colored pictures (pictured below). We have Mario, Luigi, Yoshi, and Toad. I also got a pack of Mario tableware with 16 cups, plates, and napkins (pictured below) and a plastic table cover with a Mario themed design. I ended up getting two blue table covers to add a little more color to the food and lunch tables (pictured below), then used the Mario cover for the gift table.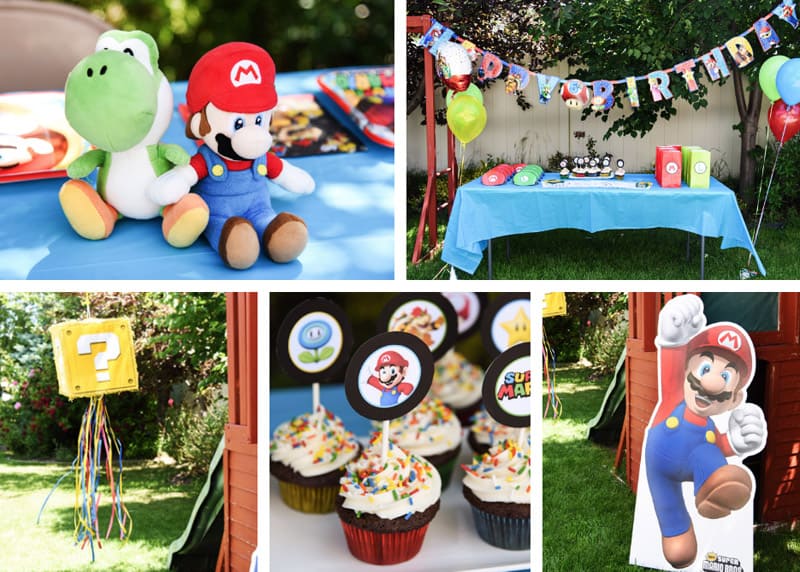 The kids wore Mario and Luigi paper hats during the party; the hats also worked great to take up some space on the table (pictured above). The 3D question block pinata (pictured above) was the perfect touch for this party. A pinata is one of my favorite party elements because they take up time and the kids love it.
For dessert we served Super Mario Bros. Cupcakes and the kids loved them. I made 12 Mario Bros. printable toppers and put them right on top of each cupcake attached to a sucker stick. Get the super easy recipe and the toppers HERE!
Easy Decor
I love the jumbo letter birthday banner I found (pictured above). It comes with a bunch of different numbers so you can make the banner work for however hold your child is turning.
And last, but not least, the most glorious Mario cardboard standup you ever did see (pictured above). We don't always buy cardboard standups for parties, but they always add a TON to the decor when we do. My son and his friends thought that Mario was the coolest part of the party. And now he stands in my son's room that he has carefully decorated with other Super Mario Bros. treasures, including the cutest Super Mario Bros. wall decals.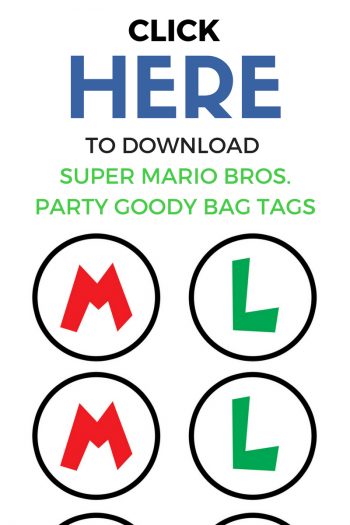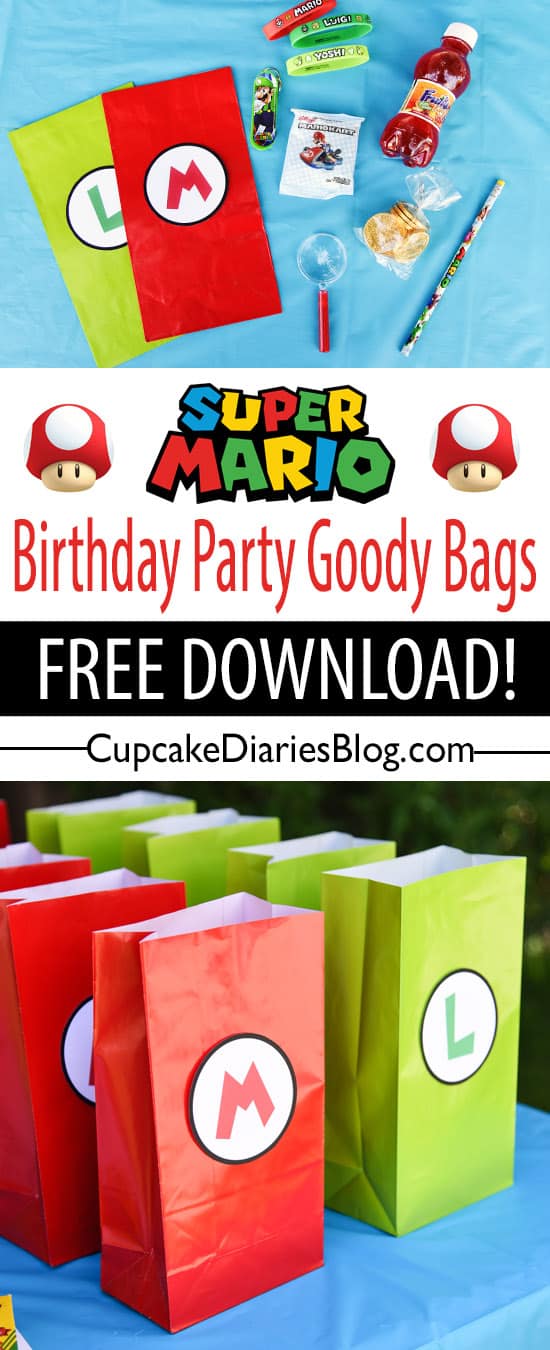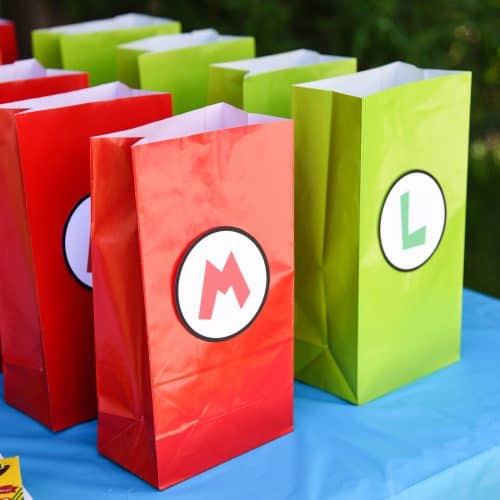 This post contains affiliate links. I include these links to help you find the products that I used in the recipe. If you purchase an item from the link, I will receive a small commission helping keep my recipes free for you. Thank you for your support!