Every birthday party needs dessert! Super Mario Bros. cupcakes are so easy to make and you can download the printable toppers right here for free!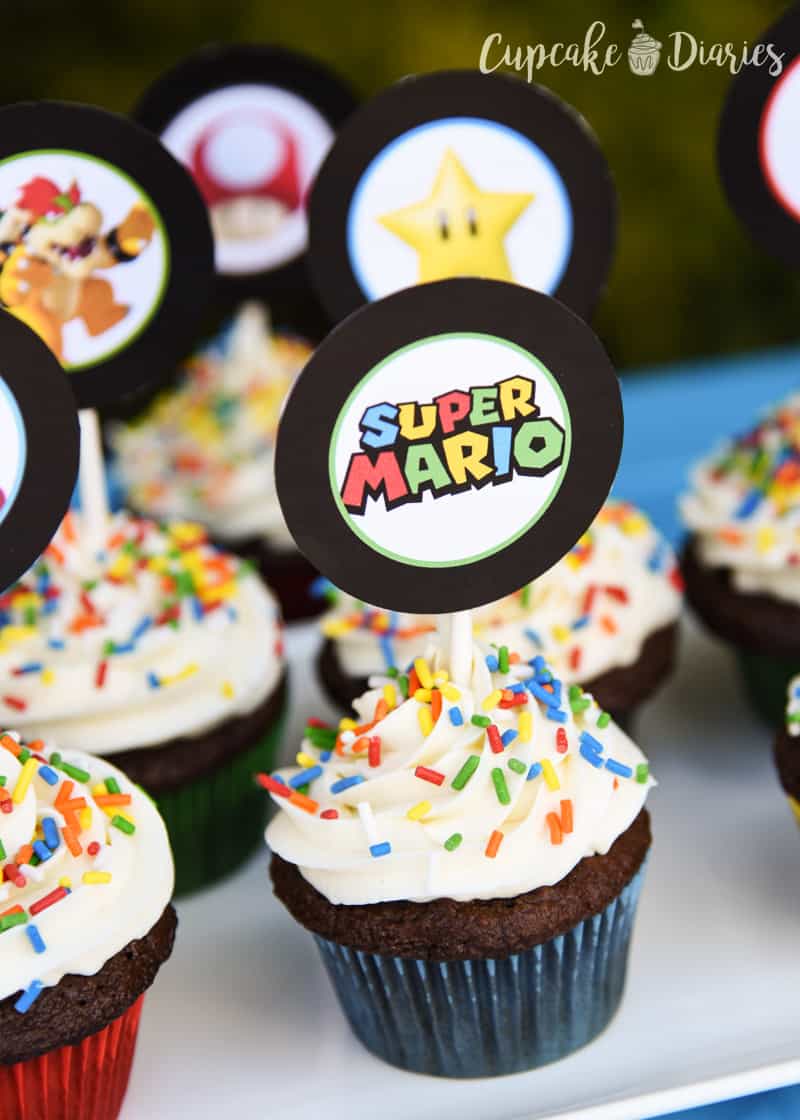 I have four boys and three of them are obsessed with all things Super Mario Bros. Last summer I threw a Super Mario Bros. themed birthday party for my five year old and it exceeded his expectations and then some. (Imagine I'm patting myself on the back right now. haha) I always knew it would be fun to throw a Mario-themed party, but it ended up being so much better (and easier!) than I thought it would be. These Super Mario Bros. Cupcakes played a role in the ease of the party and I'm so glad I made these instead of a big cake. They were quick to put together and the kids LOVED the toppers!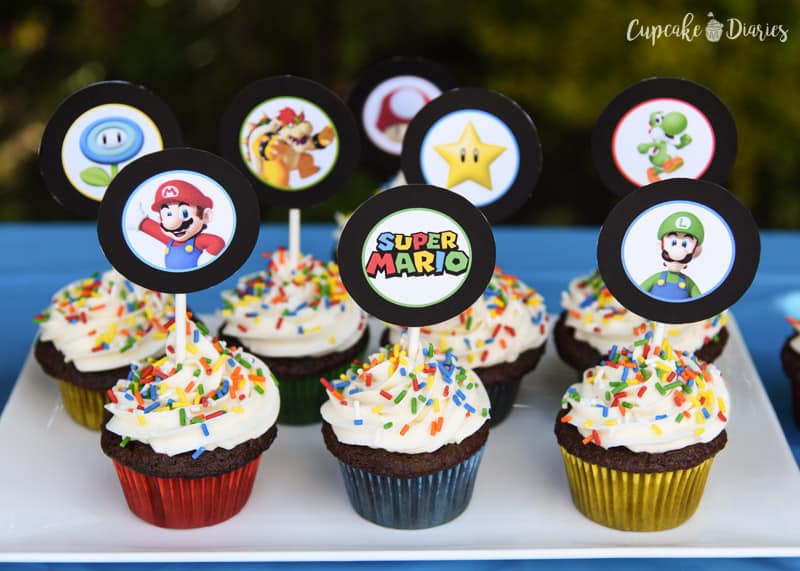 What is Super Mario Bros.?
If you're new to the world of Super Mario Bros., I'm going to paint you a little picture of what it was for my family growing up:
Imagine three kids, a boy and twin girls around 8 to 10 years old, sitting on the floor in front of a TV they have to physically walk up to and change the channel till they get to what looks like a white screen with a bunch of tiny black ants crawling around. That was how they knew they reached THE channel. The channel that would allow them to push the switch on their Super Nintendo game console for hours of entertainment brought to them by Mario and friends. Our favorite games were Super Mario Kart and Mario Bros. (original, 2, and 3). We really could spend hours on that thing, but our dear mother was very good about kicking us outside to go build a fort or ride our bikes. It was kind of an amazing childhood.
In a nutshell, while playing Super Mario Bros. you control Mario as player one and whoever gets player two represents Mario's brother, Luigi. Their goal is to travel through the mushroom kingdom to save Princess Toadstool from the bad guy, Bowser. Along the way you get all kinds of cool helps such as fire power and and stars. I love that my kids love it as much as I did!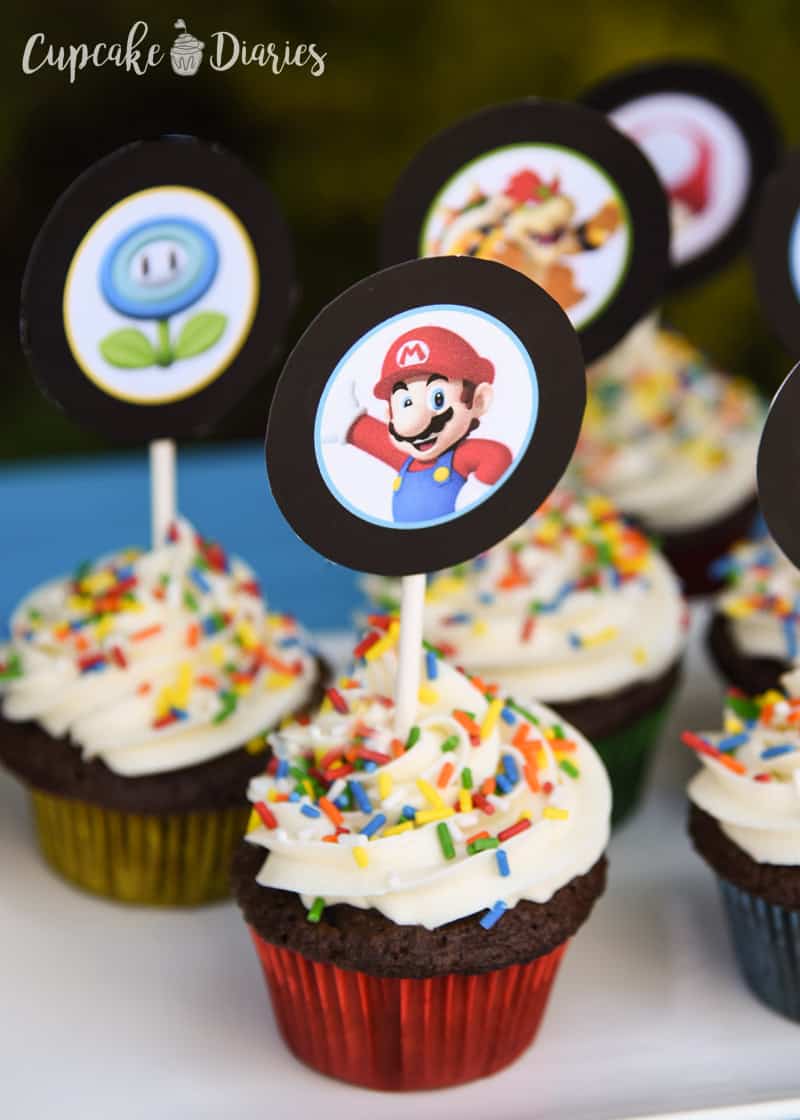 Why cupcakes and not a cake?
I went back and forth when it came time to decide on a dessert. When it comes right down to it, cupcakes are just way easier than an elaborate cake that looks like Bowser's castle, amiright? These Super Mario Bros. Cupcakes had all the things I needed to not only make them easy, but to make them so cute:
Rainbow cupcake liners that you can find at Walmart or order on Amazon for super cheap
A chocolate cake mix – Who says you have to make cupcakes from scratch? Not I, said the duck! (I reference The Little Red Hen more than probably necessary. haha)
Canned vanilla frosting – Take it from the can and right into a piping bag!
Rainbow sprinkles – I found mine at Winco, but you can also order them on Amazon or find them at other grocery stores.
Sucker sticks to tape the cupcake toppers on (I prefer 4-inch sticks)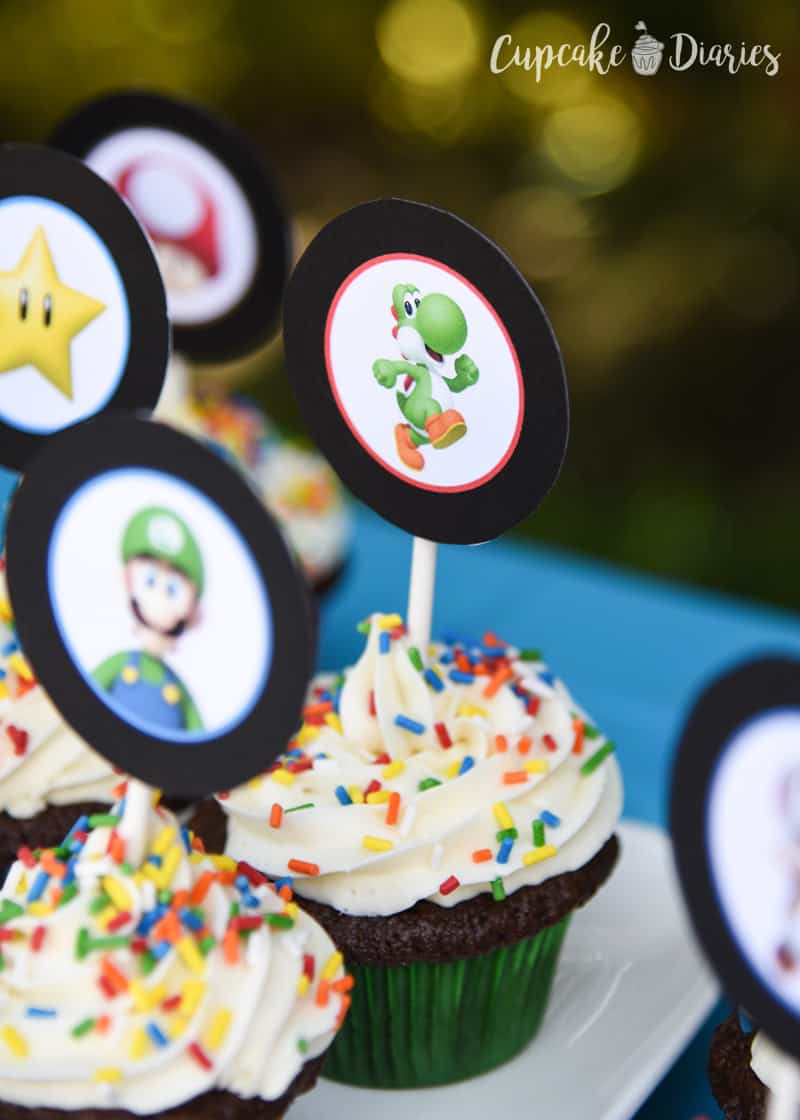 The best cupcakes can be made from a box!
Box mix vs. scratch is kind of a sensitive topic in the baking world. However, I am a FIRM believer that you don't have to make a cake or batch of cupcakes from scratch for it to taste good. There are ways to give the box an extra something and even make it taste like it's from a bakery while just adding a simple ingredient or two.
Add buttermilk instead of water to make the cake or cupcakes moister and softer. However much water is called for in the recipe, add that much buttermilk instead! You can make buttermilk by adding a tablespoon of lemon juice to a cup of milk, stirring it together, and letting it sit at room temperature for 15 minutes.
Instant pudding mixes are a great way to add a little extra flavor and also make the cake or cupcakes moist. Vanilla pudding in white or yellow cakes, chocolate pudding in chocolate cakes, etc.
Add an extra egg! In addition to adding some nutrition value, eggs liven up the color and richness of the cake, as well as providing better structure.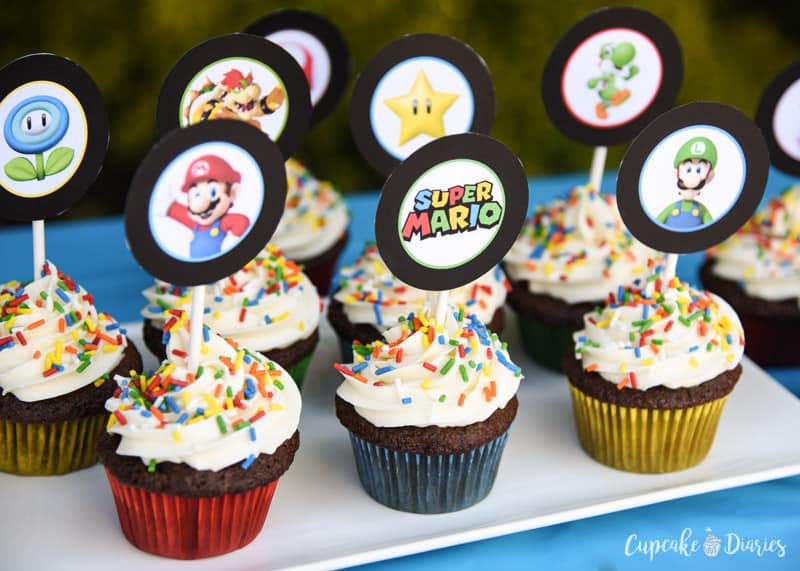 Other ideas for your Super Mario Bros. party
If I had to choose a favorite party from my blog, it would have to be my Dr. Seuss birthday party I did for my son's first birthday. It was so fun and I was able to get a ton of great things off of Amazon, including an amazing 5-foot Cat in the Hat bulletin board set. This Super Mario Bros. party was also a ton of fun and relatively easy to put together.
My kids already had Mario plush dolls so I put them on the center of the table where the kids ate lunch and colored pictures (pictured below). We have Mario, Luigi, Yoshi, and Toad. I also got a pack of Mario tableware with 16 cups, plates, and napkins (pictured below) and a plastic table cover with a Mario themed design. I ended up getting two blue table covers to add a little more color to the food and lunch tables (pictured below), then used the Mario cover for the gift table.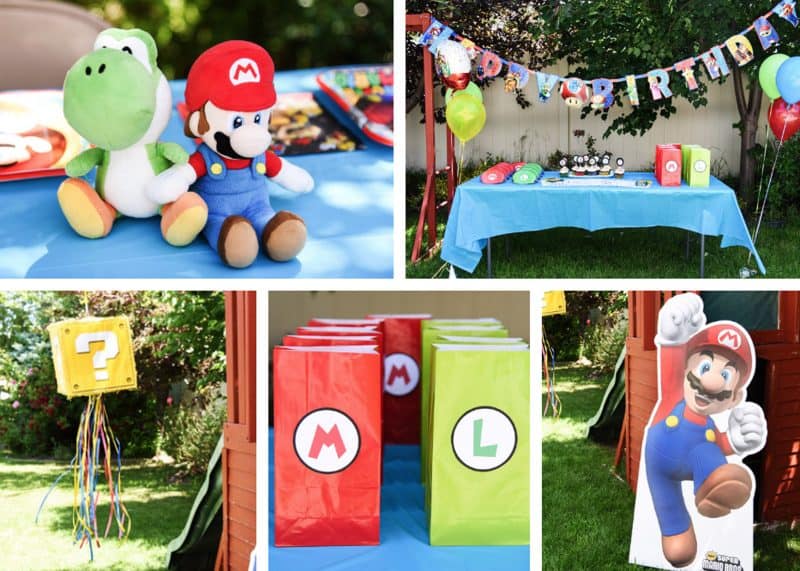 Even more party ideas
The kids wore Mario and Luigi paper hats during the party; the hats also worked great to take up some space on the table (pictured above). The 3D question block pinata (pictured above) was the perfect touch for this party. A pinata is one of my favorite party elements because they take up time and the kids love it.
Our goody bags were SO easy to put together and even easier for you since I made those M and L tags for you to download and print! You can find the instructions for the goody bags here.
Easy Decor
I love the jumbo letter birthday banner I found (pictured above). It comes with a bunch of different numbers so you can make the banner work for however hold your child is turning.
And last, but not least, the most glorious Mario cardboard standup you ever did see (pictured above). We don't always buy cardboard standups for parties, but they always add a TON to the decor when we do. My son and his friends thought that Mario was the coolest part of the party. And now he stands in my son's room that he has carefully decorated with other Super Mario Bros. treasures, including the cutest Super Mario Bros. wall decals.
Super Mario Bros. Cupcakes with Free Printable Toppers
Every birthday party needs dessert! Super Mario Bros. cupcakes are so easy to make and you can download the printable toppers right here for free!

Ingredients
1

box

chocolate cake mix

1

c

buttermilk

1/2

c

vegetable oil

3

large

eggs

24

rainbow cupcake liners

2

cans

vanilla frosting,

16 oz

disposable frosting bag,

16 inch

1M star frosting tip

rainbow sprinkles

24

sucker sticks,

4 inch

24

Super Mario Bros. cupcake toppers,

printed and cut out
Instructions
Preheat oven to 350°F. Line two muffin tins with 24 cupcake liners.

Combine cake mix, buttermilk, vegetable oil, and eggs in an electric mixer. Use an ice cream scoop to distribute cake mix evenly amongst the 24 cupcake liners, about 2/3 full. Bake 15-17 minutes, or until toothpick inserted comes out clean. Carefully remove from pans and place on a wire rack to cool.

Affix a frosting bag with 1M star tip. Add frosting and pipe onto each cupcake. Immediately add sprinkles.

Tape a sucker stick to the back of each cupcake topper. Insert into the center of each cupcake. Serve and enjoy!
Kitchen tools and gadgets needed to make this recipe: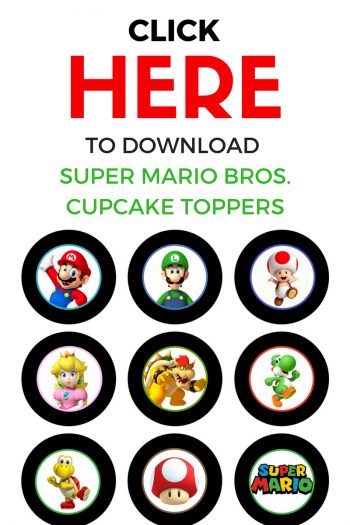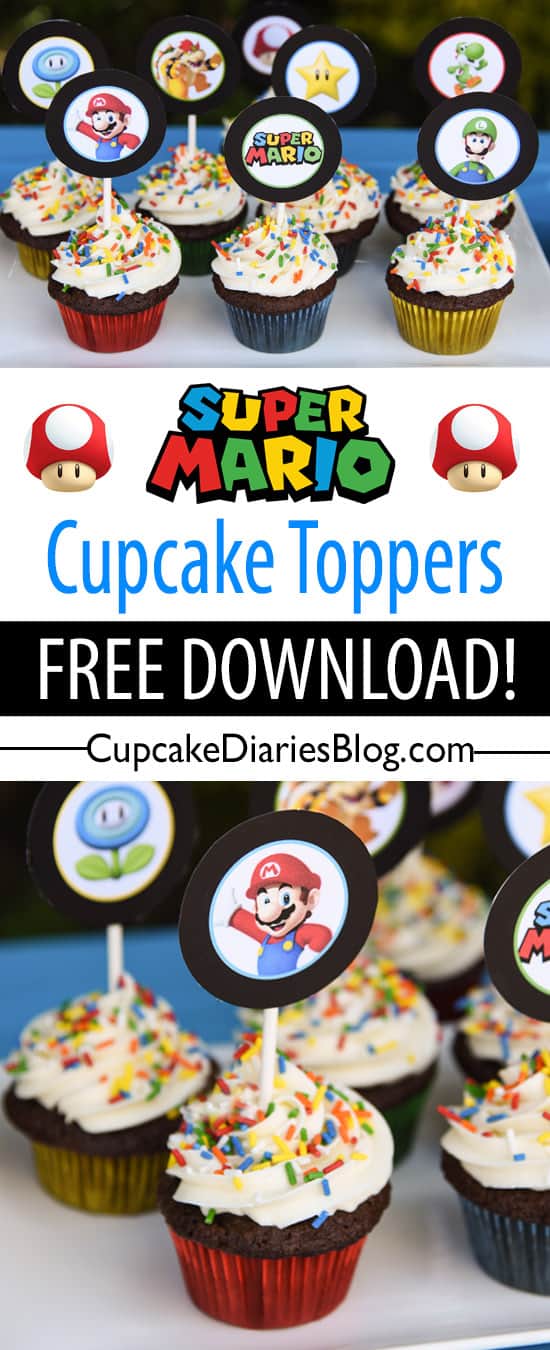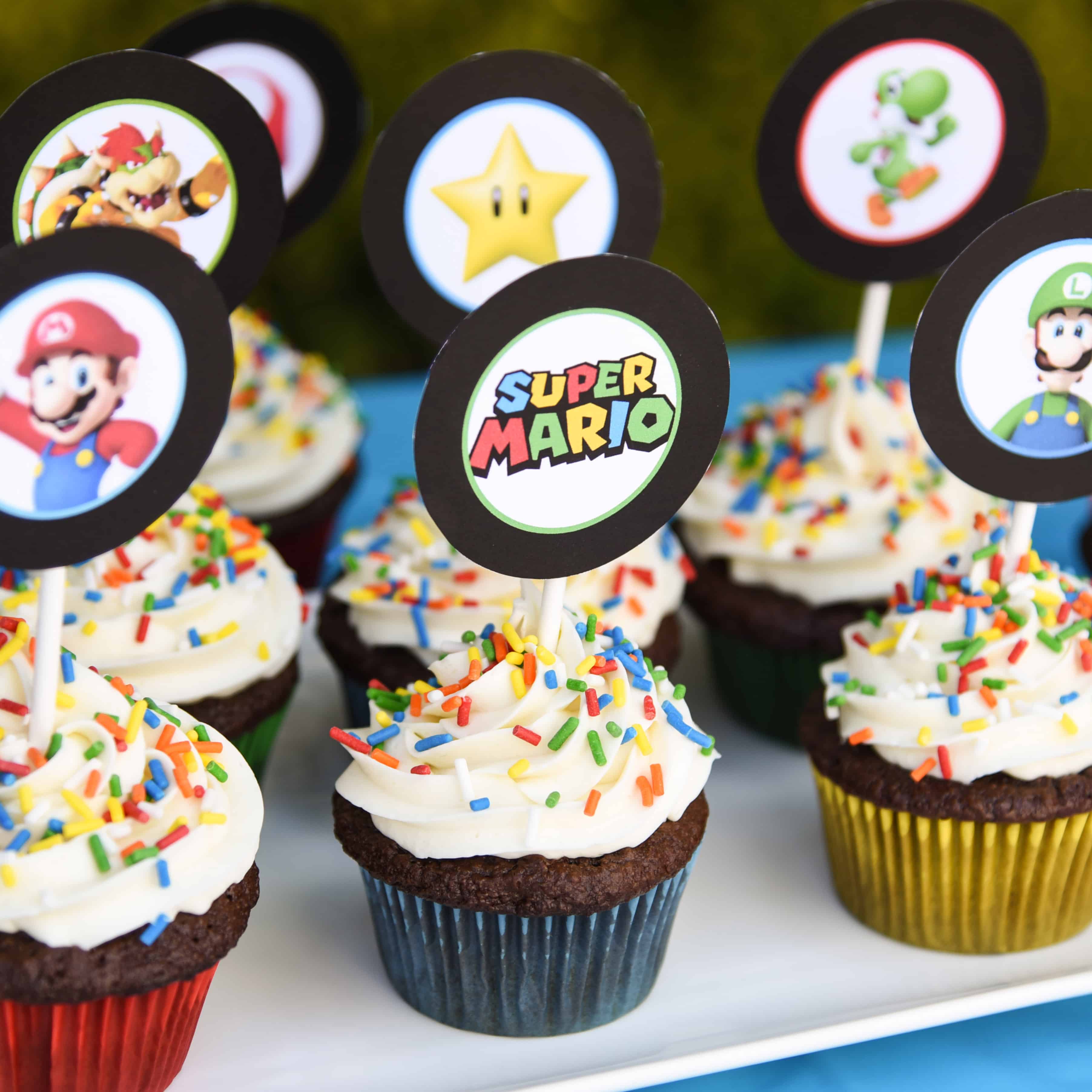 This post contains affiliate links. I include these links to help you find the products that I used in the recipe. If you purchase an item from the link, I will receive a small commission helping keep my recipes free for you. Thank you for your support!