Recently I threw a baby shower for a friend.
I wanted to make a yellow cupcake with pink frosting to match the decor.
I bought some frozen strawberries, pulled out the butter and powdered sugar, and came up with this little number. It was so yummy!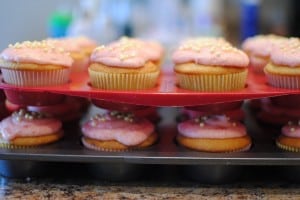 This is not a decorating frosting. If you try to pipe on something cute it will fall flat. I sprinkled a few yellow candy pearls on top and I love how they turned out.
Good luck getting the cupcakes frosted! This stuff is finger-lickin' good.
PS I just made a box cake mix for the cupcakes. I made a white cake mix and turned it yellow with some food coloring. (Why didn't you just buy a yellow cake mix, you ask? I have no idea.)
Ingredients
1/2 c. frozen strawberries, thawed
1 1/2 sticks butter, slightly cold and firm
3 1/2 c. powdered sugar
1 tsp vanilla extract
pinch of salt
Directions
Puree the half cup of thawed strawberries in your food processor or blender till pureed. This can take a few minutes. In your KitchenAid fitted with the paddle attachment beat the butter and salt on medium till fluffy. Reduce the speed and add the sugar a little at a time. Beat really well until everything is combined. Add the vanilla and 4 tablespoons of strawberry puree. Mix until everything is just blended.