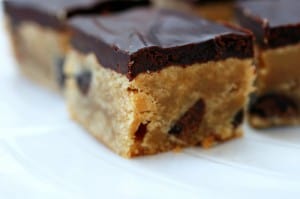 By now you understand my love for chocolate. There are no words to describe it. I don't even care how I eat it. I just love it so much!!!!
Ok I'm done spazzing out. But you get the picture. I've loved chocolate pretty much my entire life. Cakes, cookies, brownies, candy bars…love it all.
And then came along peanut butter brownies. Chocolate and peanut butter: one of the greatest combinations ever created. Good grief, I love these brownies. They're actually more blondie than chocolatey brownie, so if you like that kind of thing you're reading the right blog post. This one's for you!
This recipe is from Smitten Kitchen.
Ingredients (for about 32 brownies)
2 sticks (1/2 lb) of butter, softened
1 3/4 c. sugar
1 c. creamy peanut butter
2 large eggs plus 1 large yolk
2 tsp. vanilla extract
2 c. flour
1 1/2 c. semisweet or milk chocolate chips (depending on your own preference)
1/2 tsp. salt
Ingredients for Ganache
1 1/2 c. semisweet or milk chocolate chips (whatever you're using in the brownies you'll want for the ganache)
1/2 c. heavy cream
1 Tbsp. unsalted butter, softened
Directions (I got so excited to get these beauties baked I forgot to take pictures. I'm so sorry!! They're that good.)
Preheat the oven to 350 degrees and butter a 9×13 pan to grease. Then line the bottom with parchment paper.
In your stand mixer, beat together butter and sugar on medium-high speed until mixture is light and fluffy. Add the peanut butter and let that mix in as well. Beat in the whole eggs, egg yolk, and vanilla. Reduce the mixing speed to low and add the flour until just combined.
Mix in with a spoon the first 1 1/2 cups of chocolate chips. Then spread the batter in the pan and smooth out. Bake 40 to 45 minutes or until a toothpick inserted in the middle comes out with a few crumbs on it. Allow the brownies to cook for about 1 to 1 1/2 hours.
Next you're going to make the ganache. Take the rest of the chocolate chips and put them in a heat proof bowl.
Bring the cream to a boil in a medium sauce pan. After it starts boiling pour it over the chocolate chips in the bowl. Let it stand for one minute.
Gently whisk in the butter till it is incorporated. Mix it until the chocolate is melted and smooth. Pour the prepared ganache over the cooled brownies and let stand for 15 minutes until set.