Yes, you read that right. Another treat full of minty and chocolatey goodness.
But first, remember way back when I posted about
White Chocolate Crispies
? And remember when I said they would be so awesome with some m&m's mixed in there and someone should try it and tell me what they thought?
Well last weekend I totally made these and totally put Easter m&m's in them. And they were, may I say, the bomb.com.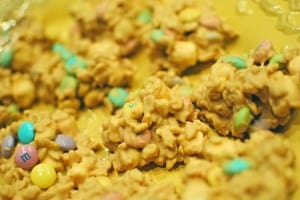 Not only were they bright and festive, the milk chocolate added the extra bit of deliciousness that you can only understand by making them. My sisters, mom, and grandma loved them on our girls weekend, and I know you will too! Just mix a medium bag of any kind of m&m at the end of mixing all the other ingredients together and you've got yourself an even more delicious treat.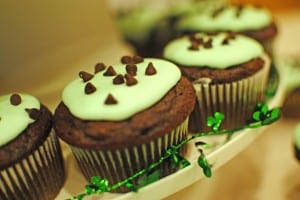 Mint chocolate is one of my favorite combinations ever invented. My favorite ice cream so happens to be mint chocolate chip. Recently I brought you a fabulous recipe for Mint Brownies. Today I bring…ta daaaa…mint chocolate chip cupcakes. This is Cupcake Diaries, right? We must have a cupcake recipe regularly featured. And this one will not disappoint.
This recipe comes from
Jamie Cooks it Up
and has quickly become a new favorite. My mom, twin sister, and I made these cupcakes for a family home evening with our extended family on my mom's side. We had a great evening with a tasty dessert that had many chatting.
Cupcakes –
1 devils food cake mix

1/3 c. flour

1 small package instant chocolate pudding

1/3 c. sour cream

1 1/2 c. water

1 tsp vanilla

4 eggs

1/3 c. oil

1 c. mini chocolate chips
Frosting –
1 – 8 oz package cream cheese, softened

4 Tbsp butter, softened

5 c. powdered sugar

2-3 Tbsp milk

1 tsp mint extract

dash of salt

green food coloring

mini chocolate chips for decoration
Cupcakes
With your paddle attachment on your KitchenAid (or in a mixing bowl) combine cake mix, flour, and pudding mix. Mix it will with a spoon or with your mixer.

Add the sour cream, water, vanilla, eggs, and oil. Mix it on low for 1 minute. Be sure you scrape the bottom of the bowl to get all the dry ingredients incorporated. Mix on medium speed for 3 minutes.

Add mini chocolate chips and stir. Don't use your mixer attachment or the chocolate chips could break up.

Line your muffin tin with liners. Fill each cup 2/3 of the way full. Don't do too much or the cupcakes will over flow and end up looking like flat mushrooms.

Bake at 350 degrees for 20 minutes or until a toothpick comes out clean after being inserted into the middle of a cupcake.

Remove from the oven and allow them to sit in the pan for about 5 minutes. Transfer them to a wire rack and let them cool completely. If you frost them too soon it will melt. And that will be really sad. I recommend baking the cupcakes the day before you need them and frosting them the next day. They will be nice and cool. Make sure they're not still warm when you cover them though or the tops will get sticky.
Frosting
Wash out that KitchenAid and paddle attachment so you can use them for the frosting. Beat the cream cheese and butter until smooth. If you forget to take the butter out to soften and end up having to throw it in the microwave, make sure you don't melt it at all or it will be too hot and melt the frosting. Also a sad thing. Heat in 10 second intervals and check it.

Add 3 cups of powdered sugar and 2 Tbsp milk; continue to mix.

Add the mint extract and dash of salt.

Continue to add the powdered sugar and milk till you have the consistency you want. More powdered sugar will make it thicker, milk will thin it out.

Once you have the consistency you want, add the food coloring and beat on medium speed for about 3 minutes. The frosting will become nice and glossy and it's really pretty!

Spoon your frosting into a decorating bag or a large plastic bag. Apply a tip like a 1M star tip to your decorating bag for that fun textured look. Or cut the end of the plastic bag about an inch and pipe on for a ripple look. (*I'm pretty sure we heated the butter for too long with our frosting and we wanted the textured look with the 1M. But it wasn't thick enough and it kind of fell down. We ending up liking the result though. If you want it to look like ours above don't make the frosting thick. Allow it to be a little thinner.*) Pipe the frosting on and top with mini chocolate chips. You will want to put the chocolate chips on right after the cupcake gets frosted or they might not stick. Enjoy!