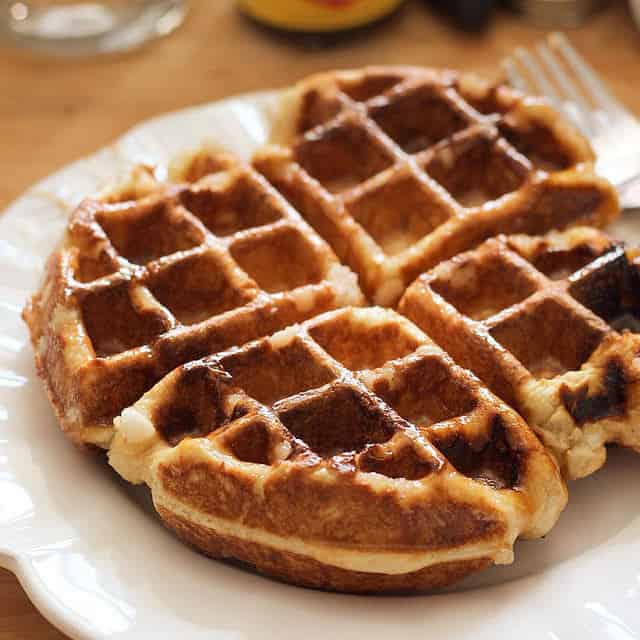 My friend Leslie LOVES Bobby Flay. Whenever she is on vacation somewhere she figures out if he has a restaurant in that location and she has to eat there. For example, Mesa Grill at Caesar's Palace in Las Vegas. She's been there, done that! So this recipe is from Iron Chef Flay and is posted to honor Leslie's love for him and all of his amazingness.
The Liege waffle comes from…tadaaaa – the city of Liege in Belgium. Liege waffles are similar to Belgian waffles but sweeter. The trick is using vanilla sugar. A lot of people make their own vanilla sugar by putting a whole vanilla bean inside a jar of sugar for about a week. However, if you can't get vanilla sugar or can't gain access to vanilla bean to make your own, you can just use regular sugar and vanilla extract. (I haven't found vanilla bean anywhere around Idaho Falls, unless I'm not looking good enough. Anybody seen any?)

Ingredients
2 c. flour
1 c. sugar
1 c. (2 sticks) melted butter
3 eggs
1 package of yeast
1/3 c. lukewarm water
1 1/2 Tbsp vanilla sugar (or 1 Tbsp sugar and 2 tsp vanilla extract)
1/8 tsp salt
Directions
Put the lukewarm water in a small to medium bowl and mix in the yeast, vanilla sugar, and salt. Let the yeast develop for 15 minutes. In the meantime, melt the butter.
Put the flour in a large bowl. Make a hole in the middle of the flour and pour in the yeast mixture. Add the eggs and butter and knead together till you get a nice and even dough. Then let it rest so the yeast can get to work and the dough bubbles. (The dough will look scary so don't worry if you think it looks wrong!)
Gently mix in the rest of the sugar. Let the dough rest for about 15 minutes. At this point you can turn the waffle iron on and get it heated. Make sure the iron isn't on a high heat. The waffles take a tad longer to bake and the sugar will melt up faster than the waffles can bake if the iron is too hot.
Now it's time to cook those waffles. (Remember to grease the waffle iron with cooking spray!) Pour the dough into the iron and allow to bake up for about 3 to 5 minutes. Because we put that sugar in at the end it will melt and caramelize. This is where that special Liege waffle taste comes in.