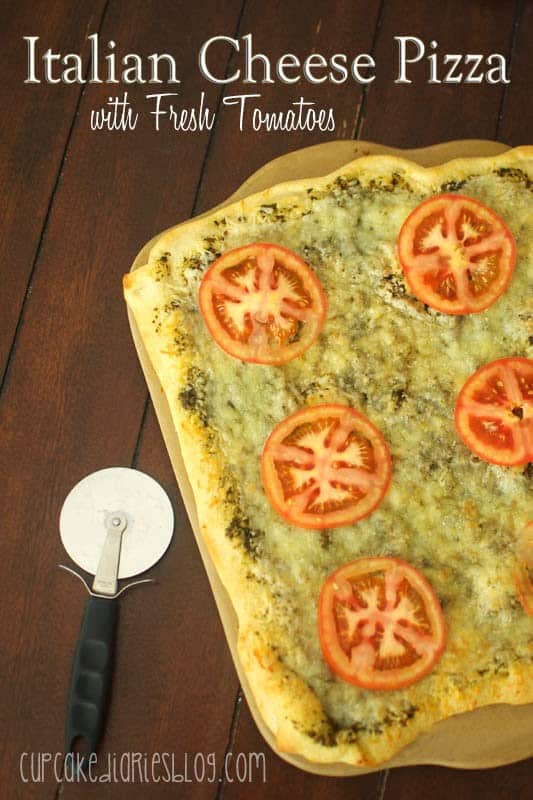 One of our favorite things to have for dinner is a semi-homemade pizza. We have our usual favorite recipes (Check them out below!), but this one quickly turned into a favorite! We've had it four times in the last few weeks. That's how good it is!
This pizza has a pesto sauce instead of a regular pizza sauce. And no meat, just cheese and fresh tomatoes placed on top. If you don't like tomatoes, this pizza can stand on its own without them! Leftovers don't last long when we make this. And you're going to love how easy it is!
Italian Cheese Pizza with Fresh Tomatoes
1 Pillsbury thin crust pizza dough
2 c. shredded Italian cheese blend (cheeses include Mozzarella, Parmesan, Provolone, Romano, Fontina and Asiago)
3-4 oz basil pesto (I buy the Classico brand from Walmart and it's yummy!)
1 Tbsp pure olive oil
1-2 large tomatoes, sliced
Preheat oven to 400°. Remove dough from can and spread out onto a cookie sheet. Place olive oil on the center of the dough and brush over the dough to coat evenly. Add pesto and cover the dough. (Dough doesn't have to be completely covered. A nice, thin layer of pesto is besto!) Cover with cheese.
Bake 12-14 minutes, or until crust becomes a light golden brown and cheese is melted. Serve with fresh tomato slices on top.
Enjoy!
Want to try more delicious and easy pizza recipes? Here are three other favorites!