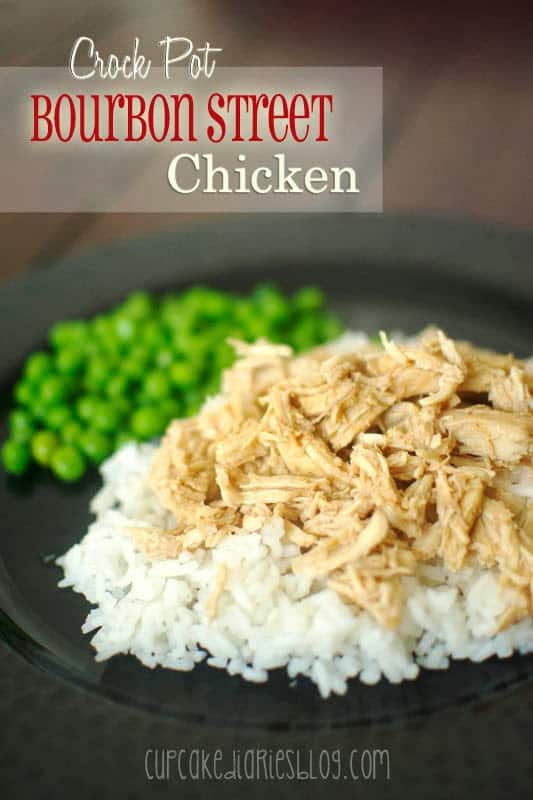 I've never been to New Orleans, but I've heard all about Bourbon Street from friends and family who have been there! Apparently it's the place to be in New Orleans. And yes, you guessed it. That's exactly where Bourbon Street Chicken comes from!
The original recipe uses bourbon whiskey, so this one has been modified with apple juice instead. And it is SO good!
I love the flavor of this chicken. It has the sweet and tangy flavors that I love, as well as a yummy Asian twist with the addition of ginger and soy sauce. Lots of great flavors and spices combining to make one amazing dinner!
Crock Pot Bourbon Street Chicken
3 chicken breasts, frozen
1/2 tsp. minced garlic
1/4 tsp. ground ginger
1/4 c. packed light brown sugar
1/4 c. apple juice
2 Tbsp ketchup
1 Tbsp apple cider vinegar
1/8 c. soy sauce
1/2 c. water
Place frozen chicken breasts in the crock pot. Combine all other ingredients in a bowl and pour over the chicken. Cook for 4 hours on low.
Remove chicken from the crock pot and shred with two forks. Place back in the crock pot with the sauce for 30 more minutes.
Serve over rice. Enjoy!
Here are a few more of my favorite chicken and rice dishes!