This post is part of a social shopper marketing insight campaign with Pollinate Media Group and Tree Top, but all my opinions are my own. #pmedia #TreeTopInc #raisinggoodapples https://my-disclosur.es/OBssV
I have been wanting to plan an herb garden for the longest time! As much as I use fresh herbs for recipes, it only makes sense to grow my favorites at my house and always have them on hand. Tree Top is located in the heart of apple country in the beautiful state of Washington. It's down to earth as it is grower owned and deeply rooted in the communities where we work and live. Tree Top has been a trusted brand for more than 50 years and is dedicated to delivering premium products and ingredients for juices, smoothies, and sauces.
This was my first herb garden and, I'll be honest, it made me nervous to plant it! I don't know why because it really wasn't hard at all. And the best part…My kids got to help. And they loved it! We planned a Saturday where we could go to our favorite nursery, pick out everything we needed for our herb garden, and spend the evening planting it together as a family. It was so much fun!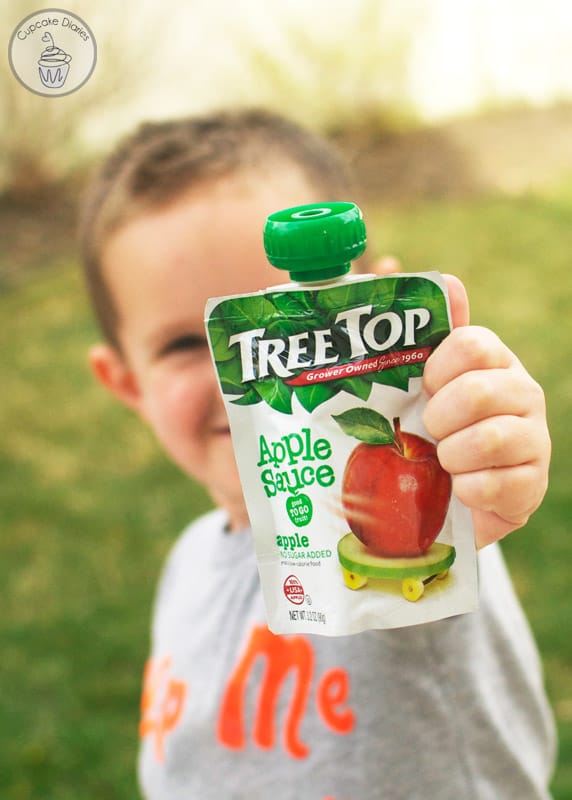 And it wouldn't be a family activity without a snack! We picked up Tree Top Apple Sauce Pouches at Walmart earlier in the week and my kids were so excited. They love slurping their apple sauce from a pouch! And I love that there isn't a mess. It's a win-win! These pouches are a great way to get fruit in kids' diets.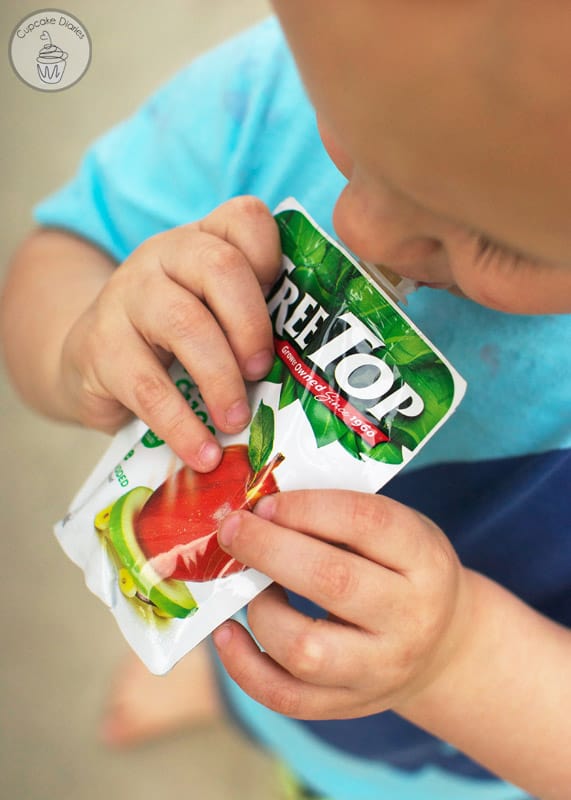 How to Plant an Herb Garden
1. Choose Your Herbs
There are SO many herbs out there that it's almost hard to narrow it down! I decided to choose the four that I use the absolute most: parsley, basil, mint, and cilantro. Other herb favorites of mine include:
rosemary
chives
oregano
sage
thyme

2. Buy Your Supplies
Head over to your local nursery to find all your favorite herbs. You can buy them in plants like I did or you can buy seeds. If you are creating a potted herb garden you will need to buy potting soil and pots/containers to put your herbs in (as seen in main image above.) You will also need a shovel and a watering can.

3. Pick a Location
Pick the spot you want to place your herb garden. You can use that extra space in the garden, fill a pot you have sitting in the backyard, or place it somewhere inside. A great spot is somewhere that gets about 6-8 hours of sunlight a day. I wanted an indoor herb garden where I don't have to go very far to pick my herbs. Ideally I wanted it to go in the window above my kitchen sink, but it isn't a big enough ledge. We have a breakfast nook dining area right next to the kitchen with a really great window. So I decided to put my herb garden on a small table in front of that window. It's out of the way and adds fun color to the room.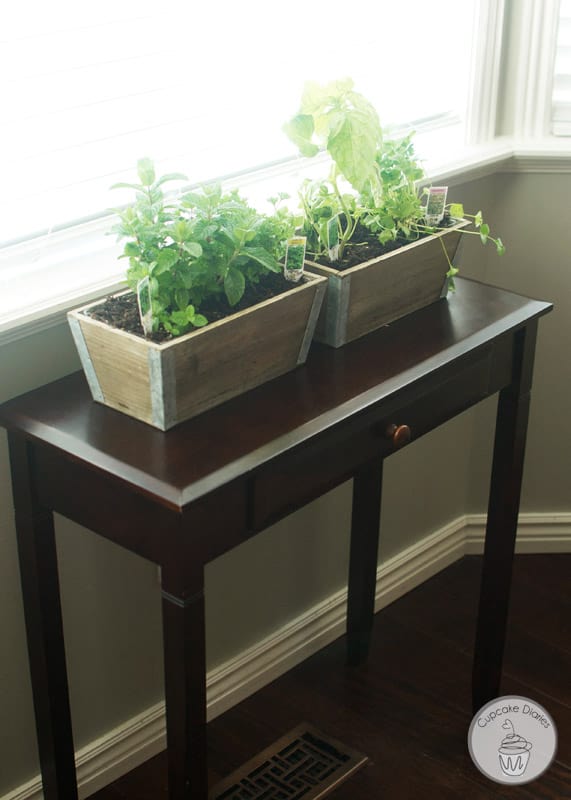 4. Get the Soil Ready for Planting
For a boxed/potted herb garden, add enough potting soil to cover the bottom and then some. For a garden spot, loosen up the soil with a shovel. My kids loved being able to play in the dirt and help fill the boxes with potting soil.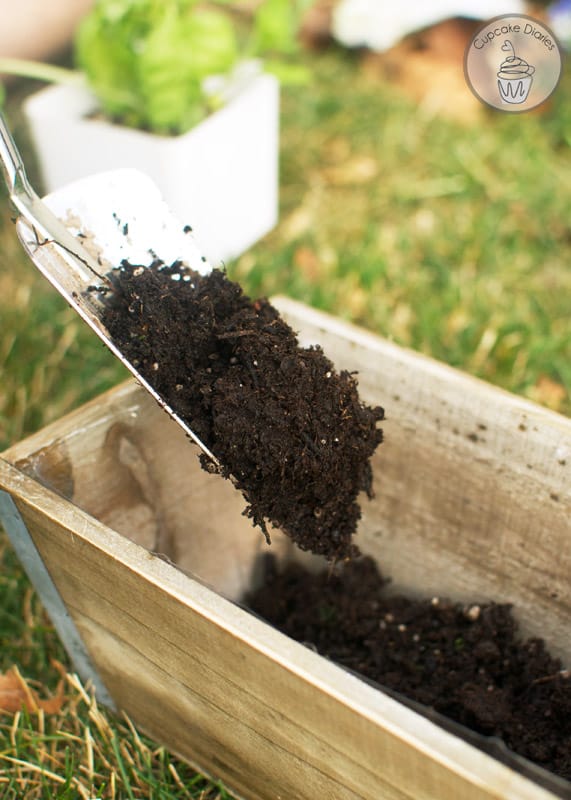 5. Add Plants to the Soil
Place each plant on top of the soil and pack more soil around them. For a garden, dig holes about twice the size of the base of the plant. The boys loved being able to place each plant in the box. I could tell they felt like such good helpers!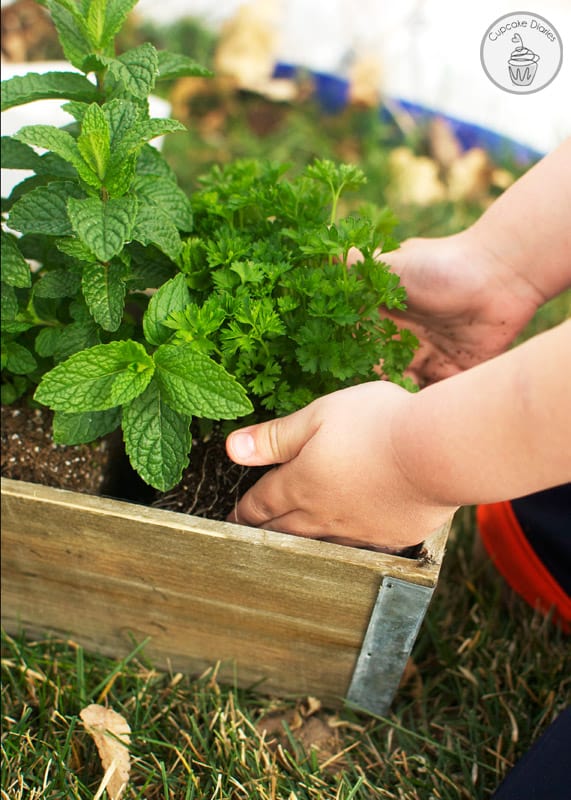 6. Water the Plants
Give each plant plenty of water after being placed in the new soil. Water right around the soil and not over the leaves to avoid damage and mildew. As you continue to keep your herb garden, water the herbs a moderate amount every day. They will need about an inch of water by the end of each week.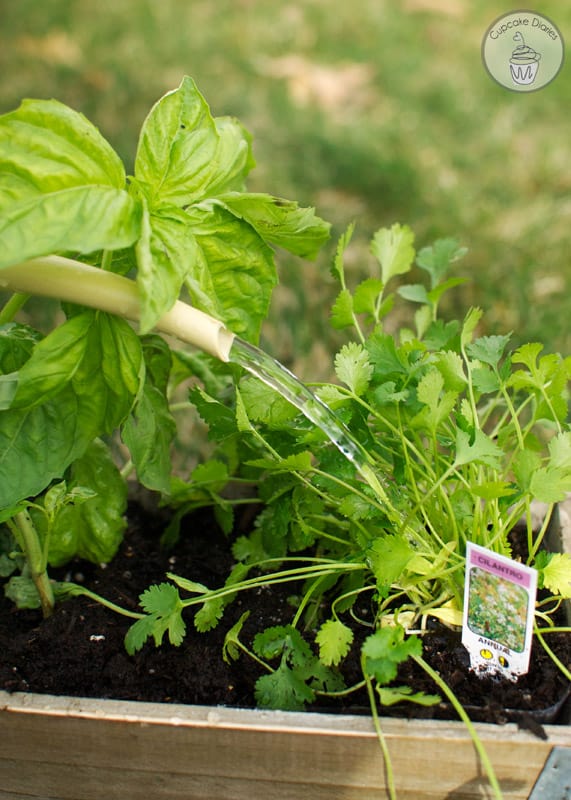 7. Label Each Herb
Place labels by each herb to make it easier to find what you're looking for. I used the labels that came with each plant, but there are so many fun and cute labels out there that you can buy or make.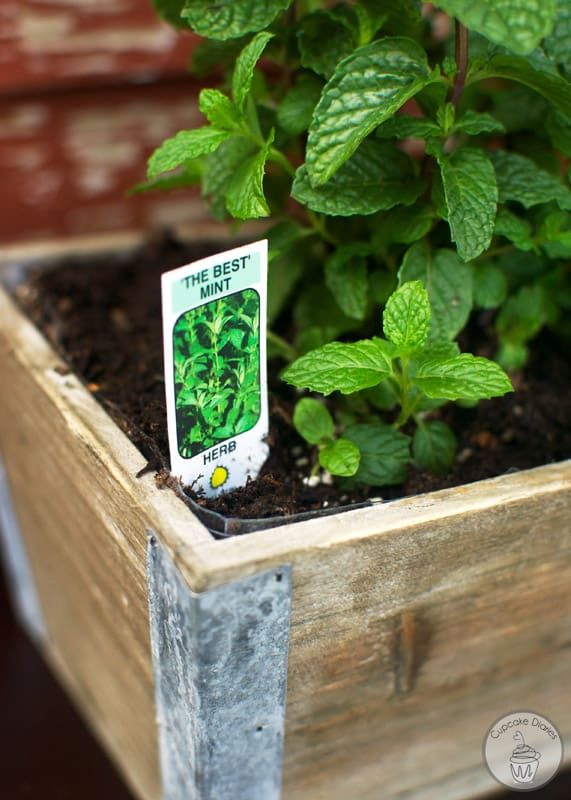 And voilà! You've got yourself your very own herb garden.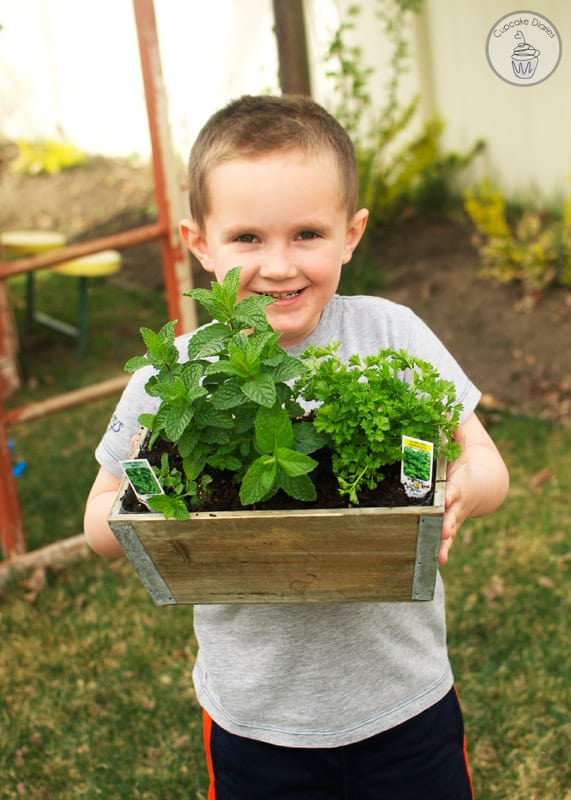 This was such a fun family activity for us. Not only did we all get outside together, but we also taught the boys about using fresh herbs, how to plant them, and how to take care of them. Our herb garden has quickly turned into a pet that the kids can't wait to take care of every day. We're "raising good apples!"
In effort to bring awareness to "Raising Good Apples", Tree Top is partnering with the National Gardening Association's KidsGardening.org to help educate kids on gardening. For every box of Tree Top Apple Sauce Pouches purchased through 5/31 Tree Top will donate $1 to help KidsGardening.org to help build and grow youth gardens.
GIVEAWAY
Tree Top is giving away a Kid's Gardening Kit to one of my readers! The winner will receive this darling kit that includes a "My Gardening Journal", Red Tubrug pail, kids gardening gloves, watering can, soft touch hand tool set, favorite five sprouting seeds, and Tree Top Apple Sauce Pouches. How fun is that??
To enter: Simply fill out the Rafflecopter entry form below. Giveaway ends Monday, April 20th at 10pm MST.