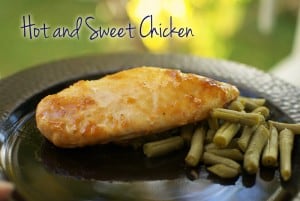 Out of all the chicken dishes we've tried lately, this one is my favorite. I've loved all of them in different ways, but the flavor combination of the sauce for this chicken is really yummy. I really like dishes that have a bit of a kick and this sauce has just the right amount. This is another one of those easy and delicious recipes that we'll make over and over!
Hot and Sweet Chicken
Six Sisters' Stuff
3 lb. drumsticks (about 12) or chicken tenderloins (I used 4 thawed chicken breasts.)
1 c. apricot preserves
1/2 c. ketchup
1/4 c. soy sauce
2 tsp. minced garlic
2 tsp. hot pepper sauce
In a small saucepan, combine apricot preserves, ketchup, soy sauce, garlic, and hot pepper sauce. Cook and stir over medium-low until preserves are melted.
Arrange chicken in a single layer 9×13 baking dish, or smaller if using less chicken. Pour the sauce over the chicken, turning to coat.

Bake uncovered 40-45 minutes at 350 degrees, or until chicken is done. (I cooked the chicken breasts just under 40 minutes and they were perfect.) Spoon sauce over the chicken while baking.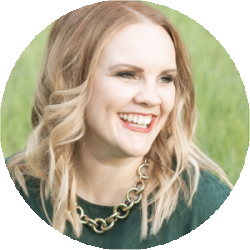 Alli is the food blogger and photographer behind Cupcake Diaries. Nestled in Northern Utah with her four young boys, hubby, and a full pantry, she loves baking all kinds of treats as well as quick and easy meals for her family. What started out as sharing a few recipes with family members here and there soon turned into a full-functioning recipe blog with readers from all around the world! Alli is a full-time mom who enjoys music, holidays, and spending time with her family.