Happy Halloween!! I love Halloween and I'm so excited for my son to go trick-or-treating as a farmer with his dad and for me to stay home with our almost 5-month-old son, who will be dressed as the farmer's cow. Should be a fun night! (I'm praying for leftover chocolate!)
I know what you're thinking. Why in the world am I just now posting about a Halloween porch? And the answer is: I have no idea. But I purposely set up my porch for Halloween to be easily transitioned into a Thanksgiving porch and I want to share my ideas with you today!
First, here's what my porch has looked like all month long: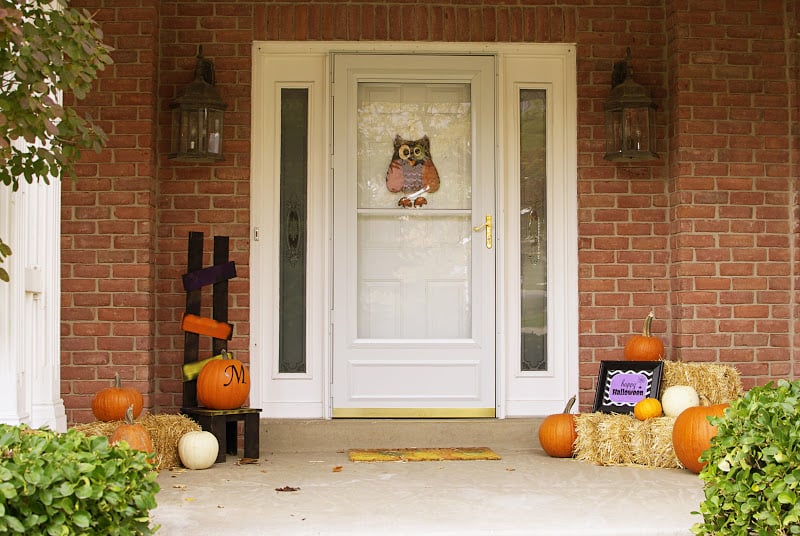 Nothing too fancy, but just enough to add some fun to the porch. I wanted to do something festive for Halloween without having to go overboard on budget.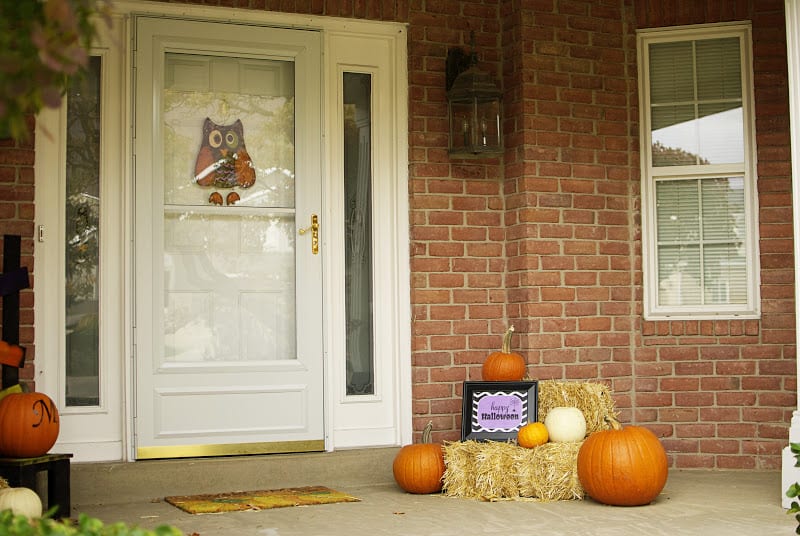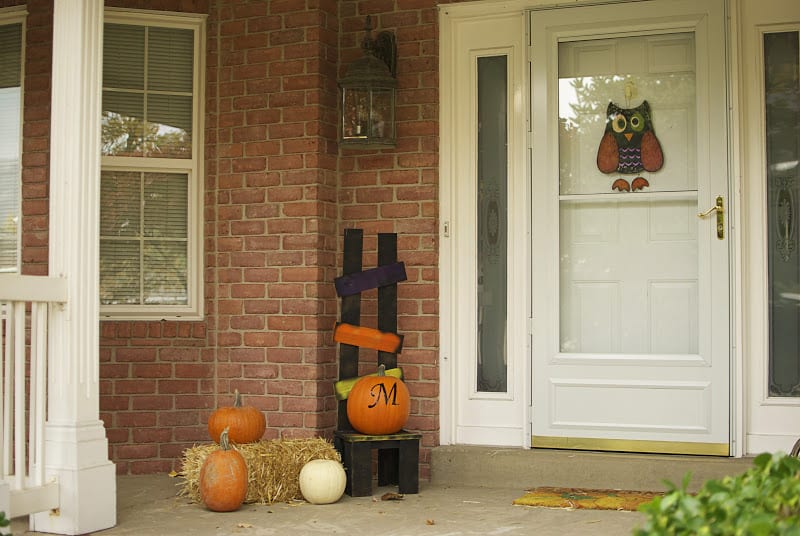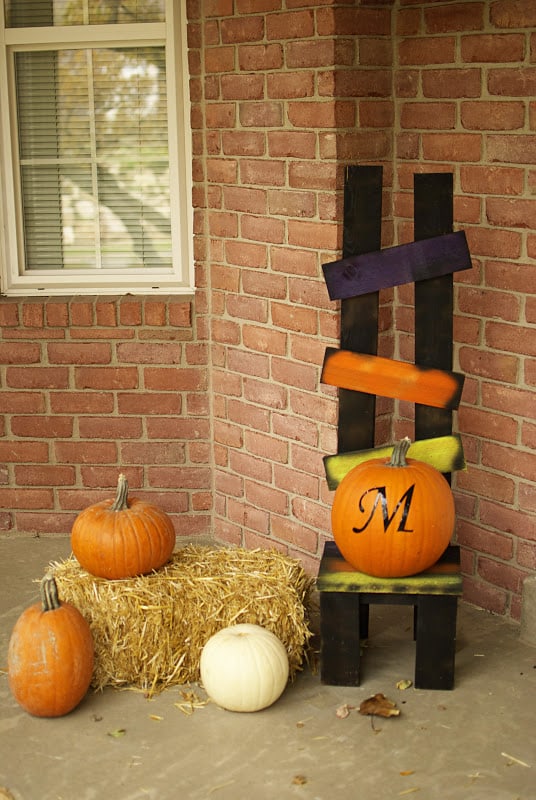 There's a good chance that a lot of you bought pumpkins this year and didn't carve some of them. We are part of that group, and now I'm excited to be able to hold onto them for just a little longer into November. The nice thing about these uncarved little gems is that they don't go bad as fast and you can leave them out for more of fall.
After my Halloween chair (purchased at a craft boutique) goes back in storage, I'll do some rearranging and my pumpkin with the vinyl "M" will sit with the other pumpkins. A vinyl letter representing the family name on the front of a pumpkin adds a nice touch and a bit of pop on a fall porch. (Thanks to my brother-in-law and twin sister for that!) And chances are you can still buy bails of straw at the grocery stores if you want that look for November and don't already have some! I have one bail sitting here with these pumpkins.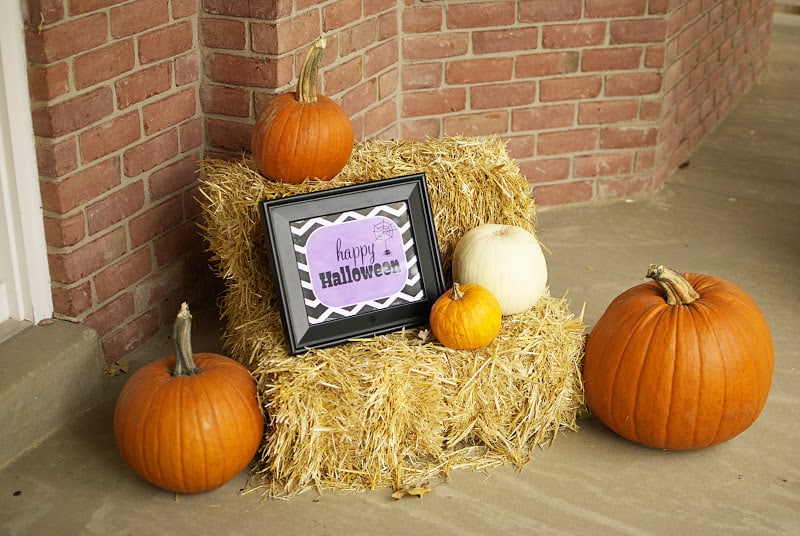 We put three straw bails to the right of the door with another cluster of different sizes and colors of pumpkins. I found a fun Halloween printable on
etsy
and put it in an inexpensive frame and placed it with the pumpkins. I love how much it added for Halloween! For November I plan on putting this subway art in a white or brown frame and placing it in the same spot: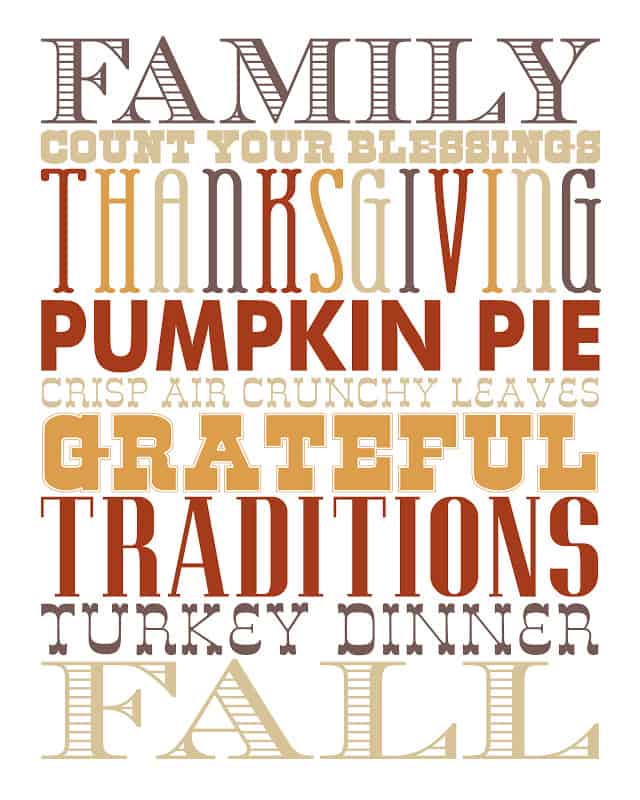 You can download this subway art here.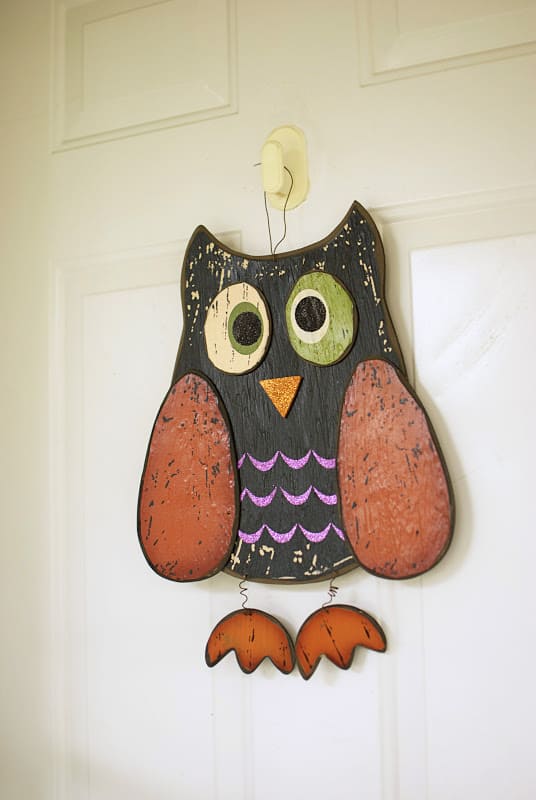 And I found this little guy at a mini bazaar in Idaho for $14. I have a pumpkin welcome sign that I plan to replace the owl with come November 1st.
And that's my front porch plan! I love fall and I want to make it last as long as possible…although it's feeling more like summer here, as we're sitting at a high of 75
° here in northern Utah today. The kids are going to have a great night of trick-or-treating ahead!
I hope you all have a fun and safe evening!