With Mother's Day just around the corner on May 12, it's time to start planning how you're going to celebrate the special moms in your life for this special day. Before you resign to buying your standard go-to gifts yet again, we suggest trying something new that she'll surely love. Here are four ways you can put a more thoughtful spin on the most-common Mother's Day gifts: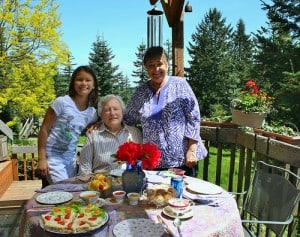 Flickr photo by Quiltsalad
Balloon Bouquet
While Mylar balloons emblazoned with "Happy Mother's Day" may be appropriate, they are missing a spark of creativity. To make a bouquet of balloons really stand out, simplify then add a twist of DIY. Opt for traditional latex balloons in solid colors instead of printed Mylar foil balloons. Choose two to three complementary colors or various shades of the same hue for an ombre look.
To make the balloon bouquet really shine, cut out letters from construction paper to spell out "Happy Mother's Day" or simply "Mom," depending on the number of balloons you have. Use a hole punch to make a hole in the top of each letter and tie it to the balloon using string or ribbon.
To really wow her and make this surprise stand out, arrange the balloon bouquet in her bedroom before she wakes up so that it's the first thing she sees on Mother's Day morning.
Thoughtful Flowers
Though a dozen roses are a timeless gift that every woman loves, the mom in your life will surely also enjoy a more unique spray of flowers that shows your thoughtfulness. Instead, opt for more exotic buds such as:
Calla lilies
Orchids
Hyacinths
Blue irises
Hydrangeas
Peonies
If you're not well-versed on flower types, ask the florist to make an arrangement that is different from the standard fare. If you're on a budget, order online for the best deal. You can get a stunning bouquet of Mother's Day flowers from FTD.com for a fraction of the price you'd pay at the neighborhood florist.
Four Course Breakfast
Breakfast in bed is a classic indulgence. It also often leads to crumbs in the bed, spilled coffee and bacon grease between the sheets. Mom might feel inclined to clean it up. Instead treat her to a formal multi-course breakfast served on her best china in the dining room.
Start with coffee and fresh-squeezed orange juice and a first course of fresh strawberries, raspberries and blueberries served over greek yogurt and granola. For the second course, serve her a frittata or quiche that combines her favorite vegetables. Include a side of bacon or sausage as well as a salad of mixed greens with a citrus vinaigrette. Serve French crepes with a savory filling of mushrooms and bacon or ham and gruyere cheese for the third course. For dessert, serve homemade sticky buns or cinnamon rolls, fresh out of the oven.
Free Time
Diamonds are a girl's best friend, but they're quite an extravagant gift for Mother's Day. Instead of getting her a bracelet, necklace or ring, get her a gift that will take some of the work off of her plate: a professional cleaning service. Whether you give her a single cleaning or an entire year's worth of maid service, she'll appreciate having a little more time to herself and having someone else do the scrubbing and dusting for her.
About the Author: Michelle is a stay-at-home mom who loves to write and do arts and crafts with her children, Terry and Mavis.