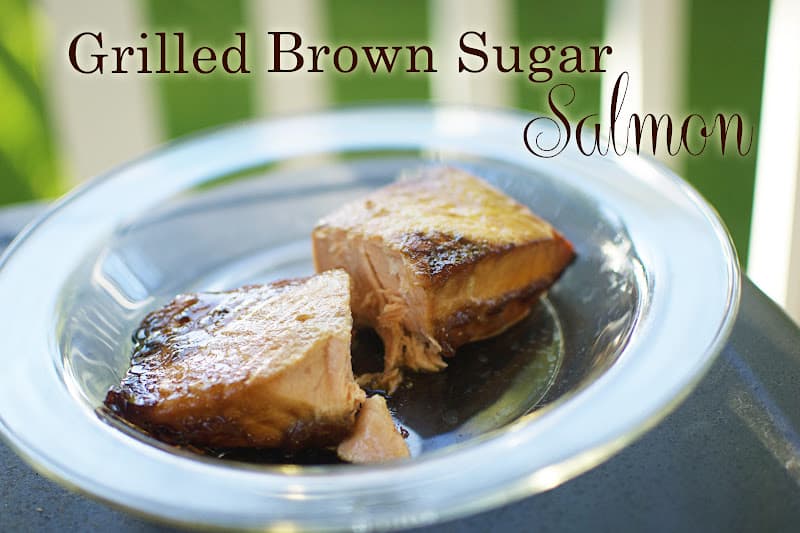 One of the reasons I love having a grill is because I can keep using it into the colder months. We love grilling all kinds of yummy foods throughout the year. Last night we decided to grill some salmon but do something a little different to kick up the flavor. I love salmon on the grill, and this flavor combo did not disappoint! My husband and I both really liked it, and so did our picky-palette two year old. It was a test run that completely passed. I'm excited to make this again!
**Don't have a grill or you've put it away for the winter? You can also bake this salmon! Read on to find out the directions!**
Grilled Brown Sugar Salmon
makes 3 to 4 – 7oz salmon fillets
3 or 4 individual salmon fillet portions (Around 7oz each – We get ours at Costco-Kirkland Atlantic Salmon. They come in a large bag and each fillet is individually sealed. Sure makes the thawing process easy!)
6 Tbsp brown sugar
2 tsp. soy sauce
1/8 c. extra virgin olive oil
nonstick spray
tinfoil
Have three portions of salmon thawed and ready to go. Begin by running out to your grill to turn it on and set the heat to medium. While the grill is heating up, mix the brown sugar, soy sauce, and extra virgin olive oil in a little mixing bowl.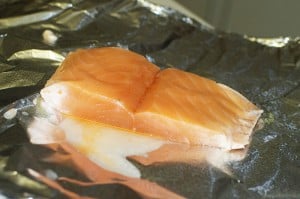 Spray a sheet of tinfoil with nonstick spray and place one of the salmon fillets on it.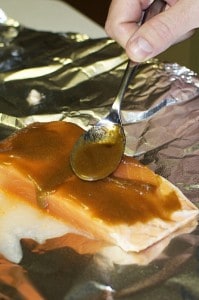 Spread some of the brown sugar mixture over the fillet. Spread enough to cover the top of it.
**I know what some of you are thinking about the sugar amount. But don't worry, you won't be eating all that sugar! Some of that glaze will run off.**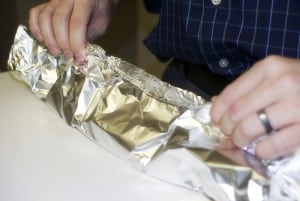 Bring the long sides up and fold over about an inch. Leave plenty of space inside for the steam to move around.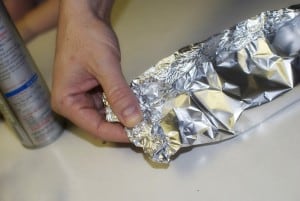 Then fold in each of the edges. Press it nice and tight.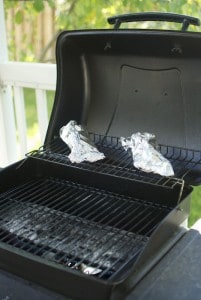 Place the salmon on the top rack of the grill and close the lid. Cook on medium heat for 15 minutes. Enjoy!
Baking Instructions:
Spray a glass baking dish with nonstick spray and place the salmon fillets in the dish. Bake for 10 minutes at 325 degrees. Remove from the oven and spread the brown sugar combo over each fillet. (If your fillets have skin on them, remove it before putting the sugar combo on.) Put the dish back in the oven and bake for another 10 minutes.