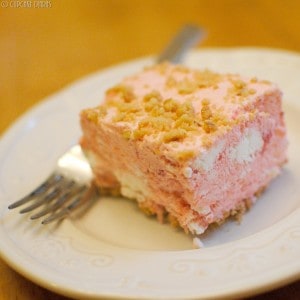 I'm all about desserts. I love chocolate like it's going out of style. But sometimes it's nice to have a dessert that I don't have to worry about eating and that's light and refreshing. This dessert has all of those qualities. And it just happens to be my favorite dessert to eat in the summer! My grandma has made this for a few family events, and when I was asked to make the dessert for my husband's family's mother's day dinner I immediately thought of this one. Each bite is cool and refreshing with a crust that adds a sweet crunch. It is a perfect dessert to share with your family this summer!
Thanks for the recipe, Grandma!






Strawberry Mile High Dessert


Ingredients (Strawberry Layer)
1 (16 oz.) package frozen strawberries, partially thawed
2 egg whites, unbeaten
1 c. sugar
1/4 tsp. salt
2 Tbsp. lemon juice
1 c. cream
1/4 c. powdered sugar
Ingredients (Crust)
1 tsp. vanilla
1/2 c. butter, melted
1/4 c. brown sugar
1 c. flour
1/2 c. walnuts, finely chopped (The chop size in the pre-chopped bag of walnuts at the grocery store is perfect size.) FYI if you have a nut allergy in the family you can use chopped up pretzels instead!
You will want to make this overnight for it to freeze all the way. Keep it in the freezer until you're ready to serve, or if you're taking it somewhere make sure you put it right in the freezer when you get there.
Directions
1. Begin by putting the 9×13 pan you're using to put the dessert in in the fridge. It needs to be nice and cool when everything gets put in. Start the dessert by combining all the crust ingredients in a bowl. Mix together with a rubber spatula or spoon, but eventually you'll want to mix it with your hands to get everything good and mixed.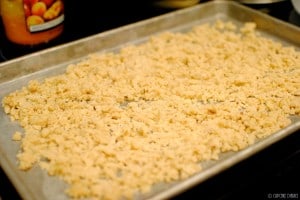 2. Spread the crust mixture out on a cookie sheet and bake for 15 minutes at 350 degrees.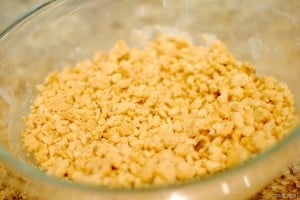 3. Take the mixture off the cookie sheet and just pour it right back in the bowl you made it in. That way you don't have to dirty another bowl. Stir the mixture and allow it to cool. Place it in the fridge for quicker cooling and come back to stir it every now and then.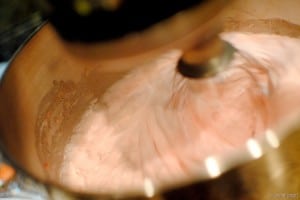 4. While the crust is cooling, begin making the strawberry goodness. In your Kitchen Aid (and you will want to do this in a stand mixer-you'll find out why) combine sugar, egg whites, salt, lemon juice, and strawberries. Just throw it all in and turn on your mixer. Beat on medium high to high for 20 minutes (which is why you should probably use a stand mixer). It is important it gets mixed for this long so the egg whites get completely incorporated to make it nice and fluffy.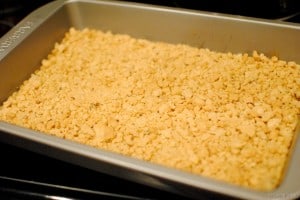 5. You now have 20 minutes to clean up the mess you just made and to put the crust in the bottom of the pan. You can either let the crust continue to cool in the bowl or you can take out the 9×13 pan and line it with the crust. Then just put it back in the fridge to finish cooling. You'll want to save at least 1/3 of the crust to sprinkle on the top (oh yeah-so good). I lined my pan with the crust and pressed it till you couldn't see the bottom.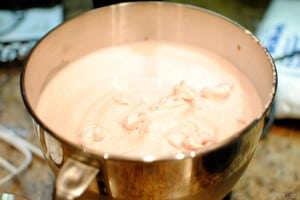 6. After 20 minutes of mixing the strawberry mixture it will be super fluffy and fill the mixing bowl a lot higher than what it started. Pour it all out in a large bowl. (Don't you just want to put your face in that and eat it? Just me?)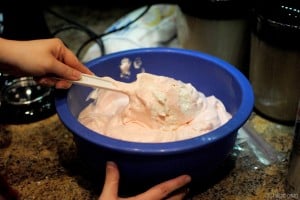 7. In a separate bowl whip the cream till it's thick and peaky. Then add the powdered sugar and vanilla. Carefully fold the whipped cream into the strawberry mixture. Don't worry, it doesn't have to be totally mixed in. Stirring this will make it liquidy and flat so be careful not to stir it. Just fold it right in.
PS Thanks to my hubby for taking these last few pictures of me in action!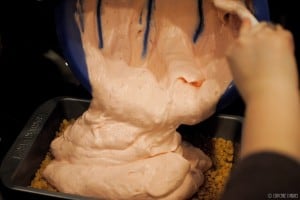 8. After folding in the whipped cream pour everything onto the crust and spread it out. It will fill that pan right up.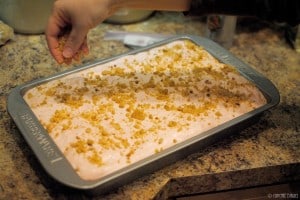 9. Finally, sprinkle the remaining crust over the top. Place it in the freezer uncovered for about 2 hours, then cover it with foil to sit over night.