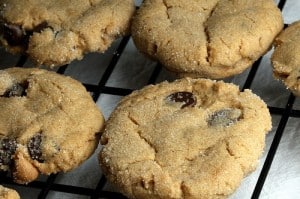 Whenever we go to Tyson's parents' house the cookie jar is always full. Seriously. There are always cookies in that cookie jar and it is a wonderful sight. The most common cookie found in that beautiful display of sweets are these Peanut Butter Chocolate Chip Cookies. They have quickly turned into a favorite. It's tempting not to devour every single one of them when I'm over! Thanks to my wonderful mother-in-law, Julie, for this yummy recipe! I'm excited to share it with everyone and pass on the love.
I'm heading out on a sweet vacation to New York City for a week so I won't be posting till Memorial Day. Check back for some awesome recipes to get you all sorts of excited for summer! Don't forget about me, I'll be back! 🙂
Ingredients/Directions
1 1/2 c. butter
2 c. peanut butter, creamy or crunchy
2 c. white sugar, plus a little extra to roll the dough in
2 tsp. vanilla
4 eggs
2 c. brown sugar
Cream those ingredients together. Then add:
1 Tbsp. baking soda
5 c. flour
12 oz. milk chocolate chips (My mother-in-law uses the big Ghirardelli chips and they are the best!)
Roll the dough into little balls then roll into white sugar. Place them on a greased cookie sheet and bake for 10 minutes at 375.
Recipes for Friday Friendzy can be e-mailed to
cupcakediaries1(at)hotmail(dot)com!