I'm so excited to have Jenny from Party Pail here today! She is sharing some super cute and fun baby shower snack ideas that I'm so excited to use. And they're so funny, which is always fun at a shower! Thanks for sharing, Jenny!
Creating a baby shower can be a lot of work! But what if I told you I had a couple of ideas that included different ways of serving your delicious snacks and beverages?
These are hilarious and cute; everyone will be applauding you for a job well done with the party planning. Creating a baby shower theme can greatly help with narrowing down your choices for different supplies and items needed–but these can help vary with any theme you choose! Not only will you get away with these awesome ideas, but they're extremely simple and easy to put together–leaving you with extra time to tackle your next project.

A cute and funny quirk to play on your party guests could be this fun game. All you need is toy figure babies (easily found at the dollar store or any toy store). Place the toy figure babies in ice cube trays, and have them become frozen in the ice cubes before the party. Any refreshments that you serve, place one of these cubes in. The point of the game is to see what ice cube melts the fastest, and "releases" the toy figure baby. The first to do so should shout: "My water broke!" This is a cute way to hand out refreshments, while playing a game–and hey, it's hilarious! (Image via
Baby Shower Stuff
)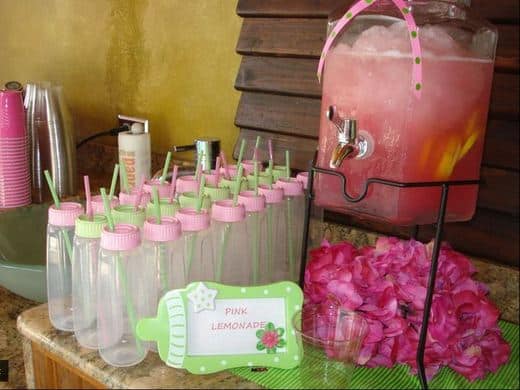 A great way to serve refreshments (if you don't go the water broke game route–or if you want two different ways to serve drinks) is to use baby bottles! These can be easily found at the dollar store or any type of grocery store. Tie cute pink or blue ribbon around the bottles, and have your guests serve the drink of your choice into their awesome drinks–that they can keep! (Image via
Catch My Party
)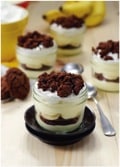 What better way to serve bite size desserts but in baby food jars? They can be as elaborate as you want them to be, or as simple as baking a cupcake within it. Super cute, and super easy! (Image via
By Stephanie Lynn
)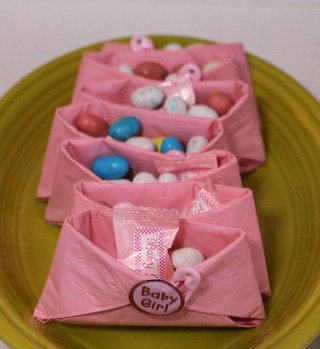 This is super adorable, and incredibly easy to do. Just pick out napkins of the color of your choosing, and fold them into a diaper. Fill it with the candy of your choosing as an extra special touch for your guests. (Image via
Embracing Home
)
Another perfect party favor to hand out to your guests, would be creating little baby cradles. Now don't worry, it's not as hard as you think! Just use cardstock, and cut out a cradle (
directions here
). Place little candies like the Hershey Kisses. A small, but thoughtful gift. (Image via
This Just In
)
These are just a few really great examples and ideas to think of when creating a baby shower. These ideas are fun and simple–and will make your guests be in awe of your work!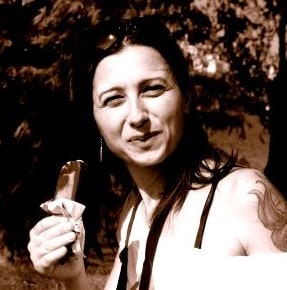 Jenny Franklin is a bit of a party savant. When she's not busy planning and preparing, you can find her here.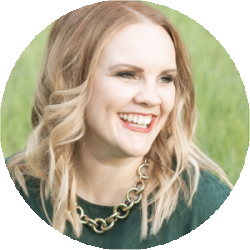 Alli is the food blogger and photographer behind Cupcake Diaries. Nestled in Northern Utah with her four young boys, hubby, and a full pantry, she loves baking all kinds of treats as well as quick and easy meals for her family. What started out as sharing a few recipes with family members here and there soon turned into a full-functioning recipe blog with readers from all around the world! Alli is a full-time mom who enjoys music, holidays, and spending time with her family.