Last month I shared this fun recipe over at Clarks Condensed and just in case you missed it over there, I wanted to share it with you here!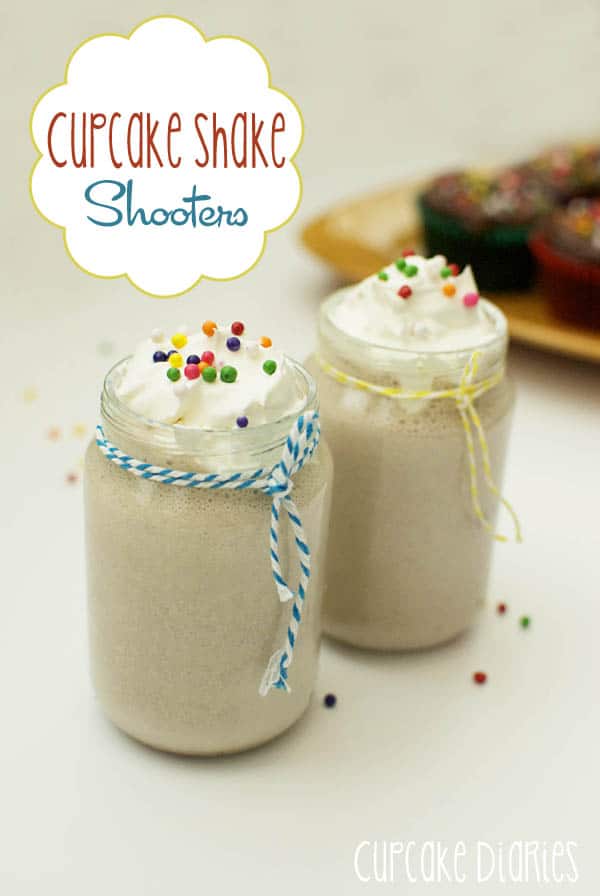 I love to throw birthday parties. Whether it's a classic birthday party theme or Dr. Seuss, I'm all over it and loving it. Recently I decided to step away from the traditional cake and ice cream for a birthday party and combined the two to make one delicious dessert. Enter Cupcake Shake Shooters!
These babies are a combination of ice cream and a cupcake, served up in a baby food jar. I love how fun these are to display and, better yet, to drink! They're so creamy and delicious, and a fun spin on the classic birthday dessert. The baby food jars are just the right size for kids.
Cupcake Shake Shooters are also a great way to use up leftover cupcakes from a party where cupcakes were served for dessert!
View the recipe below as a measurement guide then take it away with your own preferences. Combine different flavors of cupcakes with your favorite ice cream for incredibly delicious little shooters. You could also use chocolate chips, candy, etc. for garnish on the whipping cream. (Am I the only one who wants one of these right now?)

Cupcake Shake Shooters
makes 4 shooters
1 frosted cupcake
3 scoops vanilla ice cream
1/4 c. milk
whipping cream
sprinkles
Combine the cupcake, ice cream, and milk in the blender. Pour into four empty (and clean) baby food jars up and over where it curves, leaving a little space for whipping cream. Top with whipping cream and sprinkles. Enjoy!
Want more party ideas??
Check out the blogs below for party favors, themes, decorations, and more!
Events To Celebrate: 3 Birthday Party Invitation Ideas – Free Printables
Create & Babble: Party Decorations Round-up
Simplistically Sassy: Party Favor Ideas
Party Pixie: Party Planning Timeline and Stress Free Tips
Painless Meals: Party Planning on a Budget
Lady Makes It: Allergy Friendly Party Ideas
Solace Amid the Chaos: Puppy Themed Birthday Party
You've Got Your Hands Full: 5 Party Themes for Twins
Right now
Party Pixie
is offering a 15% discount for all our readers! Find custom party invitations and printables in all kinds of styles and themes. So fun!
Just use code IHEARTPIXIE15 at checkout. Expires October 31st.
. . .
Have you entered the giveaway? A $100 gift card of the winner's choice and a party pack to Party Pixie are up for grabs! Fill out the Rafflecopter below to enter!