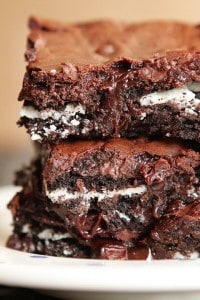 Today marks 100 years since the birth of the Oreo: "milk's favorite cookie". What a great day! I love Oreos so much, they make me so happy. I especially love all of the different holiday makeovers the Oreo gets each season. The spring ones in stores right now are especially fun!
Because today is such a special day in the cookie world (and my world), I thought it would be fun to share a recipe made up of Oreo goodness. I have never tried this recipe but I trust it 100%. I'm pretty sure I would like a brownie layered with Oreo cookies! (Did I mention there's Cookies and Cream ice cream in these brownies as well? Indeed. I think I've found our "Biggest Loser"-watching treat for the evening.)
Big thanks to Kevin and Amanda for the recipe and photo. When she posted this recipe on their blog she took a few step-by-step pictures that are, as Penney from "Happy Endings" would say, "A-mah-zing!" Check those out here if you'd like to see the goodness for yourself.
Happy birthday, Oreo! Thank you for changing all of our lives in such a fabulous way!

Cookies 'n Cream Oreo Fudge Brownies
recipe and image from Kevin and Amanda
1 box brownie mix
eggs & oil (as called for on the brownie mix box)
1 heaping 1/2 c. Cookies & Cream ice cream
1/4 c. hot fudge topping (chilled or room temperature)
Directions
Preheat the oven (depending on what the brownie box says to preheat it to) and spray an 8×8 baking dish generously with cooking spray. Combine brownie mix, eggs, and oil as directed on the back of the box, but do not add the water. Add ice cream and hot fudge to the brownie batter and stir to combine. Pour half of the brownie batter into the baking dish, then place a layer of Oreos over that, and top with remaining batter. Bake for 40-45 minutes or as directed on the back of the box.