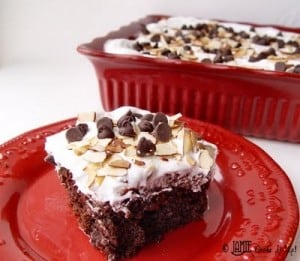 My husband and I are lucky to have both our parents living close by. We get to spend our holidays with both of them every year and go to both of their houses. Father's Day was no different this year. (Have I mentioned that we have awesome dads?) We went to Tyson's parents' house first, where we were also celebrating his mom's birthday (it's on the 20th of June). Two of his siblings and their families were also joining us. I was asked to bring the dessert, which would also serve as my mother-in-law's birthday cake. (No pressure!) I wanted to make something delicious that wasn't like other birthday cakes. Surprisingly enough I found this recipe for Cherry Chocolate Cake over at Jamie Cooks It Up! and it turned out to be a major crowd pleaser. For the adults, that is. The kids either picked around the cherries or they just didn't eat it. It was the cherries. They were intimidating and a little scary, I guess. No worries, I wasn't offended. I should have known better with kiddos! Besides the kids, this cake was really loved by all.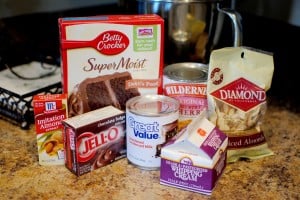 Ingredients (The ingredients pictured above are the odd things you might not already have in your pantry.)
1 devil's food cake mix
1 small box instant chocolate pudding
1/3 c. flour
1 1/2 c. water
1/2 c. oil
4 eggs
1 tsp. almond extract
1 can sweetened condensed milk
1 can cherry pie filling
1 container of Cool Whip (12 oz.) OR 1 pint of whipping cream (I started with a half pint and didn't have enough. It could have been a catastrophe. My husband saved the day!)
1 c. chocolate chips
1 c. sliced almonds, toasted (I bought the pre-sliced almonds in the baking aisle at Walmart.)
Directions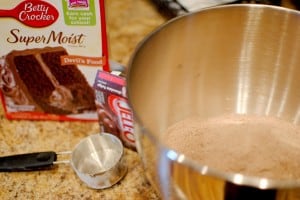 1. Put your cake mix, pudding, and flour in you're a large mixing bowl or your stand mixer. Stir it around to get it nice and incorporated.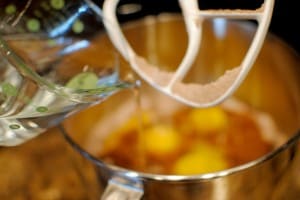 2. Add the eggs and the water.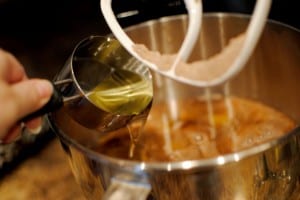 3. Then add the oil…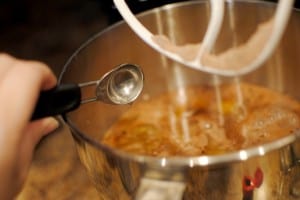 …and the almond extract.
4. Beat the mixture for 1 minute. Scrape the sides and bottom of the bowl to make sure all the dry ingredients are getting mixed in. Beat on medium speed for 3 to 4 minutes or until the batter is glossy.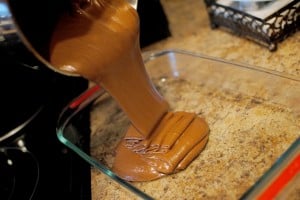 5.  Spray a 9×13 pan with cooking spray and pour in the batter. Spread a knife around to make sure the batter lies even on the top. Bake at 350 degrees for 35-40 minutes.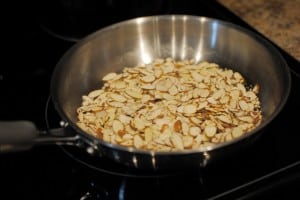 6. While the cake is baking toss the almonds into a medium sized skillet (no greasing necessary). Toast them over medium heat, stirring frequently until golden brown. These can burn easily so make sure you stir them frequently. Set aside to cool.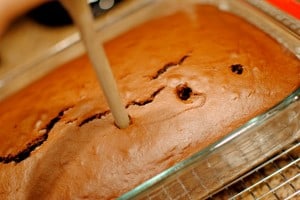 7. When the cake comes out of the oven, immediately poke holes in it with the handle of a wooden spoon.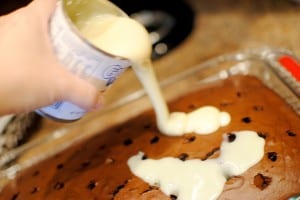 8. Drizzle the sweetened condensed milk all over the cake. Be sure to fill all the holes! Let the cake cool to room temperature.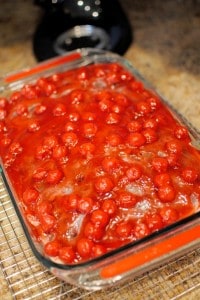 9. Once the cake has cooled spread the cherries on top.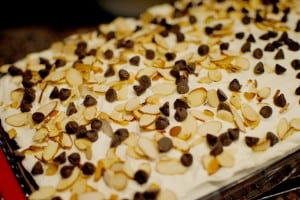 10. Then spread the Cool Whip or the prepared whipping cream over the cherries. Sprinkle with chocolate chips and almonds. Cover and chill at least an hour before serving.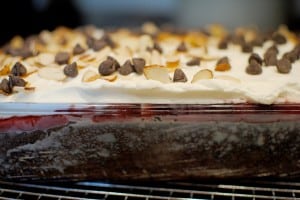 Don't all those layers look lovely? Enjoy!