Bobby Flay…me oh my, you are wonderful.
My second dish I want to share that we just LOVED on our trip is the Crunchburger from Bobby's Burger Palace in Paramus, New Jersey. But first, a few words from the king of burgers himself about the Crunchburger: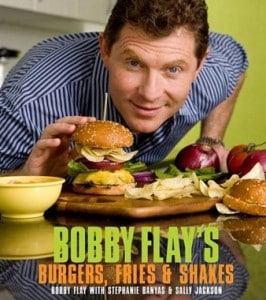 This is the "house" burger at Bobby's Burger Palace. It's a basic burger (I like it garnished with red onion, tomato, romaine lettuce, and horseradish mustard) with CRUNCH. The crunch factor comes from a big handful of potato chips layered between the burger and the bun. Some of you may have added chips to your sandwiches as kids, and if people ever told you that you were nuts, I'm here to say that you're not! Oozing melted cheese becomes a part of the chips and those crunchy chips become a part of the burger — delicious. I love getting a mouthful of juicy burger and salty, crispy potato chips in one bite; it's a way to get a true contrast of textures into your cheeseburger. In fact, I make it an option to have all of the burgers at Bobby's Burger Palace "crunchified."
Bobby, I agree with you whole heartedly. The crunchification (yes, that's a word) of the potato chips makes this burger what it is: crunchtastic (also a word). Which is exactly why I ordered this burger when I dined in at your wonderful restaurant with my husband, aunt, and uncle.
If you happen to be go to one of the Bobby's Burger Palace locations and want to order this, make sure you add some lettuce and tomato. This burger will change your life!
Are you feeling a little jealous about not being able to experience the beauty that is this burger?
Don't be. Because you can make it yourself at home! Thanks to Bobby Flay for posting this yummy burger recipe on Food Network. And Bobby, thank you for being such a genius and creating a restaurant that holds the best burgers I have ever eaten. It truly is a palace!
Ingredients (for 4 burgers)
1 1/2 lbs. ground chuck (80% lean) or ground turkey (90% lean)
kosher salt and freshly ground black pepper
1 1/2 Tbsp. canola oil
8 slices American cheese, each 1/4 inch thick
4 potato hamburger buns, split; toasted, if desired
4 slices tomato
4 romaine lettuce leaves
4 red onion slices (optional)
4 handfuls of potato chips
ketchup and mustard
Directions
Divide the meat into 4 equal portions (about 6 ounces each). Form each portion loosely into a 3/4-inch-thick burger and make a deep impression in the center with your thumb. Season each side of the patties with salt and pepper.
Cook the burgers, using the oil and topping each one with 2 slices of cheese and a basting cover during the last minute of cooking. (For Bobby's cheese melting tip click here!)
Place the burgers on the bun bottoms and top with tomato, lettuce, onion, and a dollop of mustard and ketchup. Pile on the potato chips, top with the bun tops, and serve immediately. You need those crunchy chips to stay crunchalicious!