This is a Sponsored post written by me on behalf of Arby's. All opinions are 100% mine.
My family loves Arby's. We get the same things every time we go and can't quite break away from them!
Our dinner choices changed when we heard that the KING'S HAWAIIAN sandwiches were back for a limited time! Wow, these sandwiches are seriously amazing. The photo alone makes you want to run to Arby's and grab one of these sandwiches!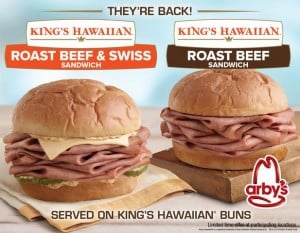 I ordered the Arby's KING'S HAWAIIAN Roast Beef sandwich and it was wonderful! It comes with an extra helping of freshly sliced roast beef, piled high on a soft and slightly sweet KING'SHAWAIIAN bun. It has tons of flavor, and the sweetness of the bun pairs so  nicely with the roast beef. Talk about a winner!
Then there's the Arby's KING'S HAWAIIAN Roast Beef & Swiss sandwich. My husband ordered this sandwich and he was in heaven. It has the same extra helping of roast beef and KING'S HAWAIIAN bun, topped with Swiss cheese, crunchy pickles and creamy Dijon spread. He wanted so badly to scarf his sandwich, but he made himself slow down so it would last a little longer.
Tyson and I both liked the sandwiches we picked the best. One of the things I like about these sandwiches is that they're for everyone. If you like all the sauce and choose, you can order the KING'S HAWAIIAN Roast Beef & Swiss. If you're like me and prefer less sauce and toppings, the KING'S HAWAIIAN Roast Beef sandwich is the perfect sandwich for you!
(My son loved his dinner, too! He wanted to get in on the photo action and get a picture with his sandwich.)
You really want to head over to your local Arby's and experience these amazing KING'S HAWAIIAN sandwiches! Just talking about it makes me want another one ASAP! (I think I know what we're having for dinner tonight!
Find an Arby's here!
Follow @arbys on Twitter and keep up to date on all the latest tasty goodness!
QUESTION: What do you love about Arby's? Have you tried the KING'S HAWAIIAN sandwiches?