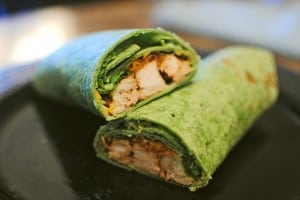 I think it seems only fitting to talk about a meal that is wrapped in a lovely shade of green, in honor of the Super Bowl champs the Green Bay Packers! (Sorry, little sister. I know how much the Steelers mean to you.) Wasn't the game a great one? I was picturing all the parties going on out there and the smorgasbord of food at each one. Party food is the best. What were some of the featured items at your parties? Now that I've brought up the sad news to all you Steelers fans once more and tears have most likely been shed, let's talk about today's recipe. This dish will bring some smiles. It comes from my twin sister, Amber, and her husband, Che'. (Did I mention I have a twin? She's my best pal.) My husband and I were talking to them about quick recipes and they told us about how much they love this one. For a couple that comes home from work late some days they needed something for dinner that they could put together quickly. We loved the idea, and when we tried this wrap we were in heaven! It is so tasty and very filling. (And stay tuned for more Valentine's Day ideas throughout the week!) Ingredients
Mission brand spinach wraps

(found at any grocery store)

ranch dressing
Members Mark

(Sam's Club freezer section)

mesquite grilled chicken breasts

(If you don't purchase grocerys from Sam's Club or have a Sam's Club near you, you can always get the Tyson brand of grilled chicken breasts. But I recommend the mesquite if you can find it somewhere!)

hickory bbq sauce

(or your favorite)

romaine lettuce
bag of Kraft grated Mexican style four cheese blend
Directions
Set one spinach wrap flat on a plate. Squirt about a tablespoon of ranch dressing on the wrap and spread around the entire surface.
Take one chicken breast and cook in the microwave according to the time on the bag (about 2 minutes for the Members Mark mesquite chicken). Slice the chicken in small strips (or dice it) and arrange down the middle of the spinach wrap. Then squirt a few drops of the barbecue sauce over the chicken.
Sprinkle cheese over the chicken after the barbecue sauce, then top with some romaine lettuce. To roll, fold in the ends on the top and bottom of the wrap where the chicken meets the edges. Take one side of the wrap and tightly bring it around the ingredients in the middle. Continue to roll until the wrap is completely rolled up.