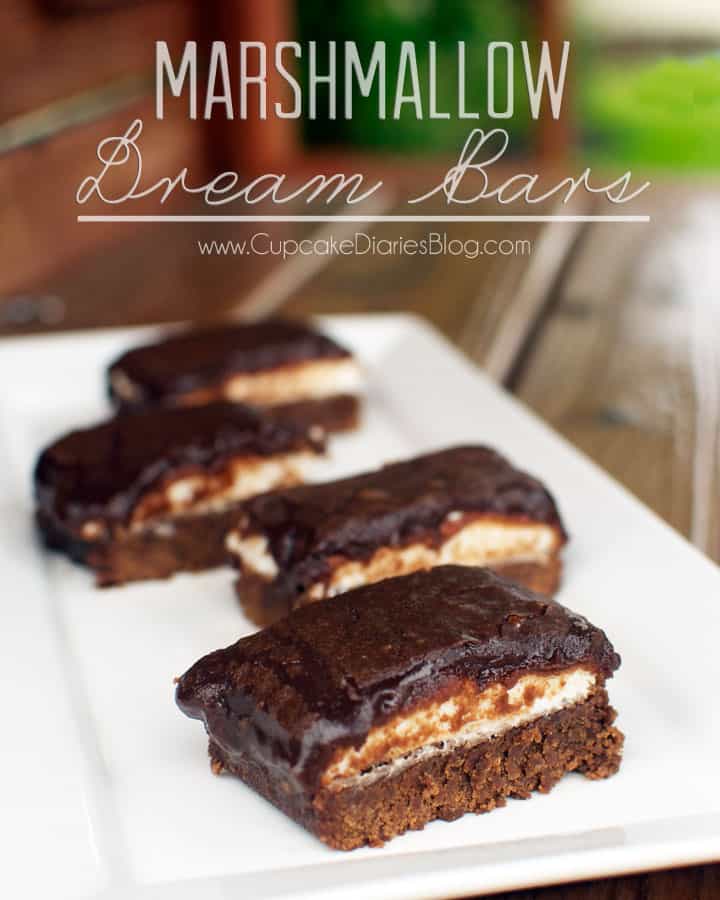 If you like chocolate, you have GOT to try these brownies. They are absolutely fabulous! My husband always picks these amazing Marshmallow Dream Bars for some kind of occasion. Father's Day, his birthday dessert, a holiday treat…He loves them! They really are soooo good.
Keep in mind that these are super rich. You definitely want to cut them into bars! That just means more to come back and eat!!
Ingredients
BROWNIES:
2 c. sugar
4 eggs
1 c. butter, melted
6 T. cocoa
2 c. flour
2 tsp vanilla
1/2 bag mini marshmallows or flat s'more marshmallows
ICING:
1/2 c. butter
1/3 c. milk
1/4 c. cocoa
1-2 c. powdered sugar
Instructions
Preheat the oven to 350°.
Cream together butter and sugar in a stand mixer or electric hand mixer. Add eggs one at a time.
Add vanilla and cocoa. Mix together until combined.
Add flour one cup at a time and mix until combined. Stir in the nuts with a wooden spoon.
Pour batter in a greased 9x13 pan and bake 30-35 minutes.
Spread on mini marshmallows and put back in the oven just long enough for the marshmallows to melt (about 3 minutes). Allow to cool before frosting.
Heat butter, milk, and cocoa in a saucepan to a boil.
Add the powdered sugar (amount depends on how sweet you want the icing), stirring well.
Pour over cooled brownies. Allow to cool before serving.
https://www.cupcakediariesblog.com/2010/10/marshmallow-dream-bars.html
Looking for more fabulous brownie favorites? You don't want to miss these!