It's the time of year for zucchini bread! Most have a recipe for zucchini bread already. But just in case, here is another yummy recipe! This simple recipe is also delicious when apple sauce is substituted for the oil.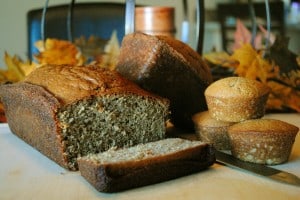 2 c. zucchini, grated
3 tsp vanilla
1 c. nuts (optional)
3 eggs
2 c. sugar
1 c. oil
3 c. flour
1 tsp baking soda
1 tsp baking powder
1 tsp salt
3 tsp cinnamon
Directions
Mix eggs, sugar, and oil together well.
Sift dry ingredients and add to the egg mixture.
Add zucchini and vanilla, blend well.
Pour in well greased loaf pans. Bake at 350 degrees for 1 hour. Yields 2 loaves.
* Makes 4 mini loaves (bake 45 minutes). If muffins are also made with this recipe, bake for 20-25 minutes.