Our Western Caribbean cruise aboard Royal Caribbean's Oasis of the Seas was nothing short of a dream vacation. Royal Caribbean has been voted Best Overall Cruise for 14 years. And I am going to tell you why I agree!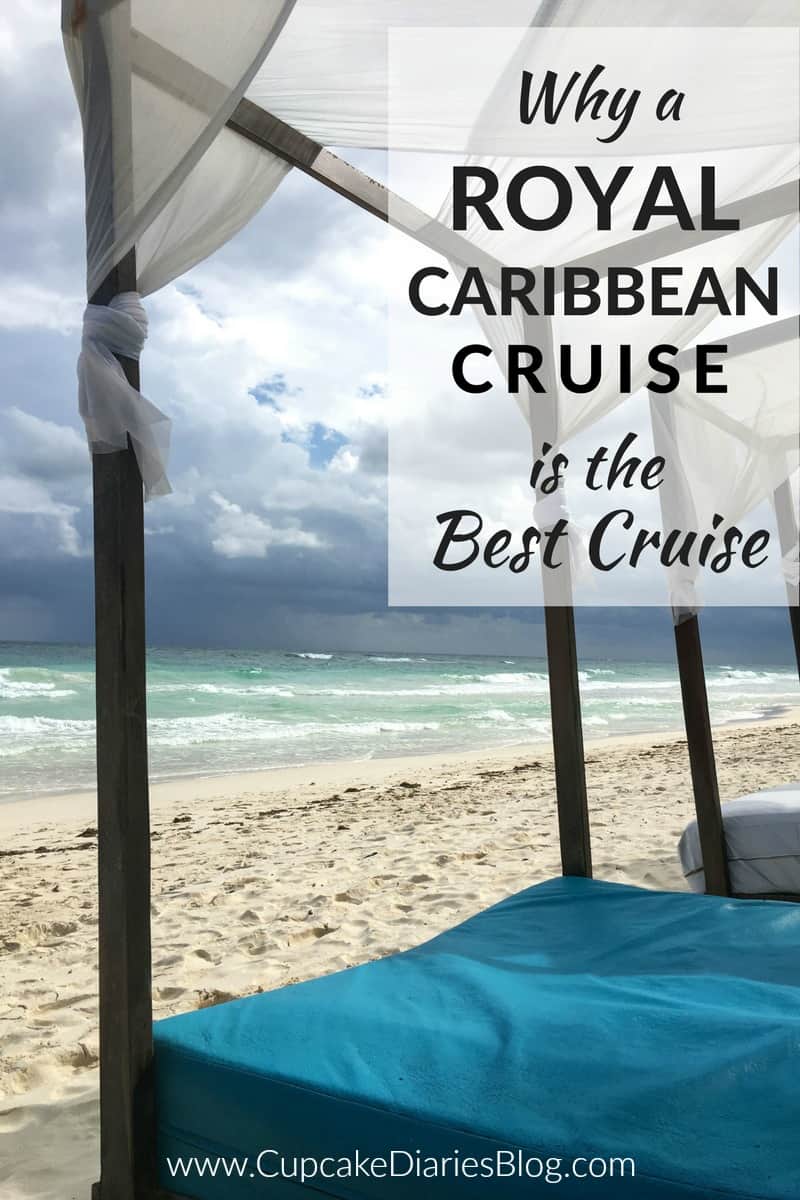 In 2015 I went with my little family to beautiful Orlando, Florida for what was possibly the best family vacation we will ever have. We attended Family Forward with other families in need of some family time. It was a wonderful experience we will never forget. Royal Caribbean was a main sponsor for this event and hosted a lunch that featured a contest to win a cruise. And guess who won…ME! I was absolutely mind blown and incredibly excited. When it came time to go on this cruise, my husband and I were in need of a vacation together. This trip was unbelievable and more than we could have ever hoped for. Royal Caribbean, we thank you from the bottom of our hearts for the amazing trip! We will never forget our time on the ocean in your beautiful ship.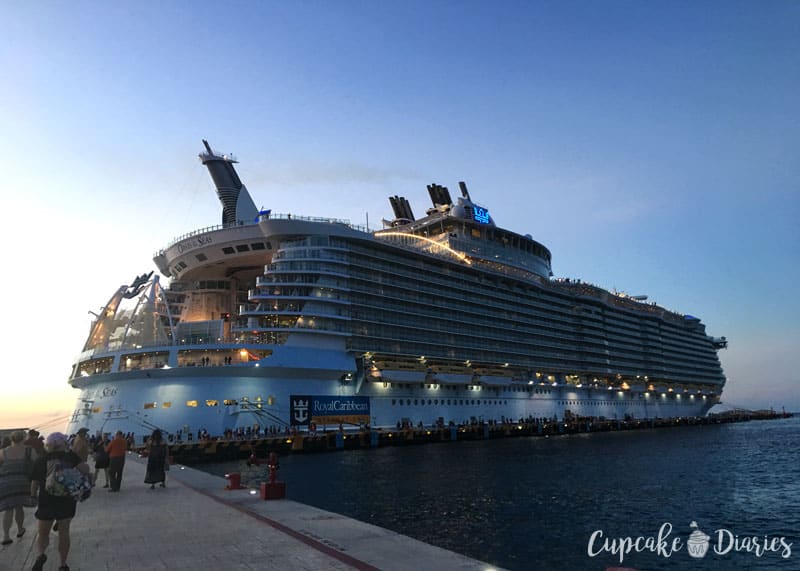 We had the privilege of cruising aboard the stunning Oasis of the Seas. This beauty was the ultimate for sitting back and relaxing. Sports, pools, dining, entertainment…We had everything at our fingertips for 9 days. Even DreamWorks characters were onboard! It was so much fun.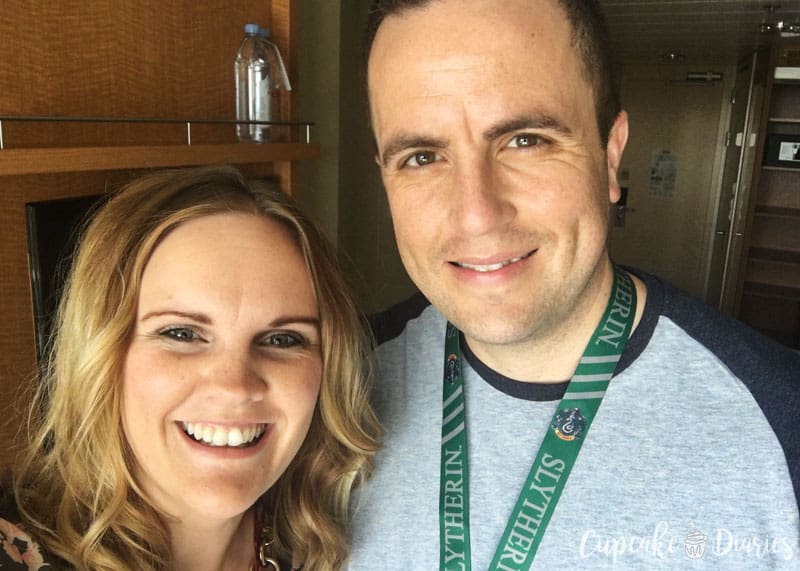 Once we found our stateroom, it was time to take our first cruise photo. We had just been at Universal Studios Orlando Resort so we happily put our SeaPasses in our Harry Potter lanyards for the cruise. Two wonderful worlds collided that day!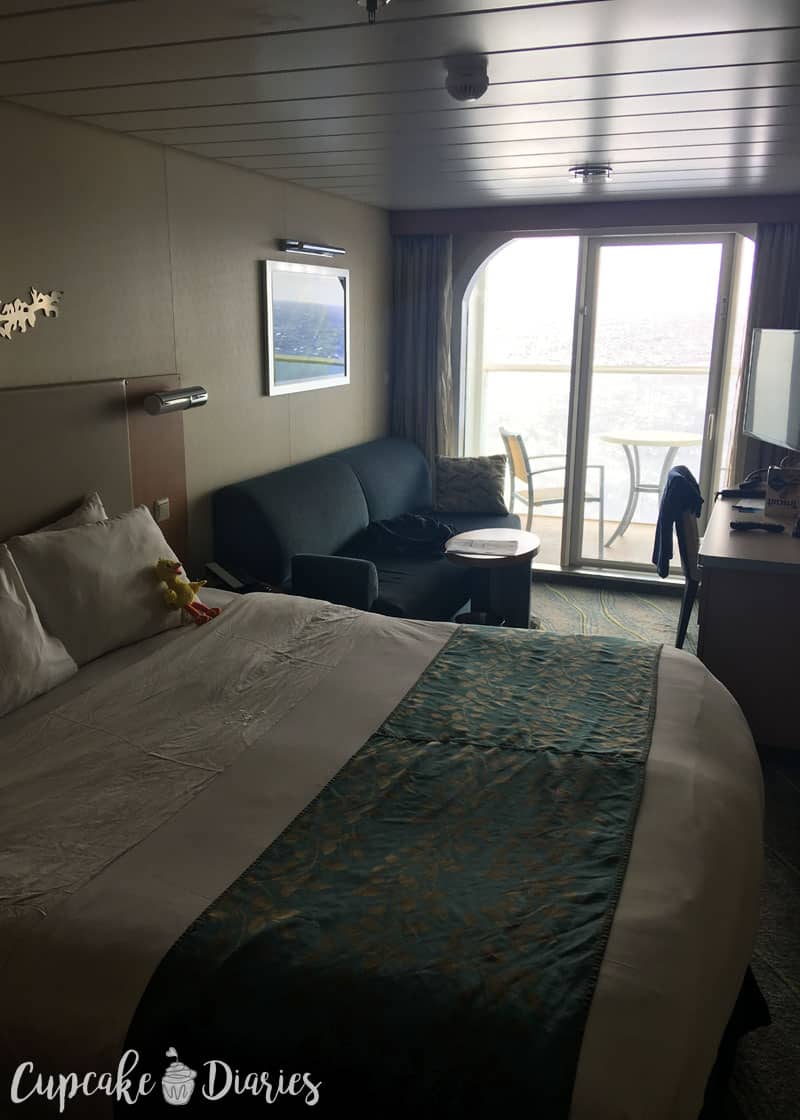 We were able to choose the type of stateroom we wanted and we were all about having a balcony. It was such a cool experience having the ocean right out our door. I felt spoiled every second I was on this ship!
The ship was docked at Port Canaveral, FL and left as the sun was going down. It was a beautiful view as we pulled away from the states and embarked on our Western Caribbean adventure. A beautiful view from our balcony!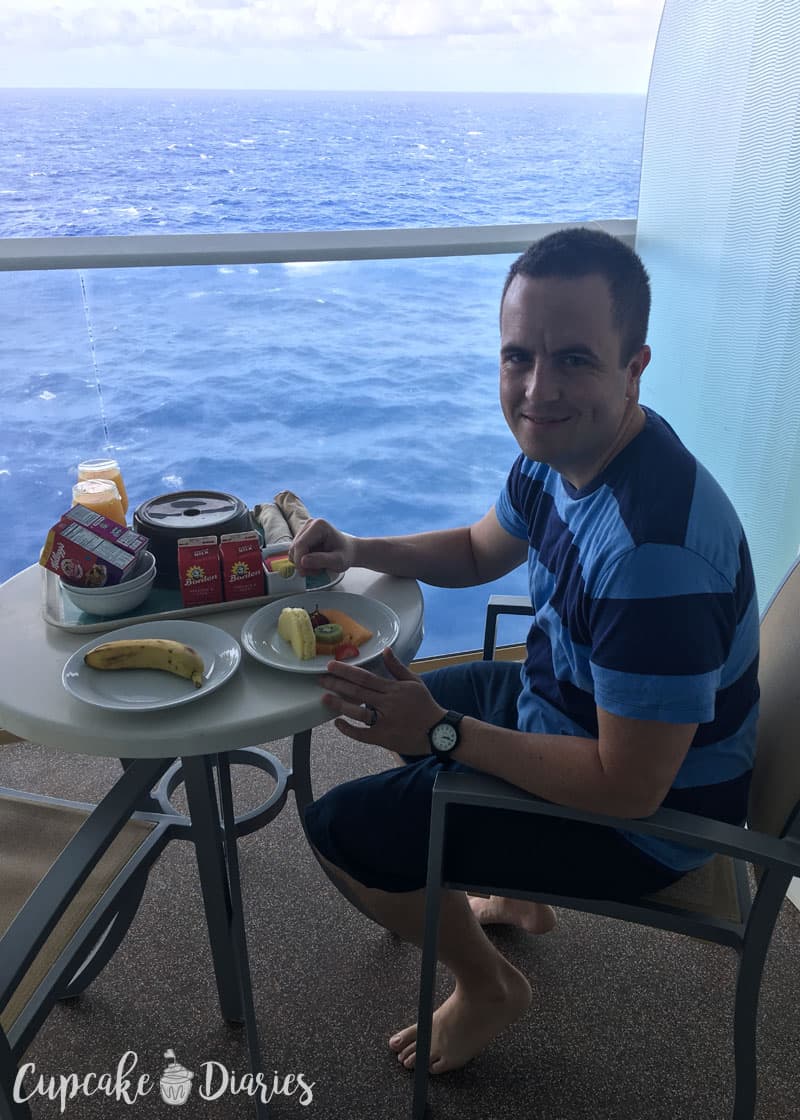 On one of our mornings we ordered room service for our breakfast then enjoyed it out on our balcony. It was blissful. Just typing this I'm dreaming of being back on that water enjoying breakfast on the balcony again.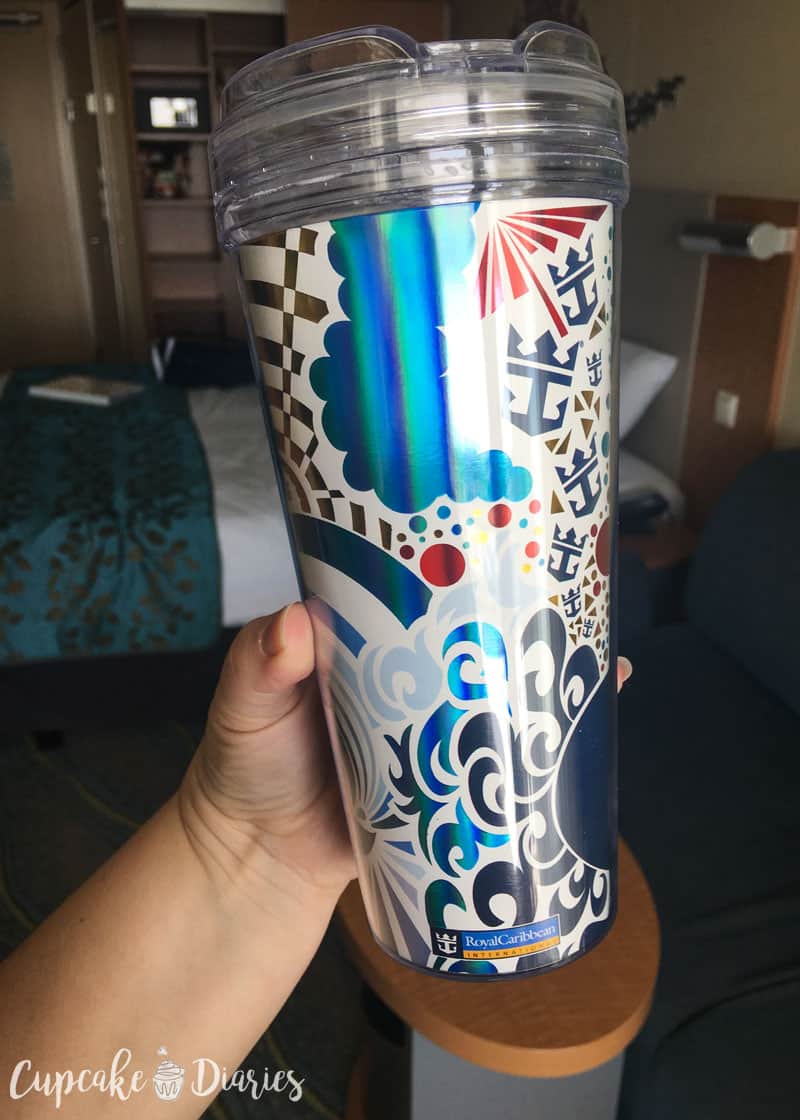 This beverage-loving girl was THRILLED to have the beverage package for the cruise. We stopped at the different beverage machines and filled up whenever our cups were running low. It was pretty great.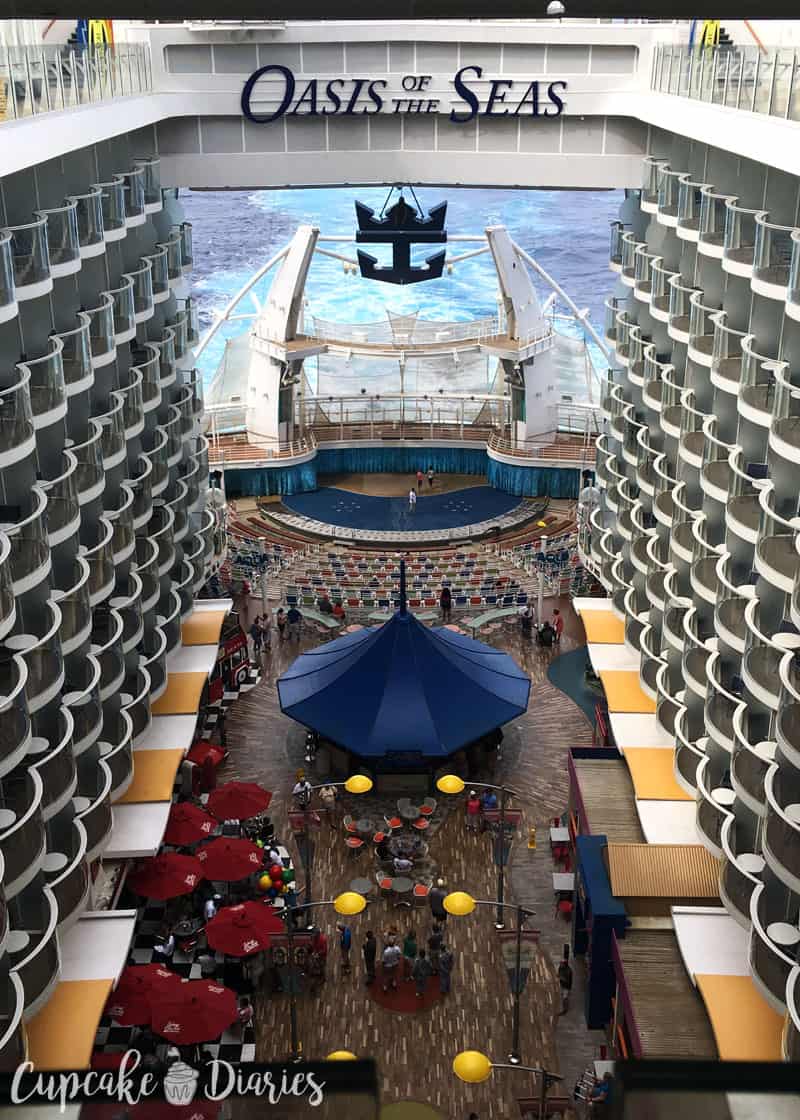 Oasis of the Seas is quite the stunner. There are seven different neighborhoods on this ship, including the Boardwalk. There's a carousel, arcade, fun places to eat, and a stage and seating area for entertainment. If we weren't enjoying a movie on the big screens, we were watching Oasis of Dreams – a captivating diving show featuring Olympic-level diving and acrobatics. It was so cool!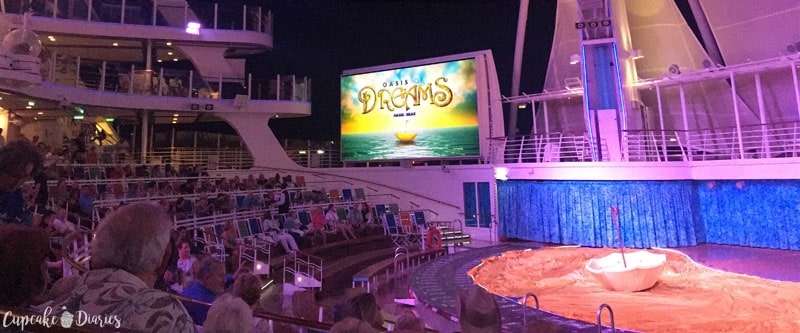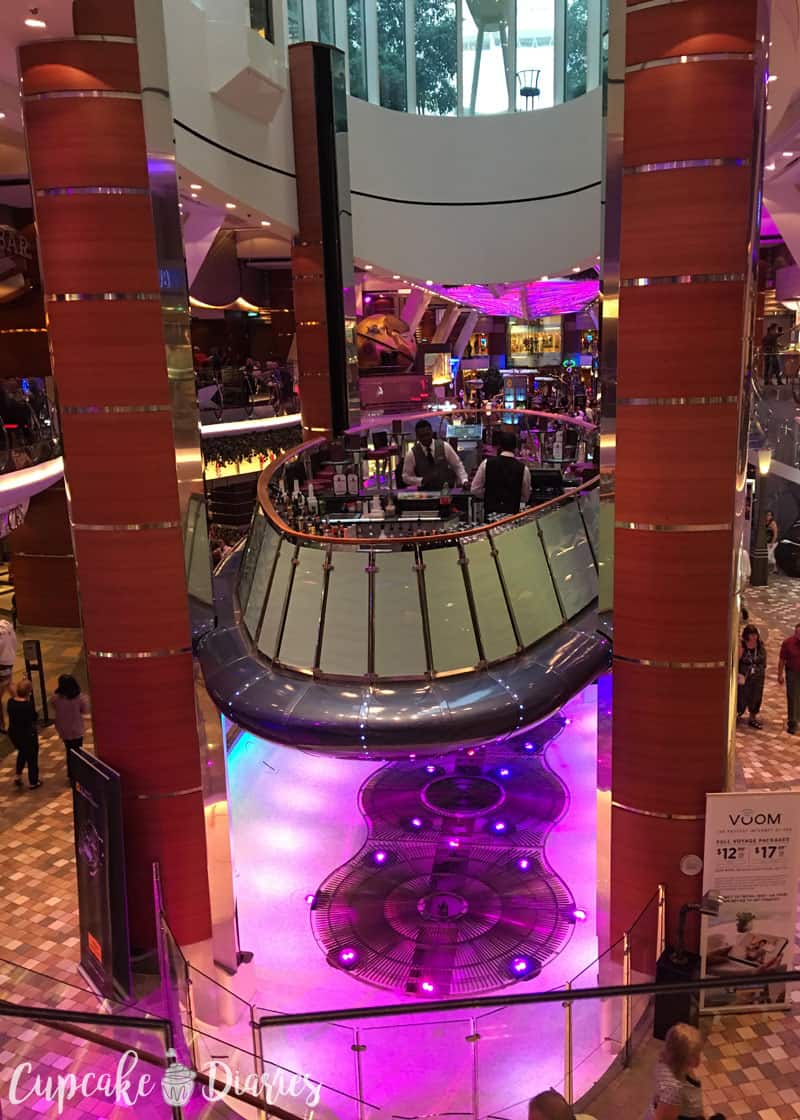 The Rising Tide Bar is a bar that moves from one floor to the next for guests to enjoy. You can hop on for a drink and it moves to the next floor where others can stop in for a drink. Pretty cool!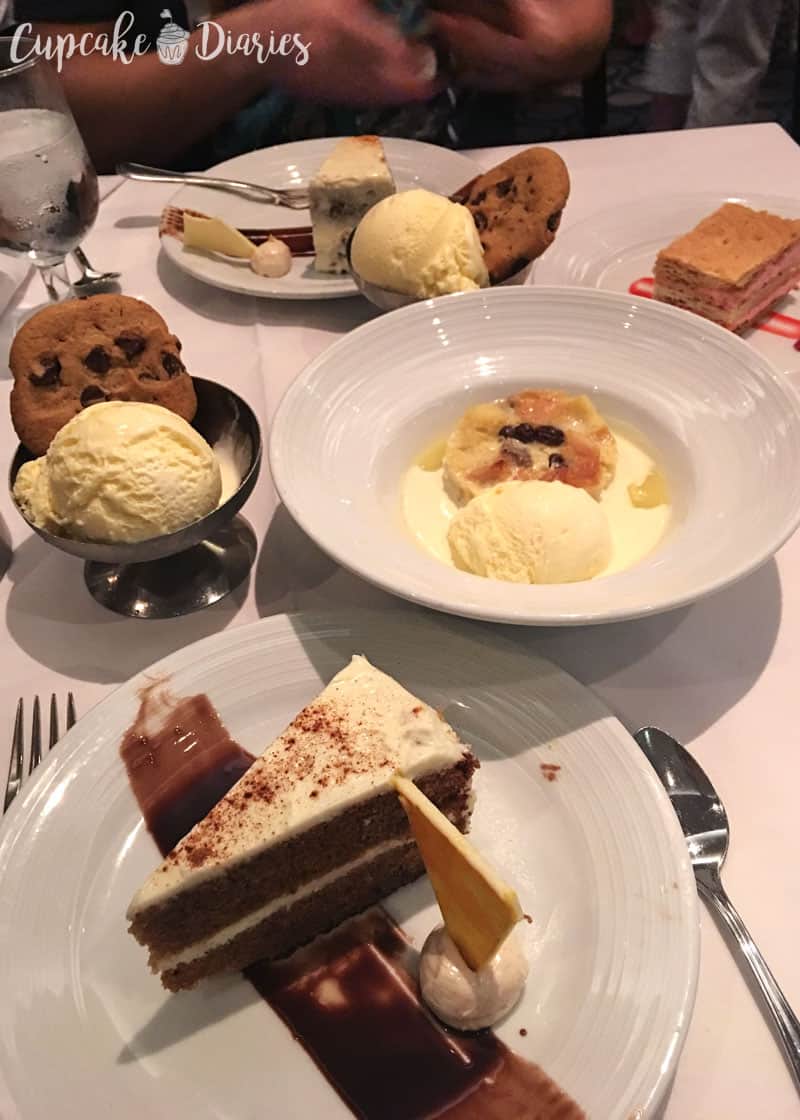 I was impressed by the quality and taste of the food in the main dining room. We were thrilled to have the same server almost every night. He was great at suggesting different components of our meal. And when we couldn't decided between two things he would bring us both. On this particular night we couldn't decided on dessert. So he brought us all of them. That carrot cake was pretty amazing!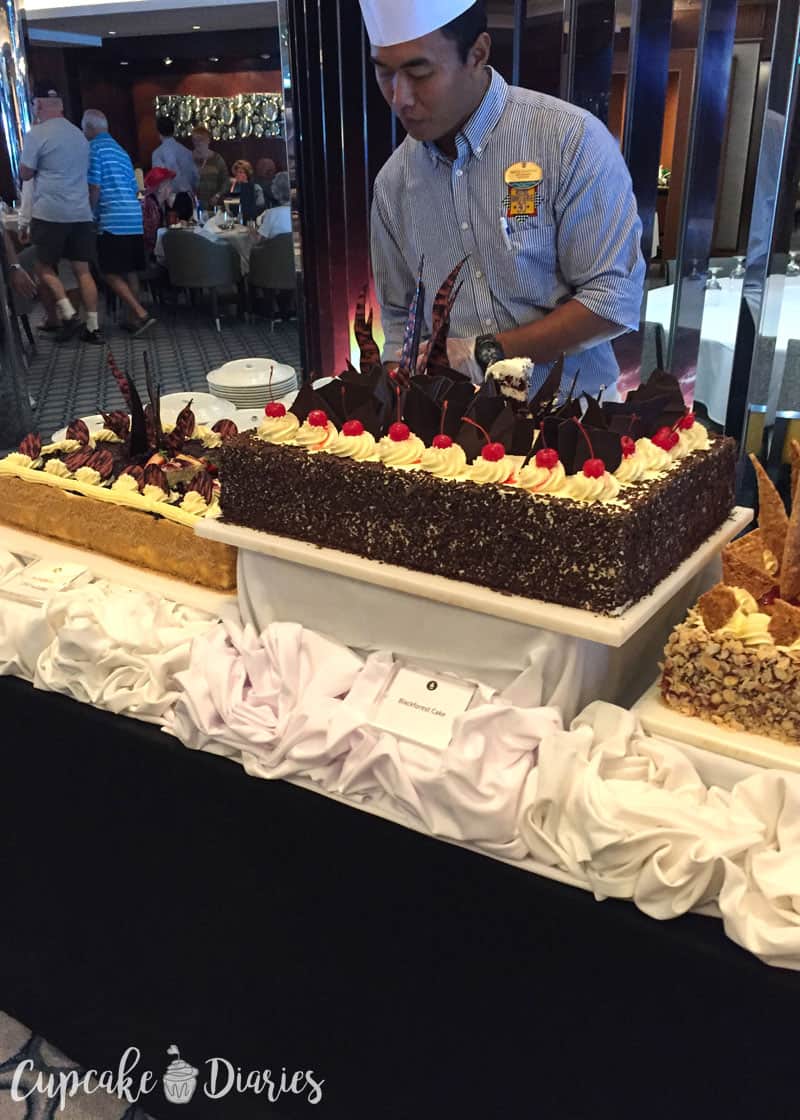 At lunchtime the main dining room featured a buffet for salad and pasta. Then we could order a meal and dessert. These beautiful cakes were by the salad bar and pasta bar. Aren't they stunning? I wanted to get some cake from this guy just so I could watch him cut it!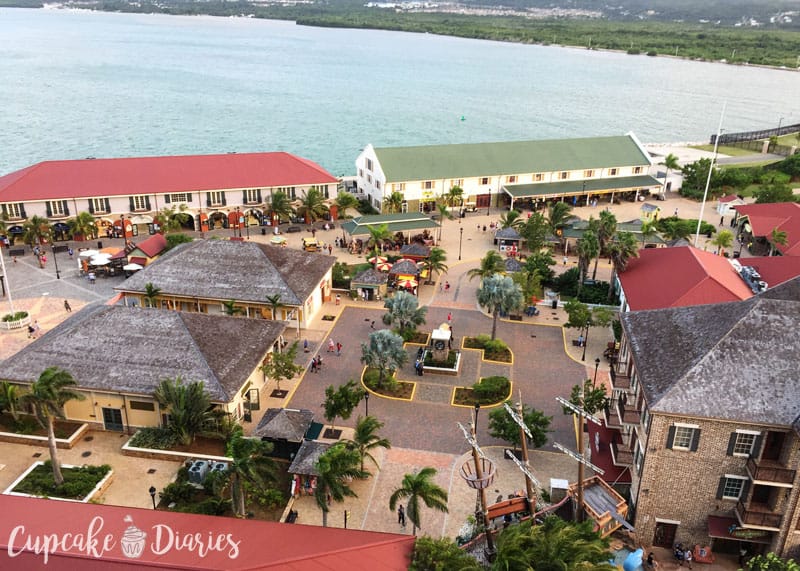 We were able to enjoy four ports on our cruise: Labadee, Haite; Costa Maya, Mexica; Falmouth, Jamaica; Cozumel, Mexico. We had a wonderful time enjoying the day at each of these locations. We had an excursion scheduled for Labadee, Falmouth, and Cozumel. Our Labadee excursion (snorkeling) was cancelled due to bad weather. In Falmouth we swam with a dolphin named Toni and it was one of the coolest experiences I've ever had. I was just telling my husband tonight how fun it was to not only swim with a dolphin, but to see how happy everyone was to be around these dolphins. It was such a fun place to be.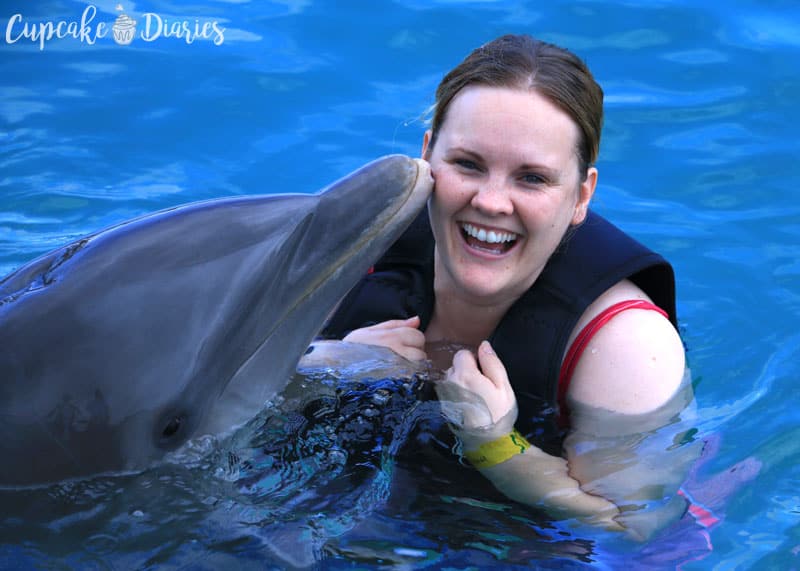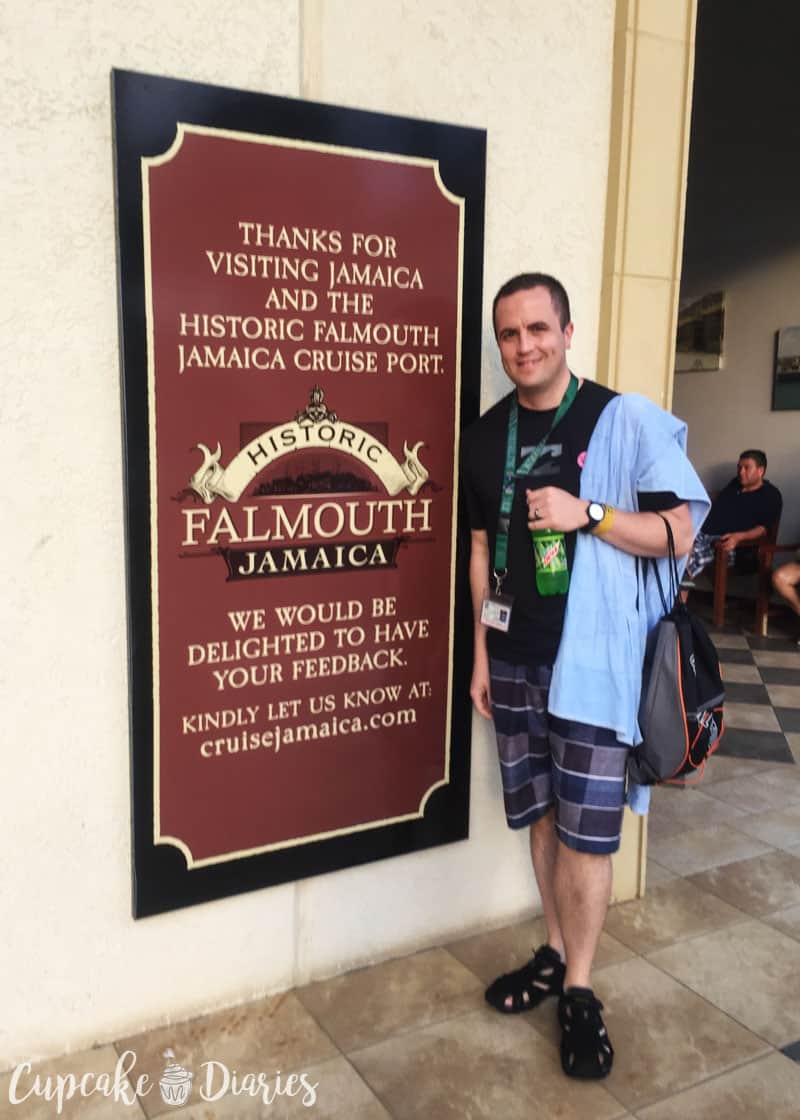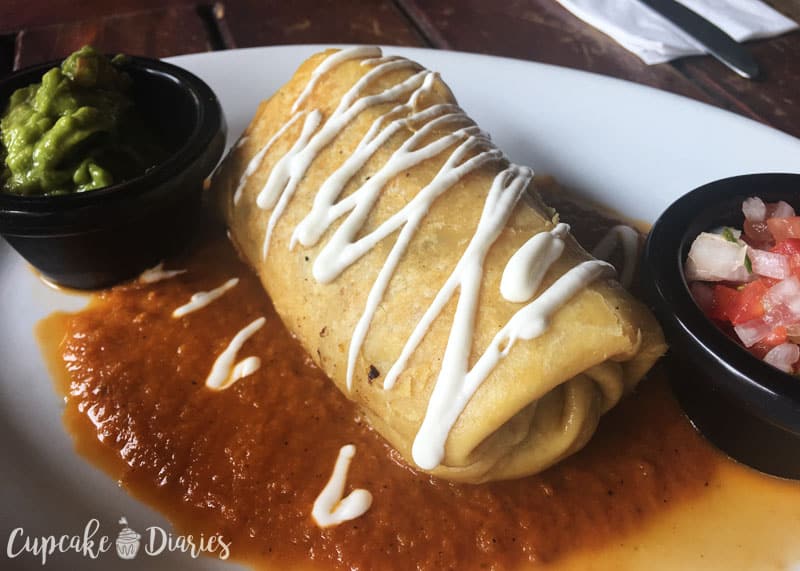 We had lunch in Costa Maya, Mexico at a restaurant where I had the best Mexican food I've ever had in my life. We enjoyed chips and fresh salsa then dove head first into this amazing beef chimichanga. I mean…it was so good I could cry happy tears. I wish I had one right now! That beef was stellar.
A live band played on a small balcony and we listened to popular songs from the 70's all sung in Spanish. It was a lot of fun!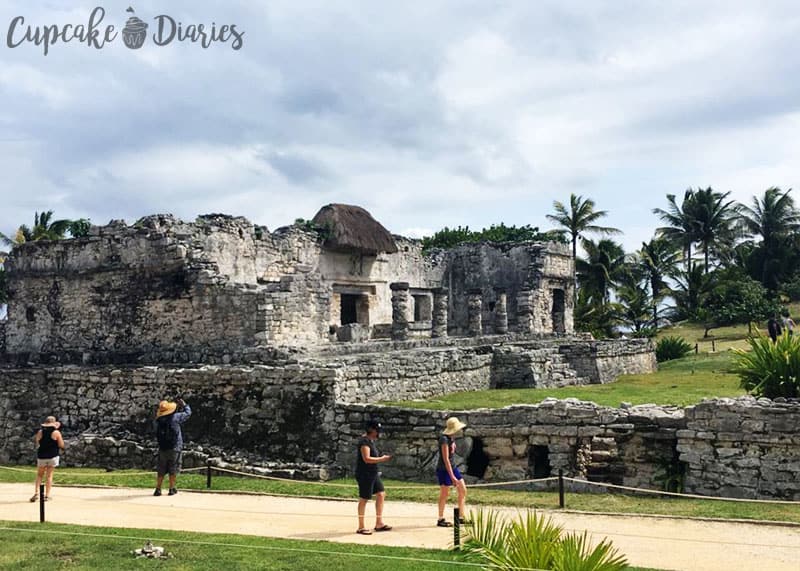 In Costa Maya, Mexico, we took a boat ride over to Playa del Carmen where we took a tour bus to the Tulum ruins in the Mayan city of Tulum. It was quite the experience! It's amazing that these structures are still standing. We enjoyed a tour and beautiful views of the ocean.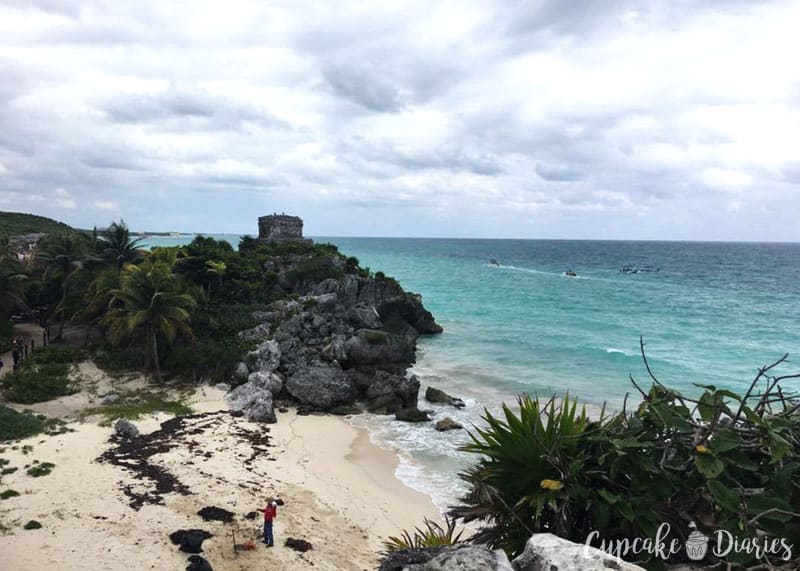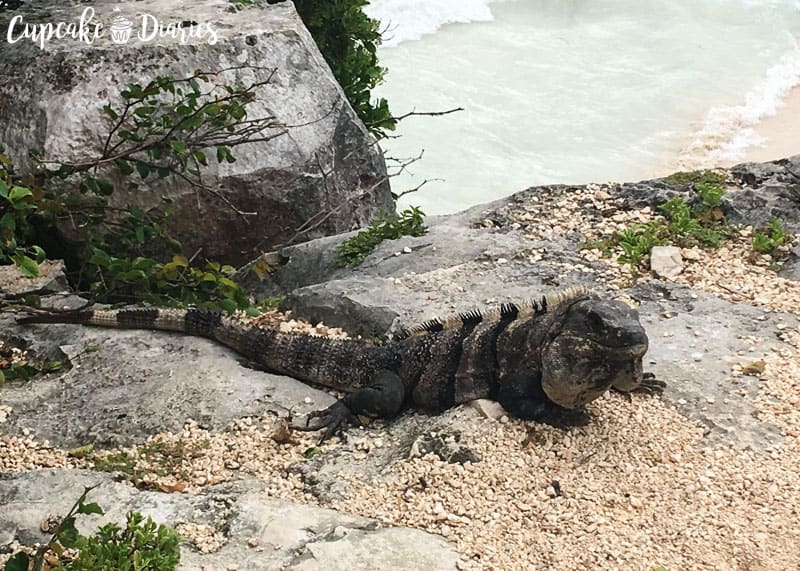 These little guys were all over the place!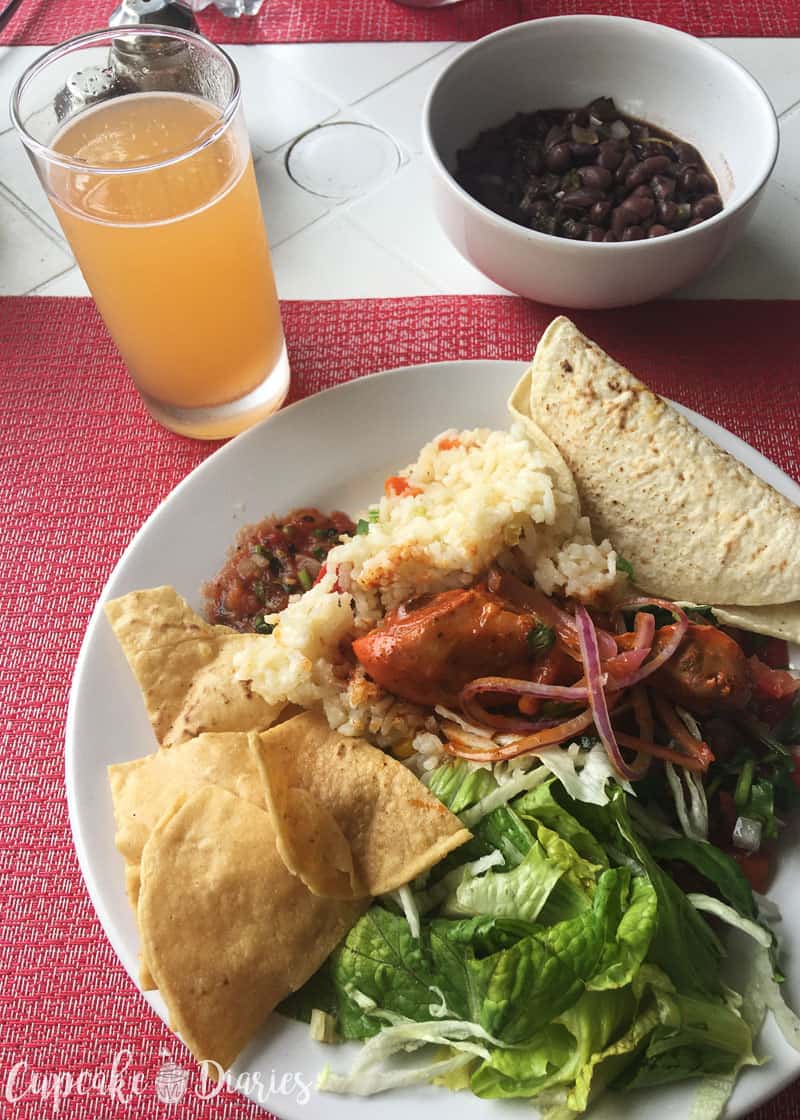 We went to a hotel on a private beach for lunch and it was here that I experienced what was the most relaxing moment of my life. We enjoyed this delicious lunch complete with cantaloupe juice, and then we did this…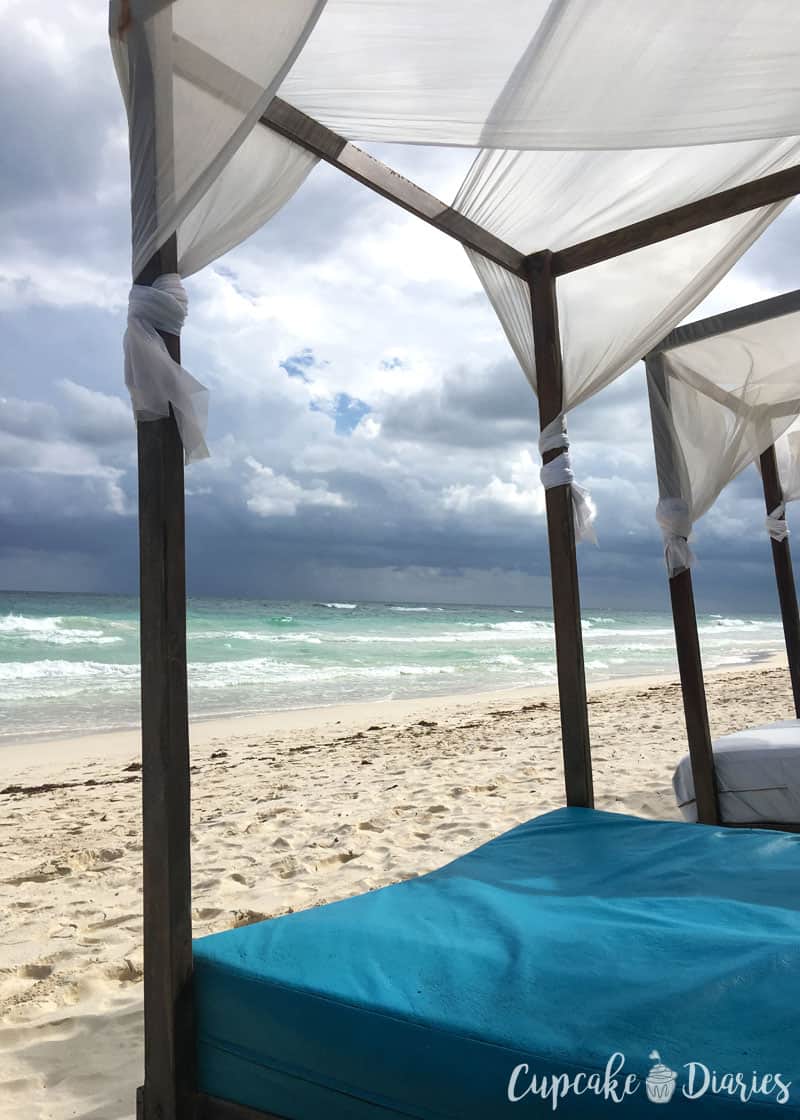 We spent time on the beach with the few families who came on the excursion with us. And I took a nap for an hour and a half while I listened to the waves rolling. We also enjoyed a Miami Vice mocktail and talked with some of the other people in the group. It was such a great experience.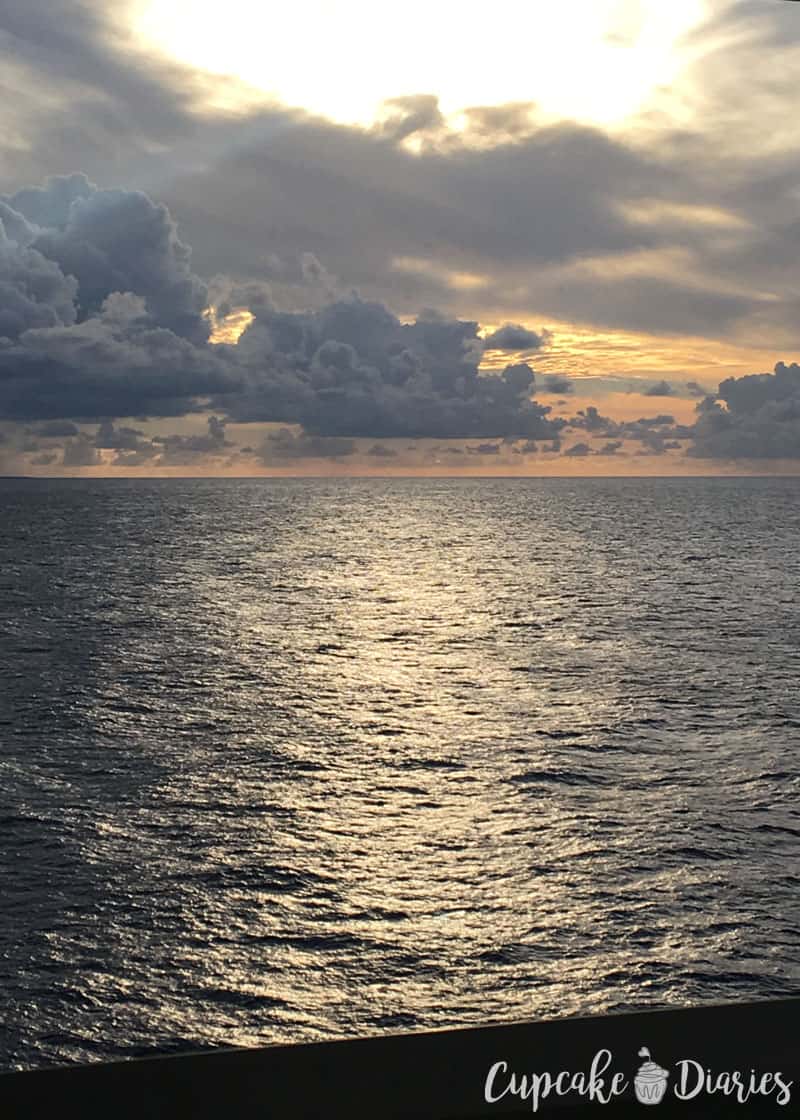 And there you have it. This trip is the reason why you should always book with Royal Caribbean. This cruise line screams class from the moment you're booking the trip. The staff was fantastic, the food was amazing, excursions were memorable and then some… To say we enjoyed our cruise is an understatement. We had the best time of our lives and loved every minute of it. Royal Caribbean, we can't thank you enough for this experience. We will always be booking Royal Caribbean cruises forever and ever!
[wysija_form id="1″]