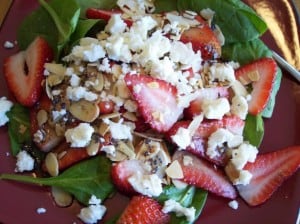 I love this salad! It's so refreshing and delicious. It's very easy to put together and it packs a lot of great flavor. I love the sweetness of the strawberries with the crisp greens. This is a great salad for a summer gathering or as a side dish with dinner.


Spinach and Strawberry Salad
recipe and image via Food.com
fresh or packaged baby spinach
crumbled feta cheese
sliced strawberries
almond slivers or candied almonds
Dressing
1/2 c. vegetable oil
1/4 c. balsamic vinegar (or raspberry wine or white wine vinegar)
1/4 – 1/3 c. sugar
1 pinch paprika
1-2 Tbsp poppy seeds
OR use Brianna's Blush Wine Vinaigrette dressing, found at most grocery stores. (I love using this dressing for this salad instead of making it from scratch.)
Directions
In a large bowl, toss the spinach with the strawberries and almonds
In another bowl, whisk together the dressing ingredients and pour desired amount over the spinach, strawberries, and almonds. Or pour Brianna's Blush Wine Vinaigrette dressing over the spinach, strawberries, and almonds and toss together.
Sprinkle the feta cheese over top of the salad and serve immediately.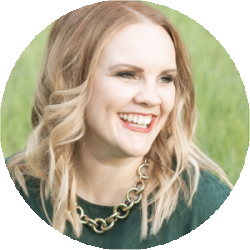 Alli is the food blogger and photographer behind Cupcake Diaries. Nestled in Northern Utah with her four young boys, hubby, and a full pantry, she loves baking all kinds of treats as well as quick and easy meals for her family. What started out as sharing a few recipes with family members here and there soon turned into a full-functioning recipe blog with readers from all around the world! Alli is a full-time mom who enjoys music, holidays, and spending time with her family.