One of my favorite foodies and blogging buddies is here sharing some serious comfort food today! I love Yvonne and her recipes. She has a certain style about her in how she prepares her food and photographs it for her blog, Tried and Tasty. I love everything about Yvonne! Take it away, my friend!

Hi! I'm Yvonne from Tried and Tasty and I'm so excited to be here on Cupcake Diaries helping out my girl Alli! When I'm not at work or spending time with family or friends, chances are you'll find me in the kitchen wearing an apron and a smile. My passion for cooking and baking is endless and my appetite for trying out new and tasty recipes is unquenchable! In fact, that's why the name of my blog is Tried and Tasty. I slice, dice, and sauté my way through an abundance of new recipes on a regular basis and deliver only the best to my sites treasured visitors.
Over the last year to two years I've become passionate about fueling my body with healthy food that tastes great. Who says food that is good for you can't taste great too? Macaroni & cheese is one of my weaknesses. Especially in the fall when the holidays roll around, it's THE staple of the dinner menu. I decided to switch it up and make a 'less' guilty version to allow me to still indulge without feeling bad. Insert this Slow Cooker Creamy White Mac 'N Cheese! I'm excited to pull out the slow cooker over the next few months and this recipe is indeed one to be made over and over. I hope you enjoy!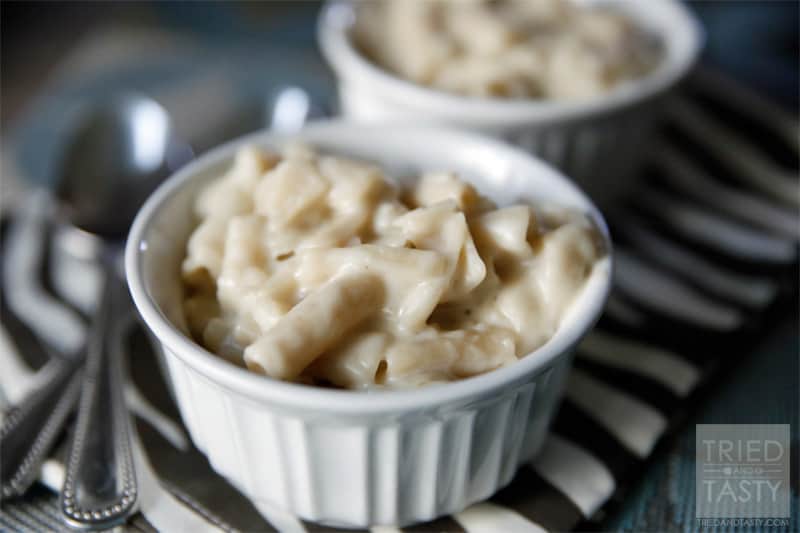 Slow Cooker Creamy White Mac 'n Cheese
Ingredients
24

oz.

brown rice penne pasta

or preferred pasta

1

head roasted garlic

2 3/4

c.

Silk Coconut Milk

or preferred milk

1

c.

shredded Swiss cheese

1/2

c.

shredded Pepperjack cheese

Salt & pepper to taste
Instructions
In your slow cooker, add milk and pasta noodles; add roasted garlic.

Cook 1 1/2 hours until most liquid has been absorbed. Add cheese; stir well until melted.

Add salt and pepper to taste.
If you want other delicious side dish ideas, head on over to Tried and Tasty to check out these favorites: