I know, another Fourth of July jello recipe! I just can't get away from it! I found these Red, White and Blue Jello Cups over at Real Mom Kitchen and thought they were the cutest idea. This is a great way to serve a jello at a Fourth of July bbq. Everyone gets an individual portion and two of the layers have fruit inside. Kids and adults alike will love these! This recipe is a little different from the Red, White and Blue Jello Salad I posted on Friday. But both taste great!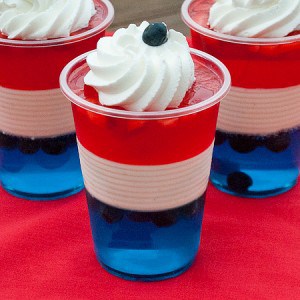 Red, White and Blue Jello Cups
image and recipe via Real Mom Kitchen
makes 14-16 servings
Ingredients (listed by layer)
1 (3 oz) package berry blue gelatin
2 c. boiling water, divided
2 1/2 c. cold water, divided
1 c. fresh blueberries
1 envelope unflavored gelatin
1 c. heavy whipping cream
6 Tbsp sugar
2 c. (16 oz) sour cream
1 tsp. vanilla extract
1 (3 oz) package strawberry gelatin
1 c. fresh strawberries, diced
plastic cups (The amount will depend on what size you use. For example, this recipe will fill 8 (9 oz) plastic cups. That makes about 2 servings per cup. Use the small plastic cups to make smaller portions.)
Directions
In a bowl, dissolve berry blue gelatin in 1 c. boiling water. Then stir in 1 c. cold water. Divide between clear plastic cups. Carefully add the blueberries and refrigerate for at least 1 hour until firm.
In a saucepan, sprinkle unflavored gelatin over 1/2 c. cold water. Let it stand for 1 minute. Then mix in the cream and sugar. Cook and stir over low heat until the gelatin and sugar are completely dissolved. Allow to cool to room temperature. Whisk in the sour cream and vanilla. Spoon over the set blue layer and refrigerate until firm again (about another hour).
Once the white layer is firm, dissolve the raspberry gelatin in bowl with the remaining 1 c. boiling water. Then stir in the remaining 1 c. cold water. Spoon over the white layer. Add the diced strawberries to this layer. Chill until set for about 1 more hour. Garnish with whipped cream and more berries, if desired.
* You can also make this jello in a glass dish and just do a layered jello. Follow the instructions the same but just put everything in the same glass dish.
* This recipe would also be really good with raspberry jello and raspberries instead of the strawberry jello and strawberries! However, using raspberry jello will make the red layer a dark red color instead of the bright red of the strawberry. It just depends on your preference.