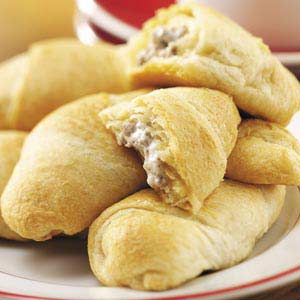 Football season is upon us! Pretty sure college football gets going next week. Exciting times lie ahead! Bring on the party food. These Rattlesnake Bites are a delicious appetizer for any party. They're made with crescent roll dough in the tubes so there's no crazy dough making here. You can make each one at its regular size or you can cut the crescent roll dough in half to make them smaller. I prefer to make them smaller so they're more of a bite instead of a big roll-up. But that's up to you! No matter how big you make them, they're going to be a delicious crowd pleaser.
I changed the ingredients for these a bit and called them Rattlesnake Bites. I made note of the original recipe, which is the Beef-Stuffed Crescents.

Rattlesnake Bites (aka Beef-Stuffed Crescents)
makes 24 servings
1 lb ground beef

4 oz jalapenos, chopped (The original recipe calls for 1 (4 oz) can of diced green chiles.)

1 (8 oz) package cream cheese, cubed

1/4 tsp. ground cumin

1/4 tsp chili powder

3 (8 oz) tubes refrigerated crescent roll dough
In a large skillet, cook the beef and jalapenos over medium heat until the meat is no longer pink. Drain the meat then add the cream cheese, cumin, and chili powder. Let it cool slightly.
Separate the crescent dough into 24 triangles. If you're making them smaller, cut each triangle in half to make them half the size. Place 1 Tbsp of the beef mixture on the wide end of the triangle and carefully roll up. If you're using the smaller triangles, use about 1/2 Tbsp of meat.
Place point side down about 2 inches apart on ungreased baking sheets. Bake 11-14 minutes at 375 degrees or until golden brown. Serve warm and enjoy!