It's Day 14 of "30 Days of Halloween" 2016 and I'm excited to be sharing this cupcake recipe with you today! Nothing says fall fun like heading to the pumpkin patch to find the perfect pumpkin for a Halloween jack-o-lantern. This is a great dessert to serve after coming home from the pumpkin patch!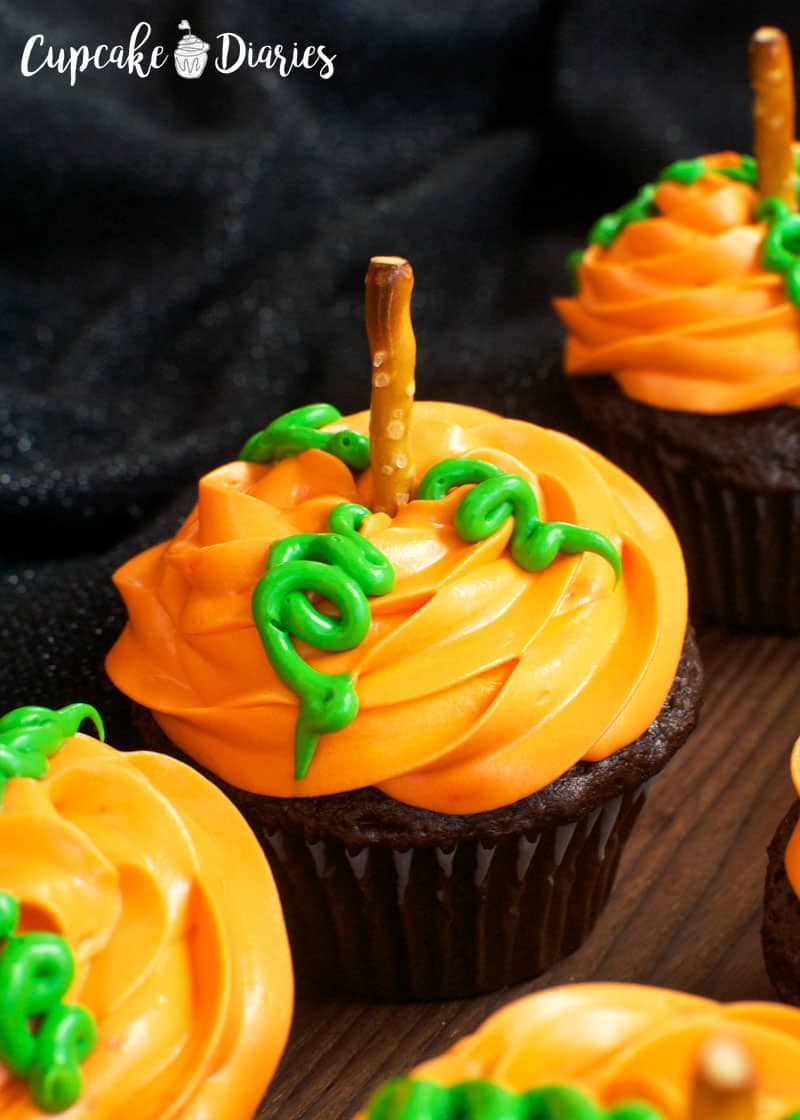 One of my favorite things to do in October with the kids is go to the pumpkin patch. They love picking out their own pumpkin and bringing them home to add to the Halloween decor. This is the first year we will be carving the kids' pumpkins and they couldn't be more excited about it. They've also been really proud of the pumpkins growing in our garden. We won't be carving those since they're pretty much part of the family. But the kids can't wait for them to turn orange and become ready to cut off the vine!
I thought these cupcakes would be so fun to make to celebrate the beginning of fall and the greatness that is pumpkin carving. Want to know the beautiful thing about these cupcakes? You don't have to make any of the elements from scratch. Nope. Not a single one. [Insert fist bump]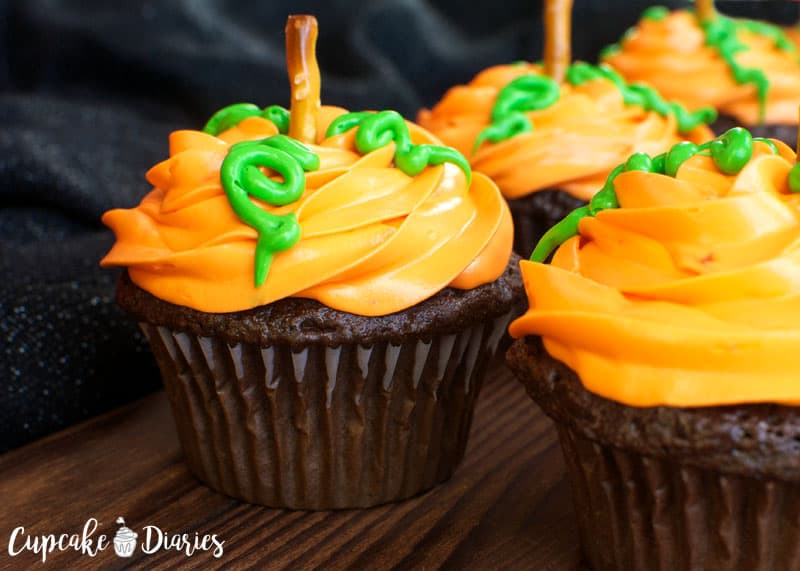 Pumpkin Patch Cupcakes – 30 Days of Halloween 2016: Day 14
Ingredients
1

chocolate cake mix

1

c.

buttermilk

1/2

c.

vegetable oil

3

eggs

24

white cupcake liners

3

16oz cans vanilla frosting

24

pretzel sticks

Wilton orange icing color

Wilton leaf green icing color

1

plastic sandwich bag

1

16oz frosting bag OR gallon ziploc bag

Wilton 1M star tip
Instructions
Combine cake mix, buttermilk, vegetable oil, and eggs in the bowl of a stand mixer. Place cupcake liners in tins and fill 2/3 full with batter. Bake 14-16 min at 350°. Carefully remove from tins and place on a cooling rack to cool.

Place 2 1/2 cans frosting in a mixing bowl. Add a small amount of orange icing color and stir together to make orange icing. Add more orange if you prefer a darker color. Place remaining frosting in a mixing bowl and add a small amount of leaf green icing color. Mix to make green frosting; add more color, if desired.

Cut a hole big enough to place the 1M star tip at the bottom of your frosting bag or in one of the corners of the ziploc bag. Add orange frosting and pipe onto cupcakes in a circular motion. Place a pretzel stick in the center of each cupcake. Cut a tiny hole in one of the corners of the sandwich bag. Add green frosting and pipe vines onto each cupcake. Serve and enjoy!
Kitchen tools and gadgets needed for this recipe: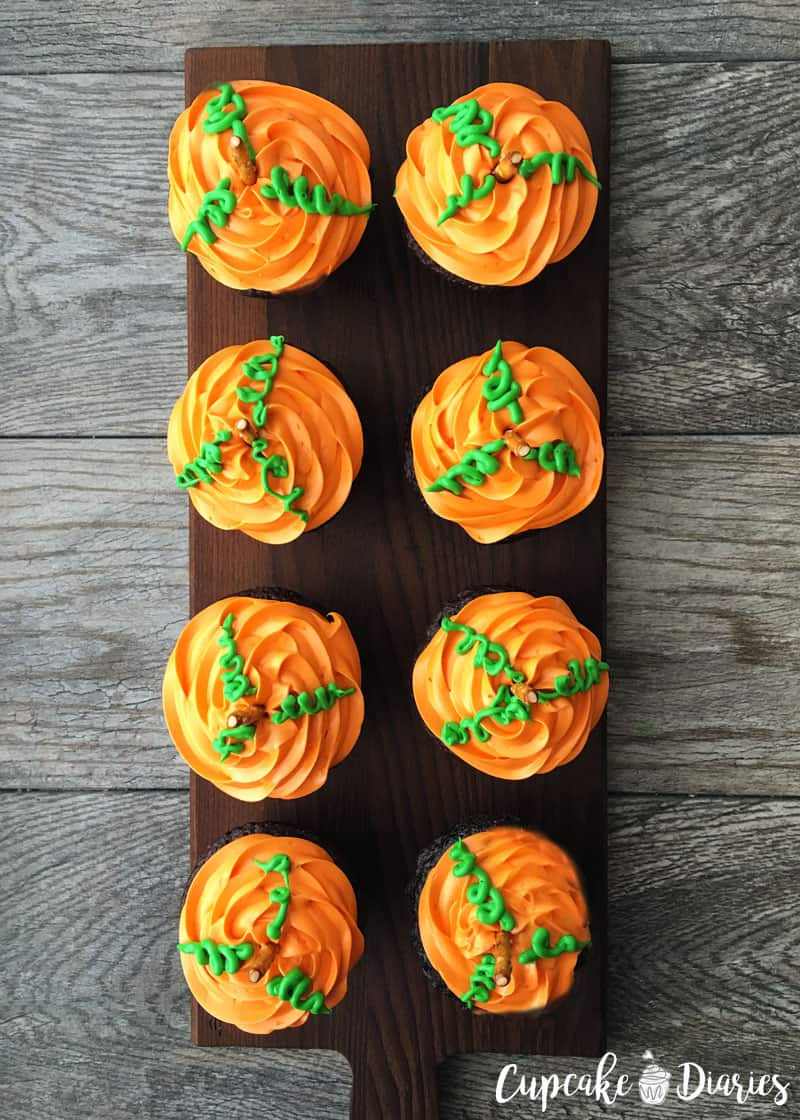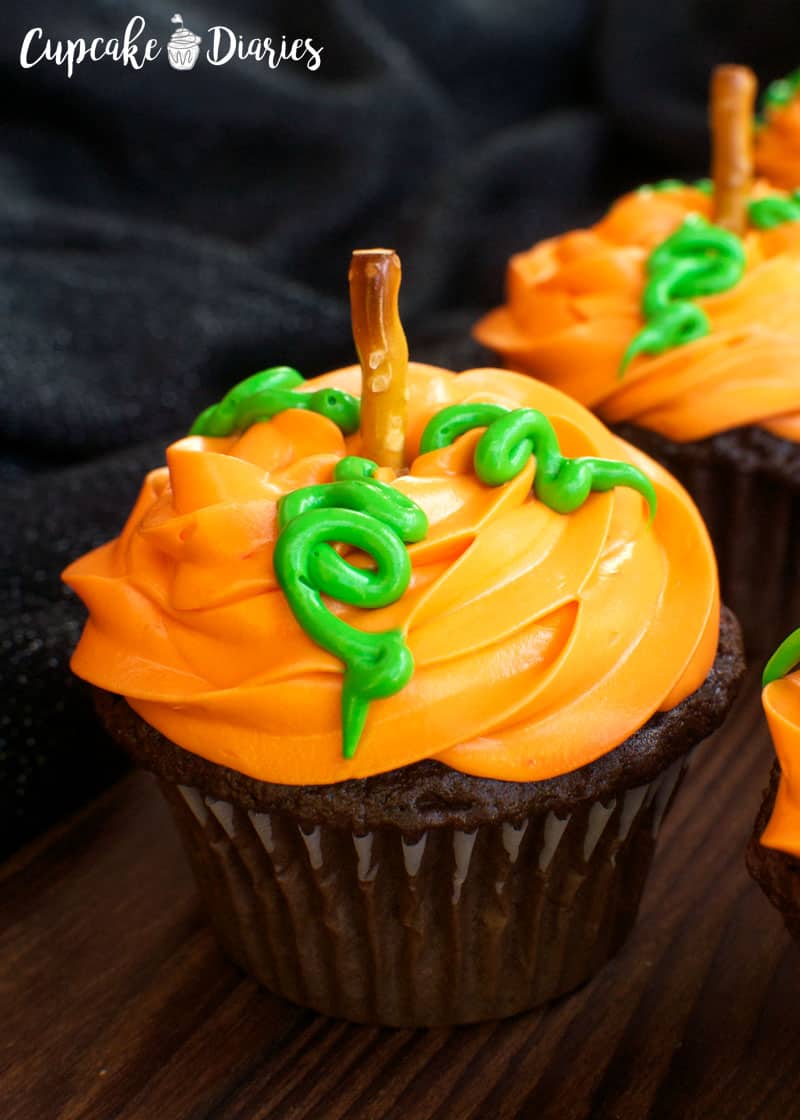 Yay for Halloween and all things fall!! I just love this time of year. I hope you make these cupcakes and love them!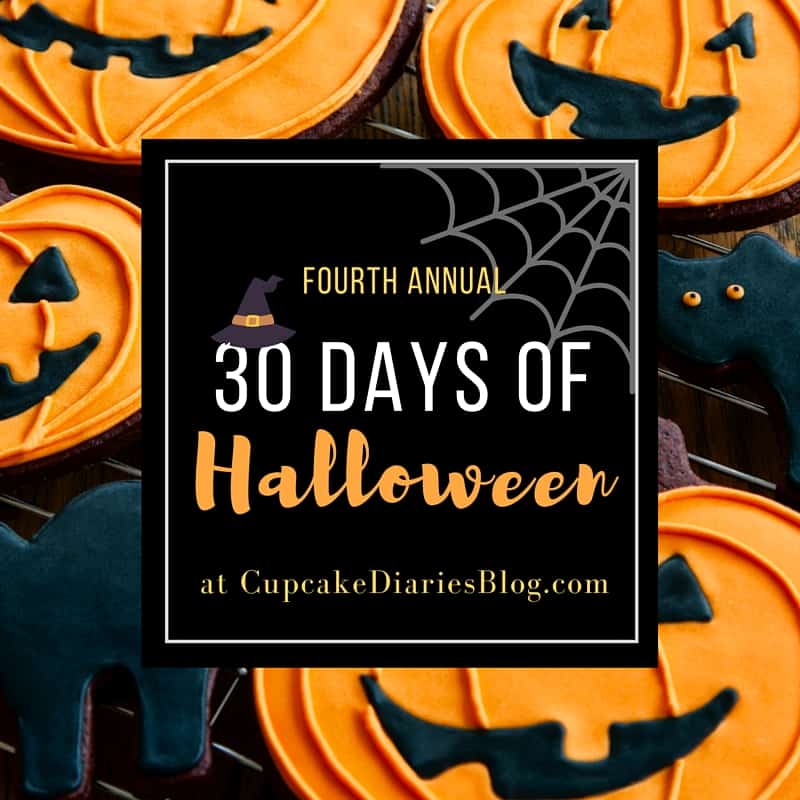 This recipe is part of "30 Days of Halloween" 2016 here at Cupcake Diaries.
Take a look below at the other spooktacular recipes and printables featured in this year's series!