It was such a thrill to be featured on Mom It Forward on November 30th! I've always loved Mom It Forward, and to have a recipe featured was just so exciting for me. Today I thought I'd share the recipe that was featured, for those who may have missed it. If you have any leftover potatoes or ham from Thanksgiving, this is the recipe for you! This is a great comfort food recipe that just warms my tummy right up.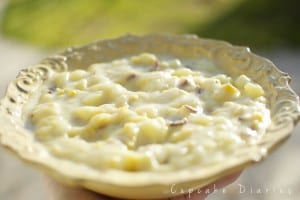 Potato, Corn, and Ham Chowder
5-6 potatoes
2 Tbsp butter or margarine
1 c. chopped ham (small cubes)
1 can cream style corn
1/2 c. chopped onion (Substitute minced onion for those who don't like regular onions! Just sprinkle it in till you like the flavor.)
1 1/2 c. milk
1 can cream of mushroom or cream of chicken soup
1 tsp. salt
1/8 tsp. pepper
Peel your potatoes and dice them up. Cook them for 15-20 minutes in boiling water, or until cooked.
In a saute pan, melt butter and saute the onions. (Skip this step if you're using minced onion!)
Combine milk, ham, cream soup, and potatoes in a large pot. Add the onions. Cook over medium heat for 20 minutes, stirring regularly.
Add the corn, salt, and pepper and reduce the heat. Simmer on medium-low for 10 more minutes.
This post was originally published at MomItForward.com on November 30, 2012. View originally post here.