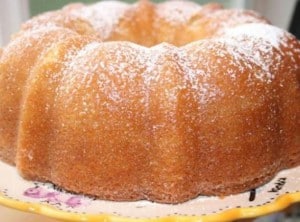 Sometimes in life I come across recipes that make my heart sing. This little number does just that. Not only is this cake divine to look at, but the flavor and texture send me right to my happy place. Maybe this cake should just be my new happy place.
This recipe comes from Just a Pinch. I am new at this website and loving it already! It's quickly becoming a favorite. And thanks to Just a Pinch for the picture!
Cake Ingredients
3 c. flour
1 tsp. baking powder
1 tsp. salt
1/2 tsp. baking soda
1 c. real butter
2 c. sugar
4 eggs
1 c. buttermilk
2 tsp. vanilla extract
Butter Sauce Ingredients
1 c. sugar
1/4 c. water
1/2 c. butter
1 tsp. vanilla extract
Are you like me and like lots of sauce?  And not a crazy amount, just a good amount? If I were you I'd make a double batch of it!
Directions
Preheat the oven to 350 degrees and grease and flour a bundt pan. Sift together flour, baking powder, baking soda, and salt; set aside.
Cream together 1 c. butter, 2 c. sugar, and then add the eggs. Mix in the milk and vanilla.
Alternately add the milk and flour mixture into the creamed mixture. Pour it into the prepared bundt pan and bake for 1 hour.
To make the butter sauce: In a medium sauce pan on medium heat mix sugar, water, and butter. Bring to a low boil, stirring until sugar is dissolved. Then add the vanilla.
While the cake is still very hot, leave it in the bundt pan and poke small holes in the top. Drizzle the butter sauce over the cake. Transfer to a serving dish or platter and dust with powdered sugar.