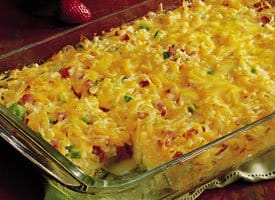 It's great to be back after an awesome weekend with family! I hope you all enjoyed your Memorial Day weekend as much as we did. We spent the weekend in Idaho with both of our families and loved every minute of it. The only exception being when I completely overate on Saturday and could hardly move by Saturday night. I realized the hard way that I can't be almost 8 months pregnant and expect my stomach to just magically expand underneath all that baby when I want to eat two huge burgers and tons of sides in a day! I just love bbq food so much, I couldn't help myself!!
This weekend marked our last trip up to Idaho until after the baby comes. And nothing makes me sadder right now! Our first little guy was born 5 weeks early, so I've been told by my doctor that I'm not allowed out of the state Utah until after the baby is born just in case we have a repeat. That means no more bbq's, no family reunions, no Fourth of July on the falls, no parties…it makes me so sad! But I'm willing to make the sacrifice for Baby Boy.
I immediately thought of my mom's family reunion when I saw this Impossibly Easy Breakfast Bake over at Betty Crocker. One of the mornings of the reunion includes some form of breakfast casserole. It helps if this casserole is easy to prepare and will feed a large group of people. And that is why I thought of this Impossibly Easy Breakfast Bake! It accomplishes all of the above and then some. And it helps that it's good! This could be something new to present at the reunion this year that I'm sure everyone would love.
Impossibly Easy Breakfast Bake
Betty Crocker
makes 12 servings
2 – 12 oz packages bulk pork sausage
1 medium bell pepper, chopped (about 1 cup)
1 medium onion, chopped (about 1/2 cup)
3 c. frozen hash brown potatoes
2 c. shredded Cheddar cheese
1 c. Original Bisquick mix
2 c. milk
1/4 tsp. pepper
4 eggs
Preheat the oven to 400 degrees and grease a 9×13 baking dish. Cook the sausage, bell pepper, and onion in a saute pan over medium heat until sausage is no longer pink; then drain. Stir together the sausage mixture, potatoes, and 1 1/2 cups of the cheese in a bowl and pour it into the baking dish.
In the same bowl you just used (to avoid dirtying a bazillion bowls), stir together the Bisquick mix, milk, pepper, and eggs until well blended. Pour into the baking dish over everything else.
Bake uncovered 40 to 45 minutes or until a knife inserted into the center comes out clean. Sprinkle with the remaining cheese and bake 1 to 2 minutes longer until it melts. Enjoy!