I am loving all the fun and festive holiday food ideas I'm seeing all over! So many ideas to choose from for all our Christmas parties this month.
Here's another holiday food idea that is perfect for a party with kids and adults! These Holiday Jello Cups are bright and super easy to make. All you need is a little bit of time and a few ingredients. We made these for a party with some friends last week and they were so popular. The kids were especially excited to grab for one of these cups.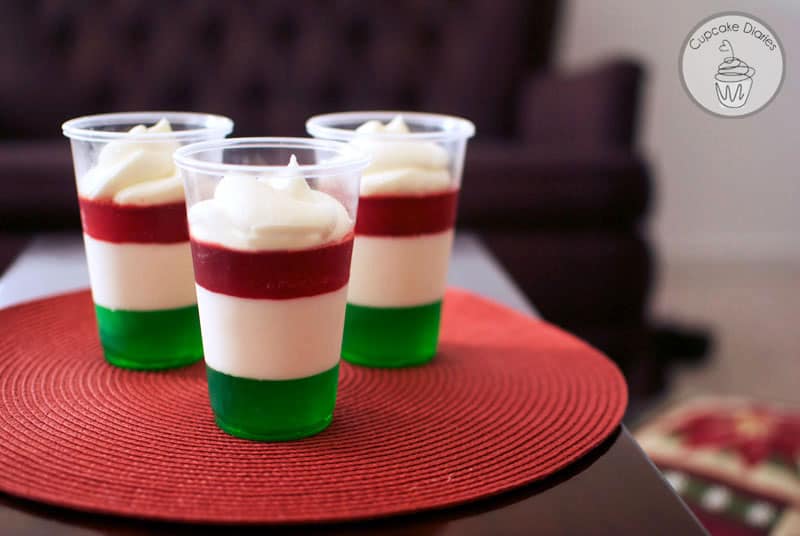 Holiday Jello Cups
Ingredients
2

3oz boxes cherry jello

2

3oz boxes lime jello

2

envelopes unflavored gelatin

4

c.

boiling water

2

c.

ice

1/2

c.

cold water

2

c.

milk

1 1/2

c.

sugar

2

c.

sour cream

2

tsp.

vanilla

10

clear plastic cups

whipped topping
Instructions
In a glass measuring bowl, pour out both of the lime jello powder packages and add 2 cups of boiling water. Stir together till all the granules are dissolved. Then add 1 cup of ice and stir till it's all melted.

Pour the liquid jello evenly into all 10 cups. Place cups on a cookie sheet and put in the freezer for 20 minutes or in the fridge overnight.

Combine two packages gelatin with 1/2 c. cold water. Stir it well to combine. Let it sit for about 5 minutes to thicken.

Pour the milk in a medium sauce pan. Heat till it starts to simmer. Then add sugar and set gelatin. Stir well to combine.

Remove the pan from heat and stir in sour cream and vanilla. Stir well to combine. Let the mixture come to room temperature.

Carefully pour cooled white mixture onto the green layer of jello. Put the pan back in the freezer so the white layer can set (20 minutes).

Pour 2 c. boiling water over cherry jello packages, as in step 1. Stir well till all of the jello has dissolved. Pour 1 cup of ice into the mixture. Stir until the ice has melted.

When the white layer has set up, carefully pour the red mixture evenly over top each one.

Place in the fridge to set up. Keep in the fridge till time to serve. Top with whipped topping to serve.
These are such a hit at holiday parties! Everyone will love them.
If you like this holiday recipe, take a look at these other favorites!