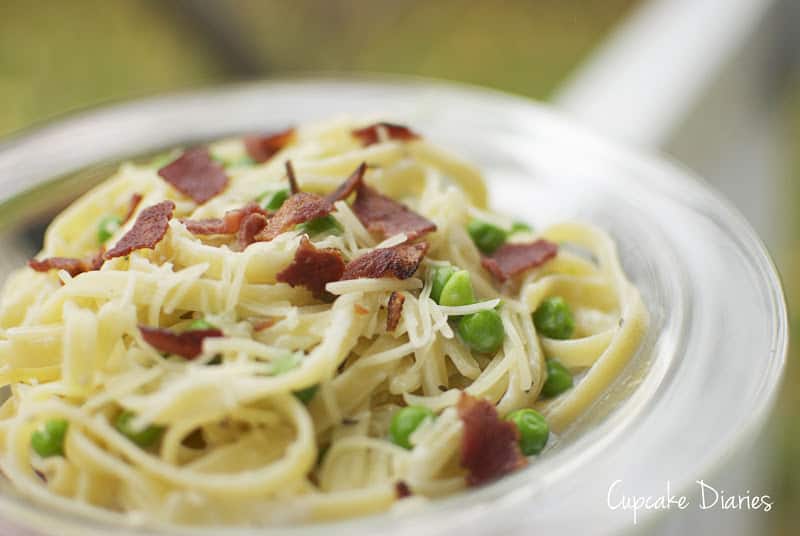 This girl loves her pasta! Indeed I do. Pasta is one of my food weaknesses. But it isn't always weight loss friendly, which is what I need right now as I'm slowly but surely getting baby weight off. I was really craving some pasta last week but didn't want to throw all my hard work for the day out the window. I found this recipe for Healthy Carbonara on good old Pinterest and really wanted to give it a go. We made this for dinner last week and both my husband and toddler LOVED it. It was yummy and still carried enough flavor for being a healthy dish. AND it got my toddler to eat his peas! I'd say that's reason enough to make this dish again! (And yes, this is the dish that inspired my last post about cleaning a burned pan!! ha ha)

Healthy Carbonara
Recipe.com
makes 4 servings
9 oz package fettuccine pasta (Choose whole wheat pasta for an even healthier option!)
1 c. frozen peas
3 slices bacon (I used turkey bacon.)
3 garlic cloves, minced (or 1 1/2 tsp. minced garlic from the jar)
1/2 tsp. thyme
1/2 c. half-and-half
1/2 c. Parmesan cheese, shredded
1 small onion, chopped (optional)
Cook the pasta according to the package directions, but don't salt the water. Add the peas to the pot three minutes before the pasta is supposed to be done. Drain, and keep 3/4 cup of the pasta water.
Meanwhile, cook the bacon in a large saute pan on medium-high heat until crispy. (The medium-high heat is where I went wrong! WAY too hot on my stove!) To make the bacon crispy, continually turn each piece. It will crisp up really nicely. Or just do what I did and crank your heat up way too high and burn the crap out of it. That works too! Take the bacon out of the pan and discard all but 2 teaspoons of drippings. (Where we used turkey bacon, there were no drippings leftover. I still really liked the flavor of the dish without the extra drippings in the sauce.)
Add the onion to the pan and saute for 3 minutes in the leftover drippings. Add garlic and thyme, and continue to cook another minute. Stir in the pasta and peas, reserved pasta water, and half-and-half. Cook for 2 minutes.
Serve with shredded Parmesan and crumbled bacon on top.
________________________________________________________
Nutrition Information (per serving):
Calories: 326
Total Fat: 10g
Carbohydrates: 44g
Fiber: 3g
Protein: 16g